Harvey Weinstein accuser Melissa Thompson releases video showing him GROPING her hours before alleged rape
In a section of the video, Melissa can be heard telling Weinstein: "Data's so hot right?" Weinstein replies: "It is hot. You're hot."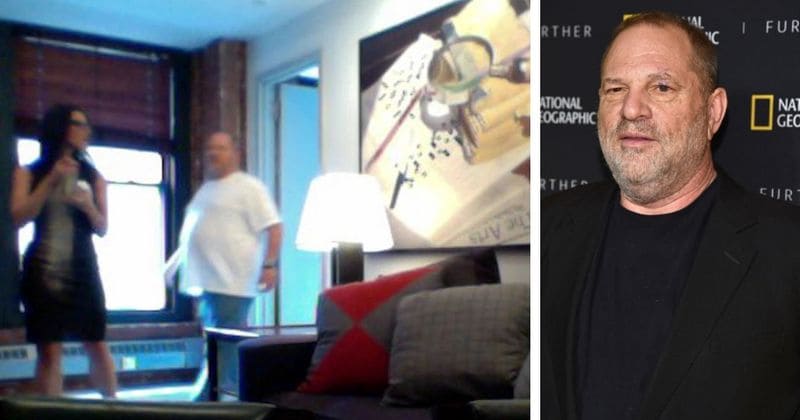 Harvey Weinstein's days of disgusting acts were brought to the public eye a year ago. Since then, countless women, including Hollywood A-listers have spoken up about the movie mogul sexually harassing them and raping them on the pretext of giving them roles in his films. And now, one such accuser of Weinstein has come forward with a video of him inappropriately touching her, before proceeding to rape her later in the same night at an NYC hotel room.
In the footage, Weinstein can be seen hugging and caressing tech startup worker Melissa Thompson who had gone to his New York office to pitch a technology platform that could be used to market his films. During the meeting (in 2011), Weinstein allegedly slid his hands up Thompson's legs and tried to massage her - much along the lines of what other victims have shared about his actions in the past.  
---
A woman who accused Harvey Weinstein of rape has released a video of him caressing her in a meeting pic.twitter.com/006Oli0waW

— ABC News (@abcnews) September 13, 2018
---
Afterward, he allegedly tried to invite her to the Tribeca Grand Hotel nearby, where - as per her claims - he raped her on the bed after managing to corner her. And Weinstein - much like his past reactions to allegations - has denied any non-consensual sexual contact.
Today, Melissa shared the video of the encounter which she had recorded on her laptop. The footage was broadcast for the first time by Sky News and shows Weinstein entering the room and saying 'Hello Melissa Thompson.' The then 28-year-old Melissa then stands up and offers a handshake and Weinstein can be seen pushing her hand aside and going for a hug instead. He can be seen caressing her back during that awkward embrace, as he says: "That's nice, let's keep it up." 
After he sits down next to her, he asks: "So am I allowed to flirt with you?" To that Melissa replies, "Ummm we'll see, a little bit." Later on, Weinstein can be seen rubbing his right hand up and down her left arm as she - looking flustered - tries to concentrate on finishing her pitch. Check the video here.
In another section of the video, Melissa can be heard telling Weinstein: "Data's so hot right?" Weinstein replies: "It is hot. You're hot." As per Melissa's allegations, it is then out of the view of the camera, Weinstein proceeds to slide his hand under her dress and run it up and down her thigh. He says in the video: "Let me have a little part of you. Give it to me. It's okay, would you like to do it some more?" Melissa's reply comes: "A little bit... a little high, that's a little high, that's a little high."
When asked if she encouraged Weinstein's behavior, Melissa said she didn't mean to and her response was just a way of trying to tackle the situation. She told Sky News: "Now I see he's trying, in any way he can, to move me into that zone of comfortable, then uncomfortable and confused, and vulnerable, and recognizing that he's powerful, and I'm not and that I need this deal from him, and he has the power to give it to me."
She continued: "I think (he) was playing a cat-and-mouse game from the very beginning to see how far he could push me, and what my reactions might be so that he could gauge...how he would play me; where my levers were what were my vulnerabilities."
Melissa happens to be one of the three plaintiffs who were named in a class action lawsuit filed in June against Weinstein, Miramax, The Weinstein Company and several other defendants.
Weinstein's lawyer, Benjamin Brafman, said in a statement: "Several respected journalists and trustworthy individuals have seen the entire video. What they shared with us is that the video, when viewed in its entirety, in context and not in select excerpts, demonstrates that there is nothing forceful, but casual — if not awkward — flirting from both parties. 
"Anything short of that is intended to make Mr. Weinstein appear inappropriate, and even exploitative. It was produced by Ms. Thompson to bolster her position in a civil lawsuit seeking money. This is a further attempt to publicly disgrace Mr. Weinstein for financial gain, and we will not stand for it. Facts do matter."
According to Sky News, Melissa was not paid by them for anything of the sort.