Harry Styles and Olivia Wilde spotted leaving couple's gym in LA amid singer canceling 3 shows after catching flu
The 'Watermelon Sugar' singer caught a really bad flu which led him to cancel his three sold-out concerts in LA just hours before his stage appearance LOS ANGELES, CALIFORNIA: Harry Styles and Olivia Wilde were spotted leaving a couple's gym in LA on November 11, Friday after he reportedly canceled his three concerts in LA just hours before he was set to take the stage at The Kia Forum in Inglewood due to flu. The pair was seen looking focused as the two made their way back to their respective rides.
The actress sported a black crop top which showed off her enviable abs, paired with high-waisted leggings and trainers. Her hair was tied up into a ponytail and she accessorized the outfit with stylish shades while holding a bottle in her right hand. Meanwhile, Harry was wearing a blue top and black shorts as he carried a green holdall on his shoulder.
READ MORE
'Proof Harry Styles can do it all': Fans ecstatic as singer turns into a GIANT SQUID in new music video
Does Camila Cabello have a crush on Harry Styles? Here's what motivated 'The Voice' coach to audition for 'X Factor'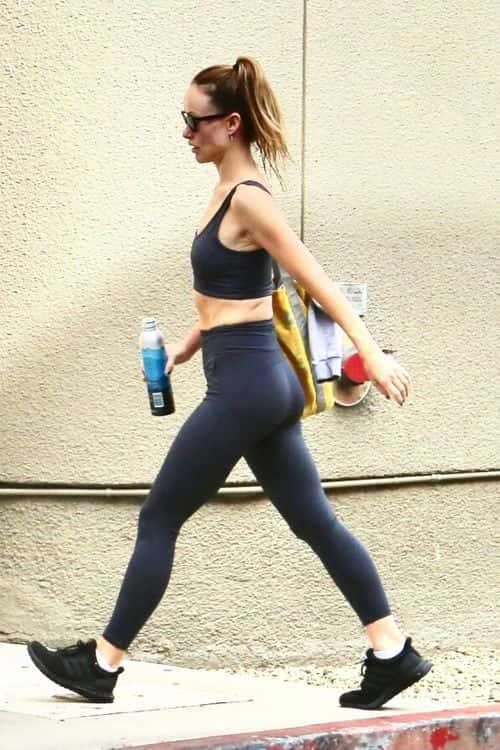 The 'Watermelon Sugar' singer caught a really bad flu which led him to cancel his three sold-out concerts in LA just hours before his stage appearance. The singer was devastated and took to Instagram to announce the news being extremely apologetic. Styles was supposed to perform at the 70,000-seat arena on Saturday, November 5, Sunday, November 6, and Monday, November 7. The dates for all three shows have been changed to January. In addition, Styles was forced to postpone his performance in Los Angeles on Friday night due to "band illness," the venue tweeted. Styles is performing at The Kia Forum for 15 nights straight as the headliner of the North American leg of his 'Love On Tour'. It began on October 31.
"Towards the end of the show on Wednesday I started feeling ill and I've been in bed with the flu ever since," Harry's statement began. "I've been doing everything I can to be able to sing tonight, but I'm leaving the doctor now and I'm devastated that it's just not possible," he added. "Until very recently I haven't had to postpone a show due to illness in the 12 years I've been touring. I'm so sorry to do it, and if there was anyway I could do the show I would," Styles further expressed his sorrow while canceling the show. "I'm sorry this news is coming so close to show time, but it was my sincerest hope to be able to play for you tonight. I know several of you have planned trips to LA to see the show, and it means the absolute world to me," he further added.
"The shows on November 5th, 6th, 7th will be postponed to January 26th, 27th, 29th 2023. Everything else will play as planned, I can't wait to see you then, and I'm so sorry. All my love," he wrote,closing with his initial "H," at the end. This canceled slate of LA concerts joins a canceled performance in Chicago on October 6, which was ultimately rescheduled for October 10. "Out of an abundance of caution," read a last-minute statement from the Chicago venue, "tonight's Harry Styles show on Thursday, October 6, 2022, at United Center has been rescheduled to Monday, October 10, 2022, due to band/crew illness." Harry's ardent fan base didn't take the news well, despite the fact that the event was only postponed by four days.
Styles and his group look to be finally feeling the effects of the Love On Tour's enormous endeavor. The pop star's band and now Styles himself have gradually been beset by illness, yet the megastar has continued to put on high-octane shows and attend Hollywood premieres. Styles has started a movie career with the recent success of 'Don't Worry Darling' and his most recent release 'My Policeman', which debuted on Amazon Prime over the weekend, in addition to the seven legs of his global tour. The 22-month spectacle is scheduled to end in Italy in 2023.
Share this article:
Harry Styles and Olivia Wilde spotted leaving couple's gym in LA amid singer canceling 3 shows after catching flu