GIRL GONE WILD: Inside Madonna's incredibly hot dating life as singer suggests she's GAY NYC, NEW YORK: The world-famous Queen of Pop Madonna is currently reigning over social media through her scandalous TikTok videos. In a recent TikTok video, the 64-year-old hitmaker could be seen playfully hinting she's gay just weeks after she released a raunchy video with Tokischa in which she is seen kissing multiple girls. Although the star has never dated a woman, she has never been shy about locking lips with women either and has famously played the first lesbian Bond girl in 'Die Another Day'.
Madonna shared a clip of attempting to throw a pair of pink panties into the trashcan while missing it entirely and captioning the video, 'If I miss, I'm gay!' and ended the video with a sly note. Fans are indeed very happy for the 'Like a Virgin' singers coming out while also recalling Madonna's scandalous love life with a long list of A-list lovers, spicy marriages, and her toyboys she has been linked to throughout her highly successful singing career.
READ MORE
Dua Lipa and Anwar Hadid 'take a break' after dating for two years
From Gwyneth Paltrow and Jennifer Aniston to Angelina Jolie: A look at Brad Pitt's star-studded dating history
Did Madonna playfully hint she is Gay? Here's a look at all the girls she's kissed!
1. Madonna is 'Hung Up on Tokischa'
In a steamy video, of the hitmaker's new song, 'Hung Up on Tokischa', Madonna could be seen having too much fun while shooting the video. The star could be seen on video kissing and dancing with several women in a sensual manner. She also left very little to imagination about the behind-the-scenes shenanigans as she was spotted kissing Tokischa a couple of times in the 'shooting the MV' snippets, leaving her fans in no doubt as to how she came up with the name of the song.
2. Madonna's famous kiss with Britney Spears and Christina Aguilera
During the 2003 MTV Music Awards, Madonna famously kissed Britney Spears which left audiences slack jawed but then Madonna turned around and kissed Christina Aguilera too during the trio's joint performance on stage. Fans and celebrities were equally awe-struck by their steamy stage kisses at the MTV Awards at a time when same-sex kisses were still seen as somewhat taboo and risky in a public arena.
3. Madonna's 64th Birthday kiss
The famous singer of 'Crazy for You' could be seen having a blast on her 64th birthday. Madonna took to Instagram to show her fans the glorious time she had with her friends as she began a new stage of her life. In the video, Madonna could be allegedly heard saying "I left my Baby momma at home and I am here sitting with my side bitches, we riding tonight," before she indulged in french kissing both the women sitting next to her. If you are intrigued by her female friends, you'll be amazed by the star's marriage and the long list of men she has dated.
Scroll through the gallery to see Madonna's ex-husbands
1. Sean Penn (1985-1989)
Madonna was famously married to actor Sean Penn. The couple first met on the set of Madonna's 'Material Girl' music video in 1985. Soon after the two fell deeply in love and tied the knot the same year itself. Despite having four years of blissful marriage, soon rumours started to spread about their rocky marriage which led the couple to divorce in 1989. Reports cited that Penn's unpredictable behavior was one of the major contributing causes to their marriage ending.
2. Guy Ritchie (1998- 2008)
Madonna reportedly met the filmmaker Guy Ritchie in 1998. One of Madonna's longest relationships with the film director and the two were inseparable. Madonna gave birth to their son Rocco in August 2000, and the same year of December the two got married in Scotland. In 2006, they adopted their second child, David, and the couple allegedly remained married for 8 years until their divorce in 2008. The singer admitted the reason why their marriage broke up was that the romance died leaving her to wonder if true love even existed. Hence, the singer never got married after that.
Madonna and her long list of toyboys
1. Jean-Michel Basquiat (1982-1983)
Madonna allegedly dated the late artist Jean-Michel Basquiat when they were both rising stars in New York City. The two eventually ended up in a nasty breakup. It was reported during the time of their split, painter Basquiat asked Madonna to give him back all the paintings he ever gifted to her during their relationship and later painted them over in black.
2. Micheal Jackson (1991)
The King pop and the Queen pop were spotted together at the 1991 Oscars. Although the two were never seen kissing or even rumored to be in a relationship, Madonna did give a subtle hint about what went down that night. "Michael was like, 'Well, who are you going to go with?'" Madonna said in a vintage VH1 interview. "I looked at him and said, 'I don't know. You want to go?' And he said, 'Yeah, that'd be great.' … And then, yes, he took me home. You wanna know what happened after that? I'm not gonna tell you."
3. John F. Kennedy Jr. (1997)
During her separation from Penn, Madonna was famously rumored to be dating the famous politician's heir John F. Kennedy Jr. for six months. The late politician and Madonna's romance however did not last longer. Though the couple dated for six months it was John's mother Jackie Kennedy who did not approve of his relationship with the controversial singer and reportedly Madonna also took issue with John's temper
4. Warren Beatty (1990)
Madonna had co-starred with movie star Warren Beatty in his comic book movie, 'Dick Tracy' and the couple allegedly started dating after that. Madonna starred as singer Breathless Mahoney in the comic movie. The couple dated for 15 months and later called it quits due to their conflicting views of living in the public eye.
5. Tupac Shakur (1994)
Yes! the talented singer has even dated world-famous rapper Tupac Shakur. The talented duo dated during the 90s and they split due to societal pressures. It was reportedly Rosie Perez who introduced Tupac Shakur to Madonna at Soul Train Awards in 1993. Their fans did not even know the two dated until Tupac wrote an apology letter to Madonna because they broke up over his reputation as a musician that was all about the 'Black experience'. "For you to be seen with a black man wouldn't in any way jeopardize your career. But for me, at least in my previous perception I felt due to my 'image' I would be letting down half of the people who made me what I thought I was."
6. Vanilla Ice (1991)
Madonna started dating the rapper Vanilla Ice in 1991. She was 32 and he was 23 at the time. The 'Like a Prayer' singer reportedly dated and split each other after eight months of being together. Vanilla Ice later claimed in an interview with Yahoo Entertainment that his ex proposed to him and he had to refuse because he was too young. "She actually proposed to me," he said in October 2021. "I was like, 'I'm too young for that. I'm just getting going here, I'm just revving up, I'm sorry. But she was a sweetheart, and we had such a great time."
7. Dennis Rodman (1994)
Following her romance with Tupac, Madonna was briefly linked with Chicago Bulls basketball player star Dennis Rodman for two months. The couple eventually split because Madonna wanted to have children with him, Rodman explained in his memoir, 'Bad As I Wanna Be.'
8. Carlos Leon (1994-1997)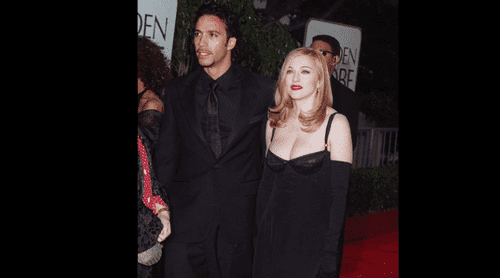 After her alleged breakup with Dennis Rodman over not being able to have children. Madonna dated personal trainer Carlos Leon and the couple hit it off for a good three-year period. Madonna had her first daughter Lourdes Leon, 25, and even after the couple split, the duo maintained a good friendship with each other.
9. Jesus Luz (2008-2010)
Jesus Luz came into the picture shortly after Madonna's divorce was finalized with Guy Ritchie. The star began dating model Jesus Luz after they met at a W magazine photoshoot and dated for 2 years and eventually split because they did not have much interest in common.
10. Brahim Zaibat (2010-2013)
Madonna further went on to date a string of young boys including models and stars and one of whom was Brahim Zaibat, a 24-year-old, French dancer and choreographer. The duo even made an appearance at the 2013 Met gala, where they made a fashional punk outfit-inspired entrance. Madonna and Brahim Zaibat later broke up because Madonna seemed to be displeased about Brahim's tight schedule.
11. Ahlamalik Williams (2018-2022)
In 2018, Madonna shocked the internet after she started dating her 28-year-old backup dancer Ahlamalik Williams who was 40 years younger than Madonna. The duo dated for four years and called it quits in the spring of 2022. Although the alleged reason for their split is not confirmed, it is believed the couple continues to share a good bond with each other.
12. Andrew Darnell (2022)
Madonna is currently rumored to be dating 23-year-old model Andrew Darnell. It is believed the singer is "casually" involved and has no plans to marry him. She shares an age gap of whooping 41 years. The duo were first pictured "snuggling and cuddling" on the cover of Paper magazine and were spotted "snuggling and cuddling" each other over Labor Day weekend at musician REMA's concert in NYC.