Red Velvet's Joy and Crush are dating, fans happy it's not the next 'big scandal' While fans were happy that Red Velvet's Joy and Crush are dating, they were also scared. It is a known fact that idol dating in the K-pop industry is a sensitive topic since they receive severe backlash from obsessive fans, as well as their agencies. In the past, there have been very few idols who have been accepted for dating someone to the point that exasperated fans are begging to normalize idols dating.

In fact, after just a day of iKON's Bobby revealing that he is to marry and have a child, anti-fans edited his face out of iKON's group photos and sent him hate. EXO's Chen, who has a daughter, received similar backlash and more as many requested SM to fire him from his group. It should also be noted that while Korean fans are the most vocal about it, there are also some delusional and obsessive international fans who do not like their idols dating and marrying.

READ MORE
Red Velvet's Joy is dating Crush, Sungjae fans 'happy' for the couple

'Sungjoy' ship crashes: Red Velvet's Joy dating P Nation's Crush, not BTOB's Sungjae
Couples that received backlash
Not only fans, but agencies also react harshly as seen with Cube firing Hyuna and Dawn when they announced that they were dating. Both of them ended up finding a home at PSY's P Nation which is also Crush's agency. And while SM is fine with their artists dating as seen with Super Junior's Heechul and Girls' Generation's Sooyoung, Reveluvs (Red Velvet fans) were not sure how Joy's dating news would be received. Several Korean news agencies make it their business to stalk idols and reveal their relationships as it will be considered the next big 'scandal'.
They know that idols are put on a pedestal and so are not allowed to have human experiences like the rest of us. The idol-fan service culture is partly to blame as idols pretend to be in a relationship with their fans. Some delusional fans take it too far and so with idols revealing that they're dating, these fans believe that they have lost a chance which is why they end up hating the couple. And so it becomes a sort of game for news agencies to bet and guess idol couples and how their fans will react which is more negative than positive.
Earlier this year, there was quite an uproar when these agencies reported that Blackpink's Jennie might be dating BIGBANG's G Dragon. And locals already made their assumptions and opinions despite not getting any confirmation from the idols involved. And today, on August 30, the same news agency had netizens divided when they claimed that K-drama star Lee Minho was supposedly dating Momoland's former member Yeonwoo. Immediately, Minho's agency denied the dating rumor and stated that they're just acquaintances. But the seed of doubt has been planted and now there will always be suspicion whenever these two are spotted together.
Pretend relationships for reality shows
But many netizens believe that the news of Joy and Crush dating has been positively received since Crush himself is not part of an idol group. This is why he doesn't have rabid fans that many idol groups tend to have. Blackpink's Jennie was seen to be miserable while she was dating EXO's Kai as she faced backlash from some fans. Apink's Naeun got so much hate for being in a pretend relationship with SHINee's Taemin for a TV show that the production had to stop the show midway.
Red Velvet's Joy was in the same TV show, 'We Got Married' where she was in a pretend relationship with BTOB's Sungjae. However, their fans took it lightly, enjoyed the fake relationship and have continued the inside joke as seen from the hilarious memes that 'Sungjoy' fans made when the news of Joy and Crush came out. While there are some odd anti-fans who are not happy with the two dating, happy fans make up the majority.
Joy and Crush's letters to fans
Fans were also touched by the personal letters Joy and Crush wrote that displayed their genuine affection for each other. Joy apologized to her fans for not telling them sooner and was sorry that her fans found out from news agencies before she could tell them. She also added that she and Crush were at a stage where they were still getting to know each other and figuring out their feelings which is why she hadn't had a chance to tell her fans about it.

Crush, who is currently serving in the military also wrote a letter to his fans thanking them for their support. He too was disheartened that he couldn't tell his fans before the news agencies outed them. His words for Joy were so heartwarming that both Reveluvs and Crushbombs (Crush's fans) found it endearing. He said, "Thanks to this very bright and positive friend (Joy), lately there have been more days that make me laugh and my heart has gotten healthier!"
Red Velvet reacts to the news
With love and marriage being a part of the natural course of life, K-pop fans hope that more idol couples will be accepted by the industry and their fandoms. And with the response Joy and Crush are getting, hopefully, that day is not too far off. Red Velvet on the other hand had funny reactions as they teased Joy by saying that they Googled her name when the news came out. Some fans also wondered if the reason for the positive response might have something to do with Reveluvs being majorly female fans while Crush's fans are waiting for him to return from the military.
'Rooting for this relationship'
Anyway, fans had the sweetest words for them, "Joy found her crush and crush found his joy." A Reveluv added, "I am proud to be in a fandom where we normalize idols dating. REVELUVS LOVE JOY and nothingcan change that . I , myself is ready to accept the fact that someday all members will start creating a happy family . I am rooting for this relationship . Joy and Crush." Another fan reasoned, "Maybe because they have SANE fans who love and support them? Not fans who are obsessive and think they actually have a chance to date the artist." "Its cause Joy has more female fans and most of Red Velvet's fans are kinda chill. Joy is also likeable with good image. Crush is not male idol, he is a singer. So its cool and just some shippers are heartbroken," suggested another user.

One user also noticed about Crush's letter, "He's not apologizing, that's refreshing!" as another responded, "As he should. He should never apologise for his happiness." One commented, "Pls if someone said such words for me, I would literally lay out my whole life in front of them they seem happy to be dating and I'm even more happy bcos of that." Joy's letter was more apologetic which had fans saying, "Gurl listen why you apologizing? For falling love….. Sis stay happy that's all what we want and who are not happy for you that ain't your concern and are not your fans it's simple live your life sweetie you don't have to be sorry you job is to sing and dance and you are doing it very well your personal life is none of our business and that's that."
---
joy found her crush and crush found his joy

— Satoru (@novemberdad) August 23, 2021
---
---
I am proud to be in a fandom where we normalize idols dating. REVELUVS LOVE JOY and nothingcan change that . I , myself is ready to accept the fact that someday all members will start creating a happy family . I am rooting for this relationship . Joy and Crush 💚#조이버블

— QUEENDOM 50M + JOY 💚 CRUSH (@joynampyeon) August 23, 2021
---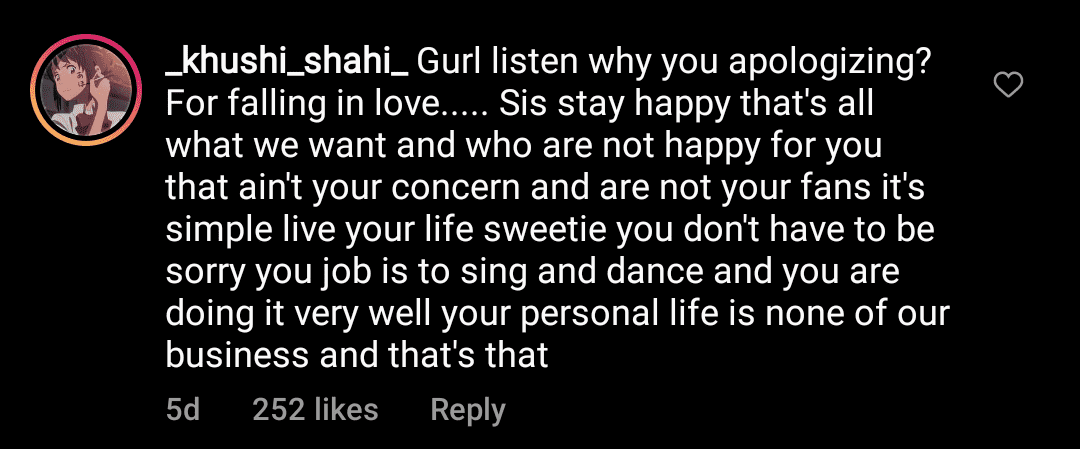 Share this article:
Fans surprised with Red Velvet's Joy and Crush not facing the usual backlash for dating