Reese Witherspoon's label Draper James debuts its summer collection with a heavy dose of southern charm Summer is fast approaching and forecasters are expecting this year to bring in warmer weather than previously recorded. While we're homebound and trying to make the most of our impending summer vacation at home, instead of a long holiday by the beach-side, Reese Witherspoon's new clothing line Draper James's new summer arrivals are here to make sure we stay fashionable even within the comfort of our home.
Draper James is the brainchild of the Oscar-winning actress and is an ode to her Southern roots. In a very explicit way, Witherspoon immortalizes her grandparents by naming her clothing brand after them - Dorothea Draper and William James Witherspoon. Her tribute is her gratitude to her grandparents for bringing her up as a proud, charming, graceful, and stylish Southern lady.
The brand itself enmeshes the contemporary as well as enchanting and covetable Southern fashion. In a way, you could say that Draper James' clothing is the physical embodiment of Witherspoon's classic 'Sweet Home Alabama'. In a market that is dominated by fashion lines of Haute-couture and ready-to-wear high-end runway clothing, Draper James commits to a certain lifestyle, transforming its wearer into a sweet southern belle. Furthermore, the brand has also branched out into accessories and home goods, allowing you to bring a soft touch of southern charm to your home, wherever you may be located.
Draper James prides itself in its feminine fashion and its clothing line is an abundance of feminal elements while also emanating a passionate and empowering attitude. It incorporates elaborate ruffles, delicate lace, bright colors that have a way of expressing subtlety and mellowness, and overall simple yet appealing designs that portray the wearer in a fresh and youthful light.
The new arrivals primarily feature popular ginghams, summer whites, breezy sundresses and stunning accessories that are bound to make you feel like you're basking in summer in an exotic location. Here are our five favorite must-haves from the brand:
Floral maxi shirtdress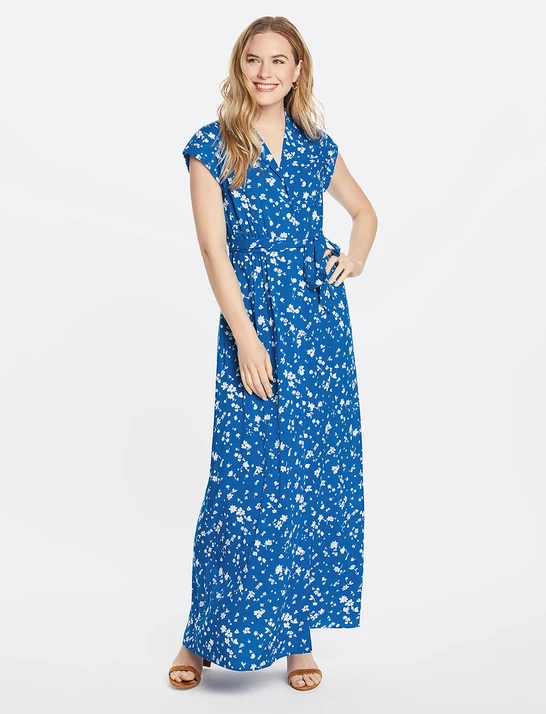 The breezy, flowy, cottony soft maxi dress manages to encapsulate summer so aptly within an outfit. Patterned in intricate florals, the splash of blue just heightens your cheerful mood, especially on some of the warmest days that the summer has to offer. In addition, we think it is a fantastic outfit for a professional or laidback Zoom meeting or just a great work-from-home dress.
Crochet rafia tote
An ideal accompaniment with any summer outfit, the crocheted tote is made from raffia grass. It is spacious and big enough for you to carry all your beach essentials or just as an accessory to go with any casual outfit while you're simply out and about. The splash of blue and white color in its woven stripes gives it an added aesthetic appeal.
Gingham strapless midi love circle
Nothing screams summertime than a beautifully patterned sundress. The gingham is a Draper James signature and now you can be picnic-ready with this linen navy gingham dress available in a strapless silhouette that oozes vacation vibes. It can also double up as a party dress and is fit for any special occasion. For a more casual look, pair it with the Crochet Rafia Tote and you're good to go.
Magnolia pendant necklace
This gorgeous adjustable brass necklace is simply a must-have. The rounded pendant is intricately embellished with the signature Draper James Magnolia design and is complementary to any outfit. The Magnolia flower is symbolic of beauty, charm, elegance, everything that is synonymous to the South. Add a touch of that southern charm to your everyday clothing with this simple yet glorious pendant.
Draper James x Lands' End smocked halter top bikini
All that talk about summer and no bikini to go with you beach-plans? No can do! This playful yet pretty smock halter-top bikini is a perfect addition to your summer wardrobe, while you lounge around your pool and get that essential Vitamin D that your body needs. And the bright and gorgeous shade of the sunny yellow is bound to lift your spirits by several notches.
This bikini, in particular, is part of Draper James' collaboration with Land's End, a collection that features various styles in classic designs and is size-inclusive. A portion from every purchase from this collection goes to Girls' Inc, a non-profit that works to inspire girls to be strong, smart and bold through mentorship and research-based programming.