Little Lilia Valutyte is laid to rest: Devastated mom holds back tears as murdered child's heartbreaking funeral
The ​​stabbing victim's body was carried in a white coffin adorned with colorful flowers and butterflies BOSTON, LINCOLNSHIRE: Hundreds came together in the funeral of stabbing victim, Lilia Valutyte, while her grief-stricken mother was seen bravely following the mourners into the church. As per reports, the nine-year-old's body was carried in a white carriage pulled with the help of white horses wearing bright pink feather headdresses.

Her remains were reportedly inside a white coffin adorned with colorful flowers and butterflies as it was taken to St Botolph's Church by four men on Friday morning, September 2. The coffin was followed by a large number of mourners, all dressed in black. It has been said that after the church service, Valutyte will be taken to a burial ground, where only her family members are allowed.
ALSO READ
The brutal slaying of Lilia Valutyte: Girl, 9, stabbed to death as she played with sister just 'yards from mom'
Deividas Skebas: Man who murdered 9-yr-old Lilia Valutyte 'BEATEN TO A PULP' in prison attack
---
Lilia Valutyte's funeral has begun at St Botolph's Church in Boston. The nine-year-old died last month after she was fatally stabbed. A horse-drawn procession made its way through the town centre with many mourners lining the route. https://t.co/2yBK97PGgz pic.twitter.com/9iHor0hpgR

— BBC Radio Lincolnshire (@BBCRadioLincs) September 2, 2022
---
A 78-year-old man named Magdalene Lowe, who attended the service, said as reported by The Daily Mail, "I'm very sad and I wish there was more I could do. Just come here helps. We are all thinking about and her family. If you ever need help, we are there for you." Another mourner named Laura Dutkuti noted, "I'm not feeling well because I have a son who is just 10-years-old."

The child was killed on July 28 as she played with her five-year-old sister near her mother's embroidery shop. On the tragic day, she was enjoying a hula hoop on Fountain Lane in Boston, Lincolnshire, before the accused, Deividas Skebas, fatally assaulted her. Later, an inquest heard that Valutyte's cause of death was a single stab injury.
In August, the little one's mother, Lina Savicke, remembered her as "a normal child". She said: "One day she's happy and another she isn't, one day she wants to eat pancakes and another she doesn't - the usual things. She loved to dance, travel and try new things, and annoy her sister. She wanted to go to Italy, so we will probably go anyway next year."
---
A white carriage drawn by white horses brought the coffin, which is white and adorned with pink butterflies and white and pink flowers. pic.twitter.com/Rn7cpDmT53

— BBC Radio Lincolnshire (@BBCRadioLincs) September 2, 2022
---
"There are so many things we could say, but we are not going to talk a lot about who she was and share those stories from our home; they are ours and we want to keep them for us. You find yourself looking for her everywhere. We had four corners and now one is gone," the 35-year-old mentioned.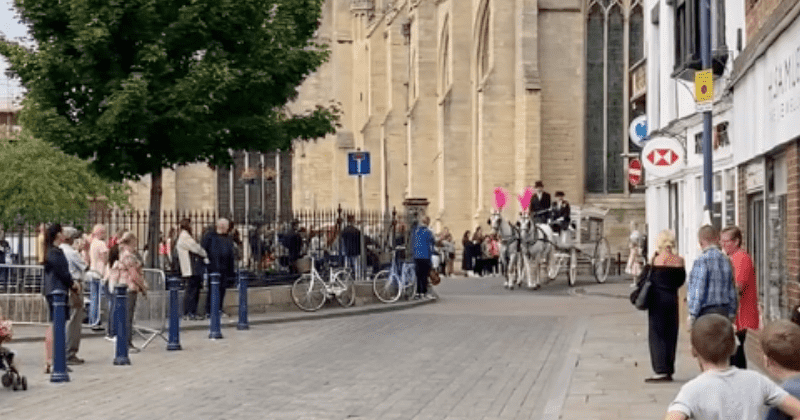 Valutyte's stepfather, Aurelijus Savickas, who had reportedly identified her after the crime, noted, "She was cheeky; quiet in one way and then other ways she wasn't. She always tried to make fun."

A family friend added, "None will feel her mother's pain. The girl was a ray of the sunlight, just like her parents, who were the main helpers of our community and school events. The pain is unspeakable. We are devastated at this shocking news! Rest in peace, little angel." Chief Superintendent Martyn Parker called the death of Valutyte "heartbreaking," before asserting that the killing "has affected many people in Boston, and further afield".
Meanwhile, reports have said that the 22-year-old Lithuanian national suspect, a fruit picker, has been slapped with murder charges in relation to the yougester's death. A provisional trial date is yet to be fixed but it has been said that on September 19, case preparation hearing will happen.
Share this article:
Little Lilia Valutyte is laid to rest: Devastated mom holds back tears as murdered child's heartbreaking funeral