Connie Britton bundles up for warmth in fluffy white coat on casual evening stroll in NYC NEW YORK CITY, NEW YORK: Connie Britton chose to dress comfortably for a Friday evening outing in the New York City and wore a fluffy coat. The 56-year-old 'Friday Night Lights' alumna recently celebrated her February 2023 DuJour Magazine cover appearance.
The actress, who was nominated for a Golden Globes Award, was spotted wandering down a busy boulevard. She was dressed in a printed T-shirt and a pair of soft black slacks with a tropical print of green plants and birds on them.
READ MORE
'Dear Edward' on Apple TV+: How Connie Britton found love with 'This is Us' producer David E Windsor
'Dirty John': Connie Britton is teaching us how to deal with men like John Meehan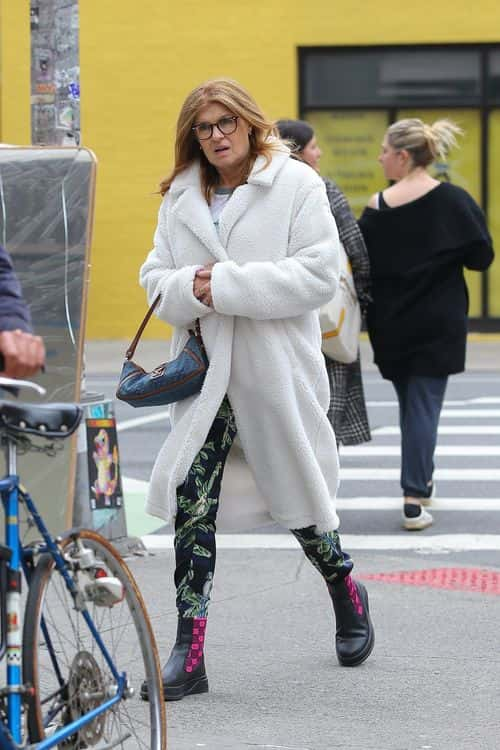 Connie Britton in casuals
Britton might have predicted the weather and added a bit of warmth during the cloudy day. She covered the outfit with a cream-colored, furry jacket that extended past her knees. The 'Friday Night Lights' star added some color to the look by tucking the hem of her jeans into a pair of black and pink leather boots.
The actress carried some essentials for her outing in a navy blue purse with a brown leather trim that she slung over the crook of her right arm. Her thick hair was parted down the center and flowed down beyond her shoulders in easy, gentle waves. Britton accessorized the look with a simple pair of silver hoops for her ears and several rings adorning her fingers.
Connie Britton in drama series
The actress has been very busy lately, and she most recently appeared in the 'Dear Edward' television series for Apple TV Plus. The series debuted on the streaming service earlier last month. The show also stars 'Orange Is The New Black' star Taylor Schilling, Audrey Cosa, and Colin O'Brien and is based on the namesake novel by Ann Napolitano. Moreover, Britton visited 'The Late Late Show With Stephen Colbert' last month to talk about the undertaking and to share her reasoning for choosing to play a major role in the series.
Connie, who was a notable cast member of the hit HBO Max series, The 'White Lotus', has made a suggestion that she would make a comeback in the third season. Nicole Massbacher, the CFO of a prosperous search engine company, was the character performed by the Nashville actress. In July 2022, when speaking with Deadline, Britton revealed that showrunner Mike White "wanted me to be in the second season, and there was a concept that I loved for the character."
Also, the actress has a role in the upcoming drama 'Winner', which is based on the real-life whistleblower, Reality Winner. Winner's mother is portrayed by Britton, and other well-known actors who appear in the project include Zach Galifianakis, Kathryn Newton, Danny Ramirez, and CODA lead Emilia Jones. There is no confirmed release date at this time.