BTOB Sungjae and Hyunsik return from army, fans say wait for Illhoon 'has just begun' Not long after the release of their newest sub-unit album 'Outside', members of the K-pop group BTOB can finally see the group complete. With the enlistment of members Yook Sungjae and Im Hyunsik into the military, the six-member group was turned to a quartet that formed a sub-unit called, 'BTOB 4U.'
After BTOB 4U's successful appearance on the variety show, 'Kingdom: Legendary War', fans were excited to witness the new album. The new album from BTOB was accepted rather well and 13,808 copies were sold within the first day of its announcement as the album charted at Number 2 on Gaon's Weekly Album charts.
RELATED ARTICLES
Ilhoon fans happy after Changsub mentions him as BTOB 4U's 'Outsider' hits 10M views
Why did BTOB want to drop out of Mnet's 'Kingdom'? Changsub reveals the real reason
BTOB is complete or is it not?
Melodys who were hoping that members Sungjae and Hyunsik return safely from the military can breathe a sigh of relief as reports from September 28 suggest that the two had returned from the military unofficially. Even though their official date of return is November 11, BTOB is as good as complete with the two members coming back home.
OT7 fans are still hoping for more as they say that Sungjae and Hyunsik's return from the military is not the end. These fans are gladly waiting for the return of Illhoon. BTOB's main rapper Jung Illhoon had to leave the group back in December of 2020. In June, 2021, Illhoon was sentenced to two years in prison for illegal marijuana usage.
Illhoon's fans wait for his return
Fans that sympathize with Illhoon know well that the six members had not completely given up on his return to the group as they mentioned him now and again by accident or on purpose. On September 4, Changsub unintentionally mentioned Ilhoon in an interview. Seeing that he had accidentally slipped up, fans caught a glimpse of Minhyuk whose eyes turned big as he was surprised. The leader of the group, Eunkwang, tried to cover it up by adding that they loved Sungjae and Hyunsik.
Fans of K-pop will know that once a member leaves a group due to a scandal, the other members do not mention that member at all unless they are cleared of all speculation. While Illhoon was charged as guilty, members of BTOB gave hope to fans that his return to the group could be a possibility. Such small instances have given fans more hope for an OT7 BTOB comeback. Nevertheless, Melodys are glad to welcome Sungjae and Hyunsik.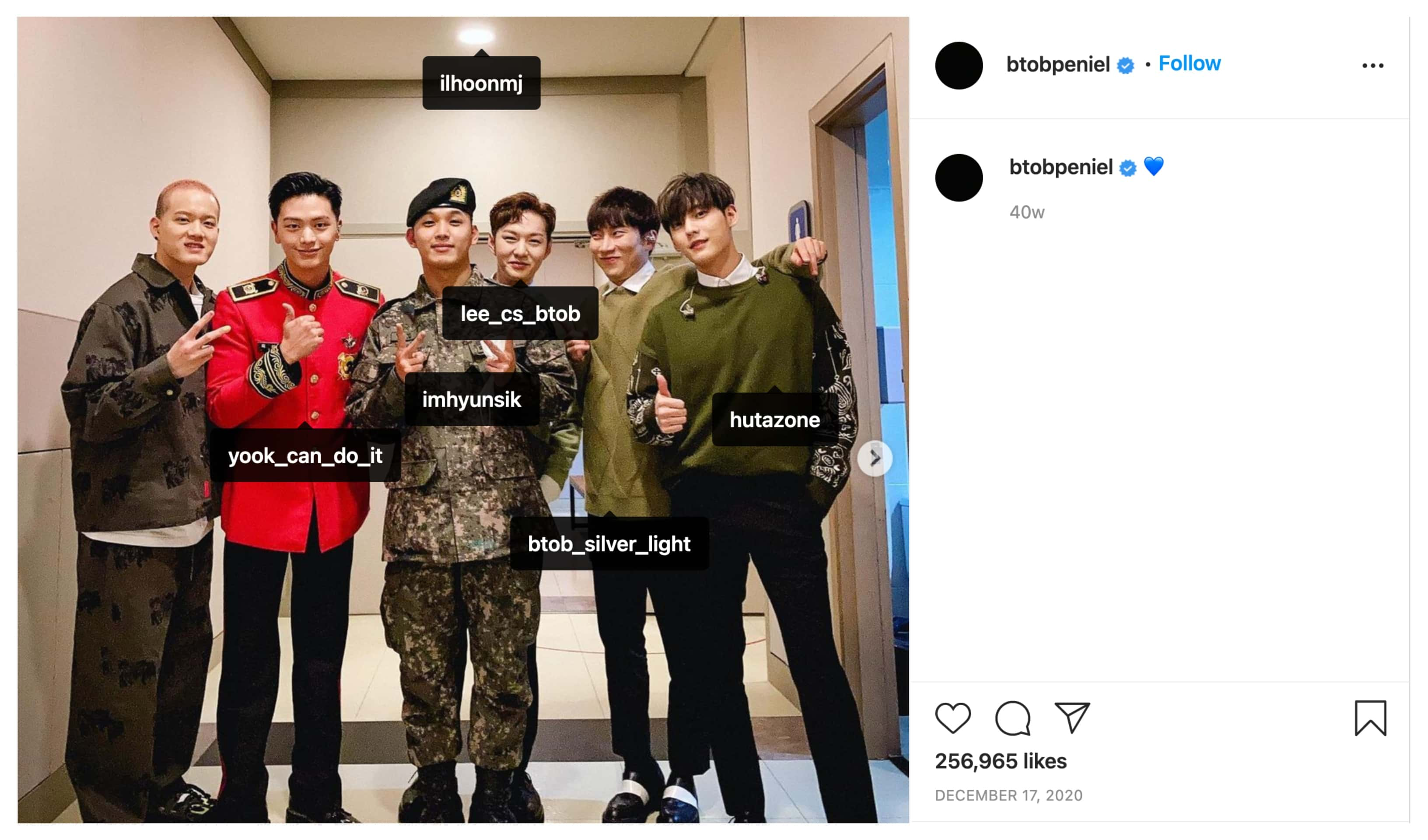 Fans say they are 'still waiting'
Fans started discussing the apparent departure of Sungjae and Hyunsik from the military but OT7 fans pointed that BTOB is still not complete as they all wait for Illhoon to return from the military. One fan pointed out that, "All BTOB members unofficially done military service. Will be officially finished nov. 14 for HYUNSIK AND SUNGJAE AND HELLO YAS BTOB TIME." One more fan pointed, "BTOB finished their military services, that's the biggest flex." Another fan happily said, "I CAN'T WAIT FOR MY BABIES FIRST EVER LIVES AFTER THEIR MILITARY. AHHH THEY WILL KEEP ME AWAKE AGAIN ESP HYUNSIK! ALL CAPS BCS I'M TOO HAPPY." One more fan said, "Even tho i'm a baby melody, but i feel so relieved that btob military era has ended. bfore I became a melo I think that it's nearly impossible for a group to enlist 'together' while they're on their golden time esp our maknae bc company won't agree with that. Pull a BTOB."
Fans of Illhoon said that they were grateful for the members' returns but are still waiting for Illhoon to join the six boys. They said, "Proud of you all beyond words. congratulations on finishing your military service 정말 고마워요 (many thanks) for coming back safely. on to btob's next chapter (still waiting for 일) (Illhoon)." One more fan said, "Can't wait till Ilhoon's back. welcome home sikjae." One fan said, "I know we're still 'waiting' but knowing how much they support ilhoon during these times, my heart is at ease. we're waiting for him to be BTOB Ilhoon and perform again, we're waiting for him to heal, yes, but rn i know he's already home where he belongs. BTOB is complete."
One fan rightly pointed that the wait for Illhoon's return had just begun. When one fan said, "Please don't ever say "btob is finally complete again" after hyunsik discharge," while another replied, "Instead of saying "The wait is finally over" we should say "The wait has just begun" we are waiting for Ilhoon to come back with the other 6 members." Another fan said that Sungjae and Hyunsik were part of the Illhoon protection squad. They said, "ILHOON PROTECTION SQUAD IS COMPLETE! Just wait a little bit more our cherry @BTOB_ILL We will celebrate too your grandest comeback soon."
---
All BTOB members unofficially done military service
Will be officially finished nov. 14 for HYUNSIK AND SUNGJAE
AND HELLO YAS BTOB TIME

— YJ💙💙💜 (@YJ_11061321) September 28, 2021
---
---
BTOB finished their military services, that's the biggest flex.

— 𝓮𝓵𝓪𝓲𝓷𝓮 (@ameloaghase) September 28, 2021
---
---
I CAN'T WAIT FOR MY BABIES FIRST EVER LIVES AFTER THEIR MILITARY. AHHH THEY WILL KEEP ME AWAKE AGAIN ESP HYUNSIK! ALL CAPS BCS I'M TOO HAPPY 💙💙

— ロベリンです.비투비がだいすきです. (@4everwithBTOB) September 28, 2021
---
---
Even tho i'm a baby melody, but i feel so relieved that btob military era has ended😭💙 bfore I became a melo I think that it's nearly impossible for a group to enlist 'together' while they're on their golden time esp our maknae bc company won't agree with that

Pull a BTOB😎

— 𝐣𝐞𝐣𝐞 || 비투비 (@hysikkie) September 28, 2021
---
---
can't wait till Ilhoon's back 🥺 welcome home sikjae 💙

— luna | 🌙 (@leechangsubieee) September 28, 2021
---
---
i know we're still 'waiting' but knowing how much they support ilhoon during these times, my heart is at ease. we're waiting for him to be BTOB Ilhoon and perform again, we're waiting for him to heal, yes, but rn i know he's already home where he belongs

BTOB is complete 💙

— jaya ♡ 7TOB • WELCOM BACK SIKJAE!!! (@peun_onymous) September 28, 2021
---
---
Instead of saying "The wait is finally over" we should say "The wait has just begun" we are waiting for Ilhoon to come back with the other 6 members

— Melody~디안^^ (@melodyina32) September 26, 2021
---
Share this article:
BTOB Sungjae and Hyunsik return from army, fans say wait for Illhoon 'has just begun'