Brad Pitt's mom tells him not to mess up rumored Jennifer Aniston romance amid 'reunion' with Angelina Jolie Despite the actor confirming time and again that he has not made himself available in the market for dating in the foreseeable future, rumors of Brad Pitt being in love with his first wife, Jennifer Aniston, refuse to die down.
The latest report suggests that the 'Once Upon a Time in Hollywood' has been advised by his mother, Jane Etta Pitt, not to mess up his reunion with his former spouse. According to the International Business Times, the 'Friends' star has maintained a close relationship with her ex-husband's mum over the years, even after the couple divorced and Jane has always been very fond of her.
Rumors of a rekindling of their love story began after Pitt attended Aniston's 50th birthday last year. Since then they have kept bumping into each other at several events, including high profile parties and award shows. One of the very public reunions of the former lovebirds was at the SAG Awards in January.
Pitt was seen mouthing the words "oh my God" during Aniston's acceptance speech at the SAG Awards, and they were later seen holding hands backstage. When she was asked about how she felt seeing Brad that evening, she sweetly replied, "It just feels like a really fun night to cheer each other on. We've all grown up together, we really have."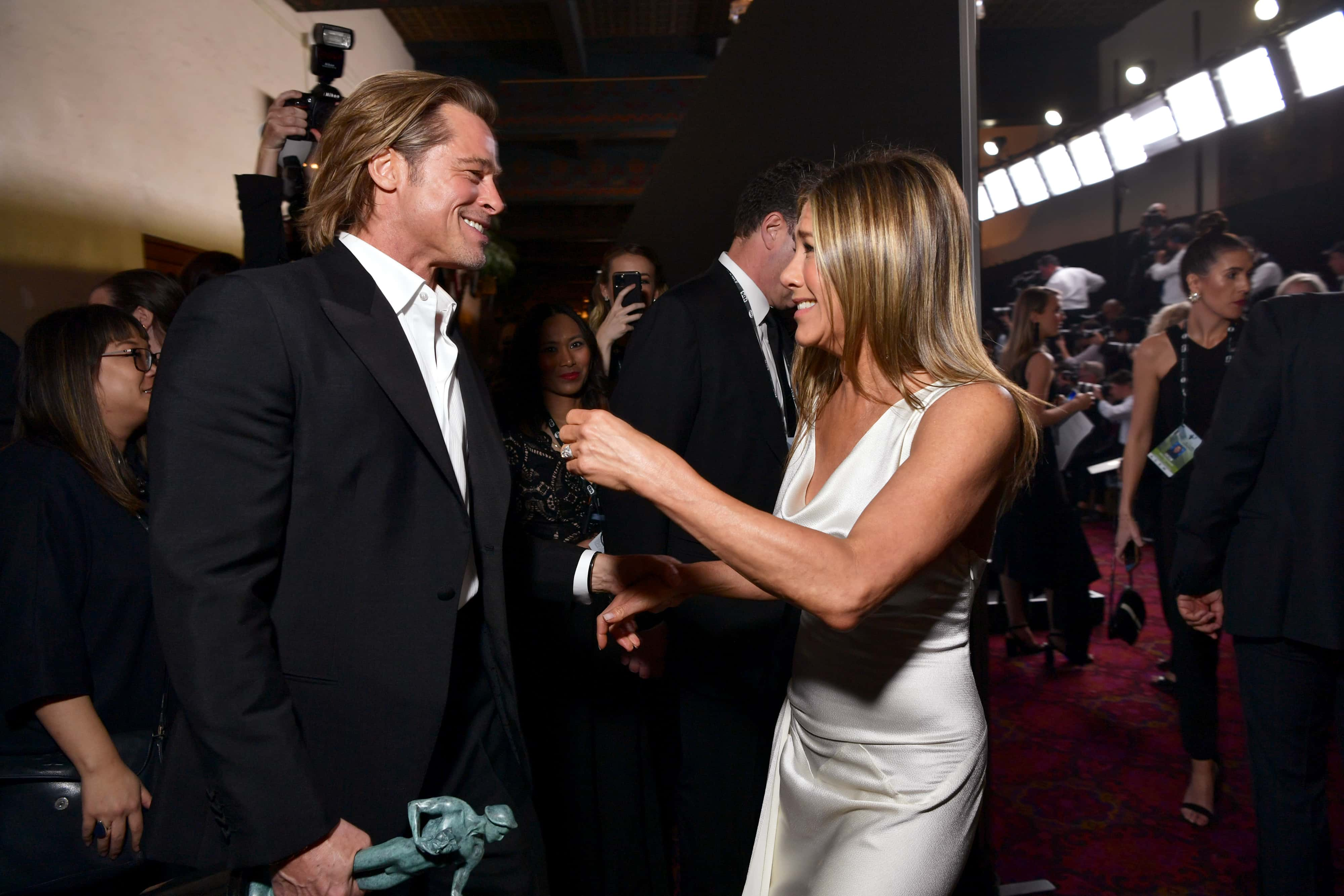 On being inquired about rumors of them getting back together, she felt it was "hysterical" and added, "But what else are they going to talk about?"
However, soon after, MEA WorldWide (MEAWW) reported that sources close to the former couple claim that the two have gone on a "string of dates" and are "back in love" with each other.
An anonymous friend said at the time, "I don't think she's ever really stopped loving him, even though he broke her heart when he left her for Angelina Jolie. It has taken a long time but she has forgiven him for everything – forgiveness has been a big part of them moving on."
Pitt reached out to Aniston in 2017, to apologize for his "deplorable behavior" during their marriage. They were Hollywood's golden couple from 2000- 2005 before he left Aniston for his 'Mr & Mrs Smith' co-star Angelina Jolie.
Their divorce left Aniston hurt and upset, said sources. Aniston reportedly forgave her ex-husband and accepted his heartfelt apology, following which they became good friends.

Pitt and Aniston have since gone on several dates. According to sources, these famous exes went on at least five dates before they ran into each at the SAG Awards. The sources also revealed that they had a "secret tryst" at Aniston's Bel Air mansion during the Christmas holidays.
Meanwhile, E! News reported that Pitt and Jolie have "reunited" with each other to support their kids – Zahara and Shiloh, both of whom have either undergone or are undergoing surgeries.
"They were both concerned and loving parents that were by their kids' sides," the source said. "She never left the hospital and was very sweet and child-like with her kids. You can see she gets down on their level and really makes them feel comforted."