From an earthworm to a monster cake: All the best looks from Heidi Klum's Halloween Bash
Various celebrities stunned in their best costumes at Heidi Klum's annual bash NEW YORK CITY, NEW YORK: Halloween is incomplete without supermodel Heidi Klum showing up in the most bizarre costume to celebrate the spooky festival. After all, 2022 was in fact blessed to be graced by the 49-year-old's most frightening outfit so far.
Klum hosted a Halloween bash at her New York City home on Monday, October 31, with many celebs glorifying the night of horrors with their presence. While many came donning the most astonishing and detailed ensembles, it was the host herself who snatched the spotlight. Right behind her was the Tesla owner Elon Musk who made a rare guest appearance at the party. Musk reportedly wore the Devil's Champion-Leather Armor set that cost him $7,500. Here are some of the most "chilling" looks from the star studded party.
READ MORE
From Kim Kardashian's 'X-men' look to Megan Fox's '90s outfit: Best celebrity costumes for Halloween 2022
Kim Kardashian repeats Saweetie's 2020 'Mystique' look this Halloween, fans say 'it's Ms Icy Girl for me'
Heidi Klum's worm costume
The host of the night, Heidi Klum, spent hours perfecting her creepy crawly costume before changing to a nude shimmery bodysuit. However, the model kept the worm face makeup on throughout the night. She was accompanied by her partner in crime and husband Tom Kaulitz, 33, who showed up in a fisherman's costume. He carried a fishing rod with Klum stuck on the hook as bait. He's got her, hook, line and sinker.
Elon Musk's leather red samurai costume
Twitter chief Elon Musk showed up in a $7,500 costume called the Devil's Champion-Leather Armour set. He posted pictures with his mother on his very own social media platform. The post soon garnered a lot of attention with netizens trying to speculate who the Tesla owner has dressed up as. While a few Twitter users found the costume resembling Iron Man, a user found said it was demonic as a cross on it was upside down. However, another netizen said that Musk was cosplaying a character from the video game 'Diablo'. After taking over Twitter, he does look ready to slay.
Jeremy Scott as Tim Gunn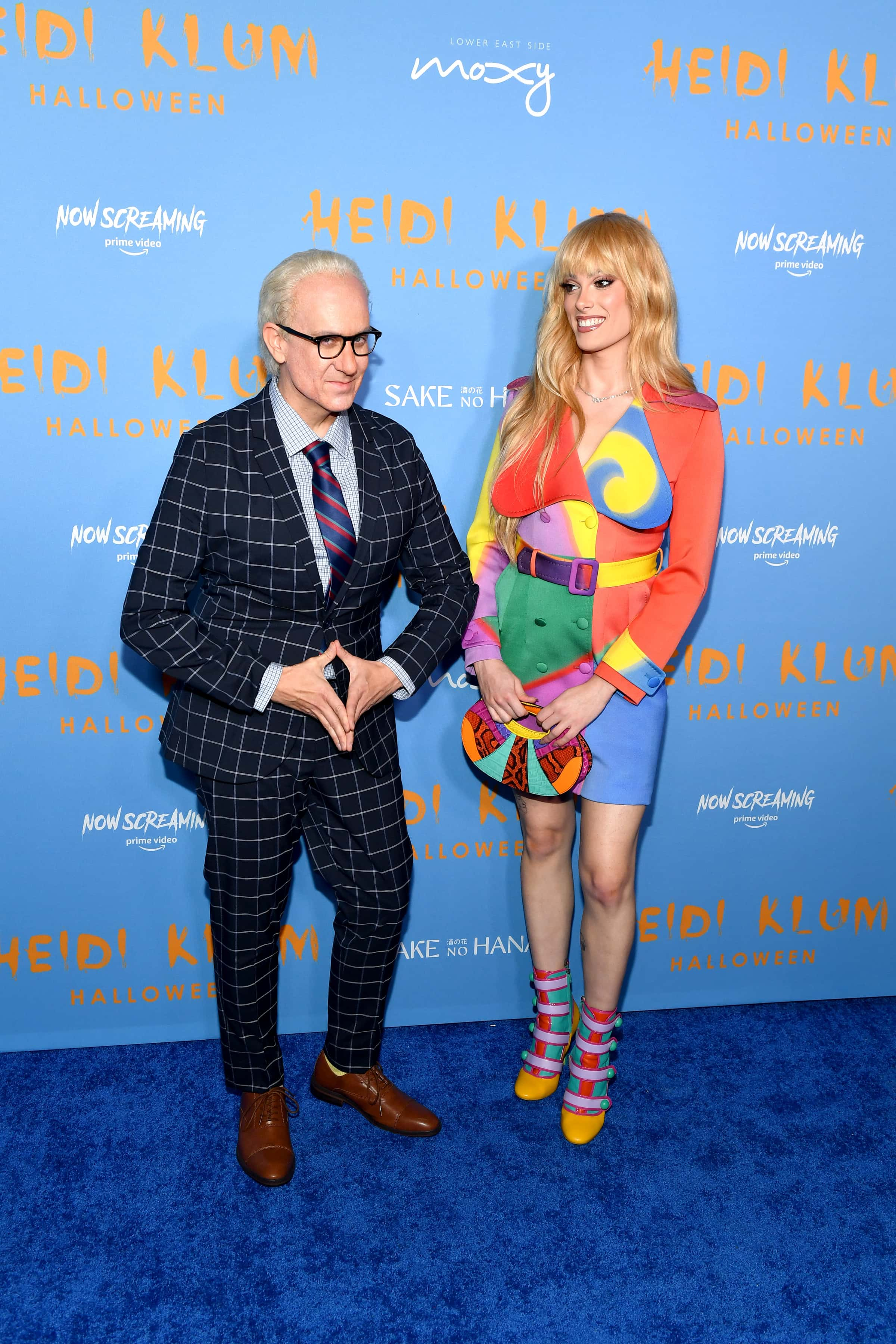 American fashion designer Jeremy Scott did not miss a beat when he imitated Tim Gunn along with his partner Gigi Goode who dressed up as Heidi Klum at the annual bash. People are still not over 'Project Runway'.
Yannik Zamboni's undead look
Maison Blanche's chief designer Yannik Zamboni donned another eye-grabbing costume to the Halloween event night. The Switzerland-based fashion designer was dressed as one of the undead, complete with black veins stretched across his skin, claws and and razor sharp fangs. This costume should come with the sign: CAUTION!
Valentina Sampaio as Pris from 'The Blade Runner'
Brazilian supermodel Valentina Sampaio graced the night as Daryl Hannah's iconic character from 'The Blade Runner'. Sampaio dressed up as the "basic pleasure model" Nexus-6 replicant Pris. It might be time for a recast in the film.
Nick Alvarez in a monster cake costume
Actor Nick Alverez stunned in a monster cake costume along with a red ensemble with devil ears on top. Who said you can't have a cake and it can't eat you too.
Share this article:
From an earthworm to a monster cake: All the best looks from Heidi Klum's Halloween Bash