Ben Affleck spotted smoking after promising wife Jennifer Lopez he would quit amid rumors of marital issues LOS ANGELES, CALIFORNIA- Ben Affleck is still hanging on to his smoking habit. Ever since the actor married Jennifer Lopez, rumor mills have been abuzz with their growing marital problems. Affleck was captured smoking his signature cigarettes despite "promising" his new wife Jennifer Lopez he'd quit.
According to RadarOnline, Affleck was spotted outside of his Santa Monica office lighting up just one day after he was captured going on a brunch with his wife Jennifer as speculations grow that their three-month marriage has hit rough waters. The 50-year-old was in a great mood for his outing on Monday, October 3.
RELATED STORIES
'I get it': Support pours in for Ben Affleck as video shows actor's 'exhausted' face after greeting wedding guests
Ben Affleck wrote '12-page' wedding vows for wife Jennifer Lopez, reveals pal Kevin Smith
Meanwhile, Jennifer did not accompany her husband. The actor kept it casual for his errand run, wearing a pair of white jeans, a purple t-shirt, and a blueish-gray sweater, Affleck rolled up his sleeves and got to work.
Affleck kept the cigarette placed in his mouth as photographers captured him flashing a smile. It is known that the actor has been a smoker for years, but sources told RadarOnline.com that it has become a reason for argument for the newly married stars.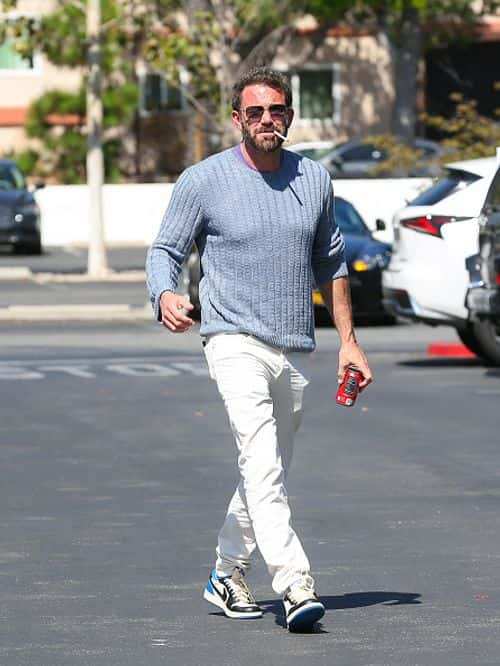 A source said to the outlet, "Jennifer hates smoking. You do not look like Jennifer Lopez if you don't look after your body. She doesn't drink, she doesn't eat bad food and she certainly doesn't smoke." However, Affleck's smoking isn't the only thing the couple is at loggerheads about. According to a friend of Affleck, the actor "didn't realize what he was getting into," with the insider claiming that the couple has been fighting nonstop since saying "I do" in July and August this year.
An insider said, "She absolutely hates Ben's cigarettes," adding, "He promised to give it up, but with all her nagging he's smoking more than ever." Another pal said, "Ben has given up a lot of his vices over the years, but he just can't get rid of the cigarettes. It's his one guilty pleasure and something Jennifer might have to learn to live with."
Meanwhile, there had been recent reports that Jennifer Garner is reportedly enjoying the marriage of her ex-husband Ben Affleck with Jennifer Lopez. According to E! News, a source close to the actress and who knows both Affleck and Garner referenced everything that the actress has done for Affleck such as providing help for her ex-husband while he was dealing with alcohol addiction after their separation in 2017 and staging an intervention in 2018. The source said, "I'm sure she's thrilled to get rid of her fourth child." An insider revealed that Garner is sure and she "knows that J-Lo has been a positive influence in certain ways."

Share this article:
Ben Affleck spotted smoking after promising wife Jennifer Lopez he would quit amid rumors of marital issues