'Baywatch': Here's what cast of hit show are doing NOW as Nicole Eggert turns 50 'Baywatch'. Everyone has heard of it. The hugely popular and successful TV show ruled the screen with the famous red swimsuits for more than a decade. The rotating cast made themselves a household name with their stunning looks as they saved lives on the South California coast.
On January 13, Baywatch star Nicole Eggert celebrated her 50th birthday and it made us wonder where she and the 'Baywatch' gang are up to these days. After their promising time as lifeguards on the show, here is where our good old 'Baywatch' stars are at currently.
RELATED ARTICLES
Patricia Cornwall: How 'Baywatch' actress went from Playboy model to 'Delta Karen'
Is Pamela Anderson still relevant? Sex tapes to adult webcam, 'Baywatch' diva continues to steal spotlight
Nicole Eggert
Nicole Eggert played Roberta "Summer" Quinn on Baywatch. Her part on the show lasted from 1992 to 1994. Eggert had to let go of Roberta as she went on to attend college. After successfully yielding some fame on Baywatch, Eggert participated in a reality TV show called 'Celebrity Fit Club' that aired in 2010 and came second in reality show 'Splash', 2013. A year after these successful ventures, Eggert gave up acting to become an ice cream truck owner and driver.
She later appeared on another TV reality show called 'Botched' in 2015 where she got a breast reduction. In 2018, Eggert publicly accused former co-star Scott Baio of sexually abusing her 'probably once a week' when she was 14-16. Baio, who is 11 years older than her, denied all such allegations and told media that their only sexual encounter happened after she had turned 18.
Nicole Eggert has two daughters. She shares Dilyn with ex Justin Herwick. She has kept the paternal identity of her other daughter Keegan unknown to media.
Gena Lee Nolin
Gena Lee Nolin played Neely Capshaw, the girl who constantly butted heads with her boss Mitch Buchannon. Nolin's part on the show lasted from 1995 to 1998, after which she starred on 'Sheena' that aired from 2000 to 2002. Nolin also appeared on Playboy magazine in its Christmas 2001 version. She also authored a book, 'Beautiful Inside and Out: Conquering Thyroid Disease with a Healthy, Happy, 'Thyroid Sexy' Life', which came out in 2013. Nolin has three kids, Spencer, Hudson amd Stella.
She has been married twice and now lives a happy and peaceful life at home in Arizona.
Pamela Anderson
Pamela Anderson is one of the stars to have stuck to their part in 'Baywatch' for the longest time. Anderson entered the show in 1992 and only left in 1997. She played the role of lifeguard CJ Parker. Anderson was very fond of the way her character thought and Parker's new-age thinking was one of the main reasons why she held on to that character for so long.
Anderson has had an eventful career even after she quit 'Baywatch'. She appeared on the Playboy magazine 13 times and began a four-year starring run on the TV show 'V.I.P.' in 1998 right after quitting Baywatch. In 2005, she co-wrote the novel 'Star'. In 2015, she published 'Raw', which features pictures and her handwritten poetry about sex and romance. In 2018, she co-wrote 'Lust for Love: Rekindling Intimacy and Passion in Your Relationship'.
Anderson also follows a vegan lifestyle, has been married thrice and engaged once, and shares her two sons with her first husband Tommy Lee.
David Hasselhoff
David Hasselhoff appeared on Baywatch from 1998 to 2001 playing the role of Mitchell Buchannon. Hasselhoff quit Baywatch in 2001 and made his first Broadway debut in 'Jekyll and Hyde' in 2004. He also made his venture into reality television in 2010. He starred on A&E's "The Hasselhoffs" alongside daughters Hayley, who's now a plus-size model, and Taylor, a luxury real estate agent who appeared on "Rich Kids of Beverly Hills" in 2015.
The actor had faced some issues with his alcoholism. In 2006, he divorced his wife Pamela Bach and started dating Hayley Roberts, who is almost 28 years younger to him. They tied the knot in 2018.
Carmen Electra
Electra played Leilani McKenzie. Her character was a lifeguard who dreamt of becoming a dancer. Her role in the show lasted from 1997 to 1998. Electra also had her Playboy days before she headed to pursue an acting career. She married NBA star Dennis Rodman with whom her marriage lasted for a brief period of time. She appeared in "Scary Movie" in 2000 and "Starsky and Hutch" in 2004.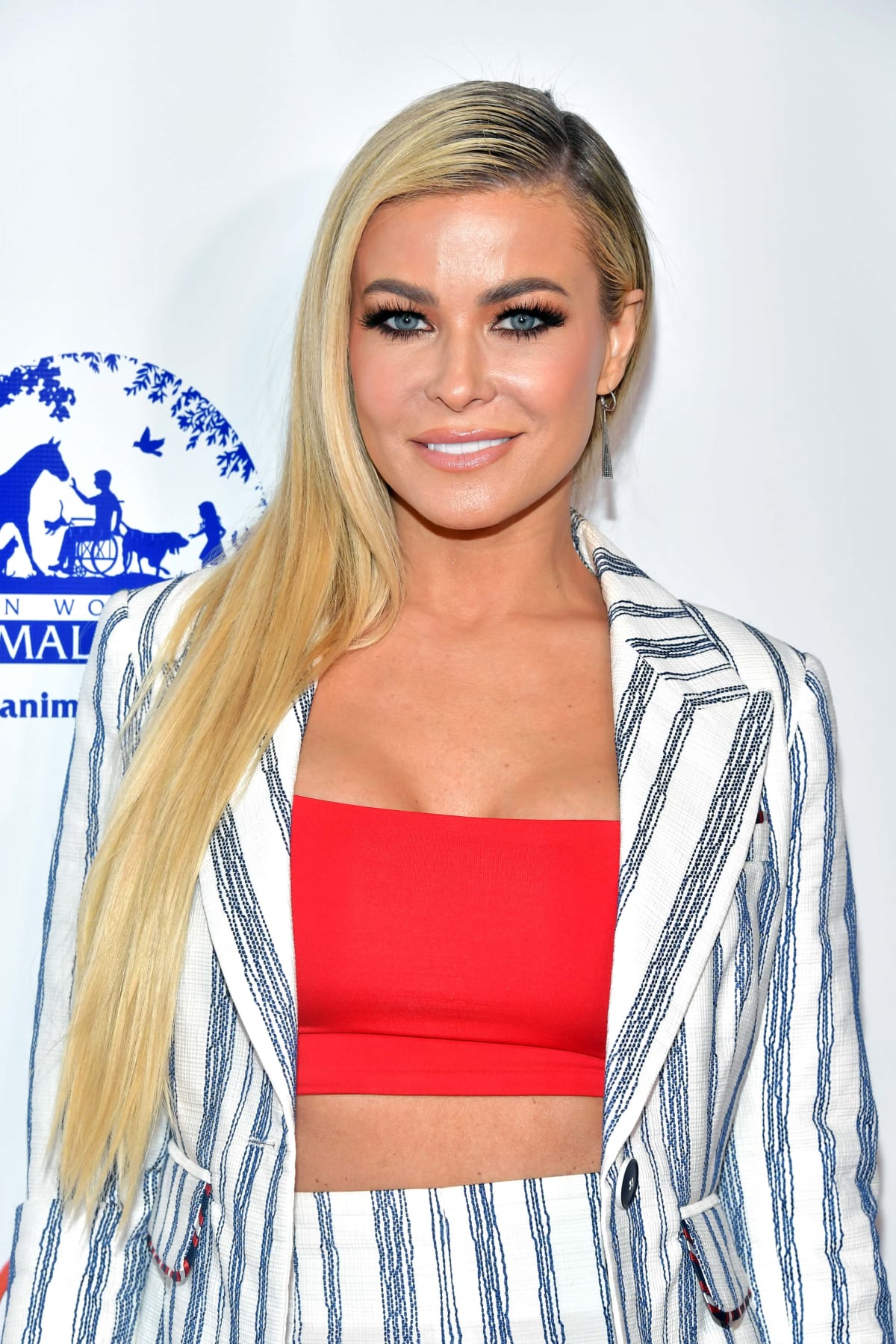 She also appeared on reality television on a show called 'Till Death Do Us Part: Carmen and Dave' with then-husband Dave Navarro. The couple split in 2006. Electra seemed to have more relationships that did not work out. She later appeared on a reality series called 'The Choice' as a celebrity bachelorette.
Electra has recently launched her vegan and cruelty free skincare line called Gogo in 2020.
David Chokachi
David Chokachi was the well-known eye candy of 'Baywatch' and starred as resident heartthrob Cody Madison on the show from 1995 to 1999. Right after quitting Baywatch, he bagged a starring role in a series called 'Witchblade' that he worked in from 1999 to 2002. He had a pretty good going television career and even did a few good TV movies.
He later also appeared on VH1's "Confessions of a Teen Idol," which aired in 2009. After his reality TV debut, Chokachi worked on some lesser-known movies that include "Blood Pageant" and "Last Call in the Dog House". The actor is married to Susan Brubaker and the couple also have a daughter.
Alexandra Paul
Alexandra Paul was also one of the actors to who stuck to Baywatch for a longer span of time than most others. Alexandra played the role of Stephanie Holden from 1992 to 1997. Stephanie played a pivotal character in the show and was also Mitch Buchannon's love interest until her character was killed off.
Alexandra built a career mostly around TV movies after exiting Baywatch. She starred in several well-performing TV movies since 1999. As recent as 2020, she appeared in comedy drama movie 'Pink Skies Ahead'. Alexandra is an advocate for animal rights and has been vegan since 2010. She got married to Ian Murray in 2000 in the early stages of her TV movie career. In 2010, the actress wrote a detailed blog explaining why she was not willing to have kids.
Jaason Simmons
Jaason Simmons played the role of Logan Fowler on Baywatch from 1994 to 1996. Logan's character was an ace Aussie lifeguard that audience seemed to grow really fond of. Jason came out of the closet and discovered himself gay in 2008.
He lives with partner John O'Callaghan and the duo have a son together named Odin. Jaason appeared on screen again in 2013 when he landed a role in the movie 'Sharknado'.
Traci Bingham
Traci starred on Baywatch from 1996 to 1998 and played Jordan Tate. After she retired from her on-screen role as Jordan, she landed minor roles in various TV shows including 'The Dream Team' and 'Celebrity Paranormal Project'. Traci also made it to some big television projects like "The Surreal Life" in 2004 and 2007 and Britain's "Celebrity Big Brother." Just like her red swimsuit-mates, Traci also appeared in the Playboy magazine. Traci is an active advocate for animal rights.
She leads a vegetarian lifestyle and is an avid supporter of PETA. Traci was married to songwriter and music producer Robb Vallier for a brief period of three years till 2001. The actress is active on social media but was last publicly photographed in 2013.
Jeremy Jackson
Jeremy Jackson is none other than Mitch Buchannon's son Hobie Buchannon on Baywatch, a part that he played from 1991 to 1999. The role was passed on to him after Brandon Call quit the show. Jeremy's character had a major crush on Summer Quinn, played by Nicole Eggert.
Jeremy Jackson did not have much of an eventful career post-Baywatch. However, he seemed to do pretty well in the reality TV industry. He appeared on several reality shows such as Confessions of a Teen Idol, Celebrity Big Brother, and Celebrity Rehab with Dr. Drew, where Jeremy discussed his steroid addiction on screen. In 2012, Jeremy tied the knot with his long-time girlfriend Loni Wilson. The marriage only lasted till 2014. In 2015, he was involved in a stabbing incident for which he served jail time in 2017. Jeremy as of today is active on social media and works as a personal trainer and recovery coach.
Yasmine Bleeth
Yasmine Bleeth played the stunning Caroline Holden on Baywatch from 1994 to 1997 but she made guest appearances after retiring from the red swimsuit several times. Caroline Holden was the younger sister of Stephanie, the lifeguard. Yasmine Bleeth hit the screens on the very successful series Nash Bridges from 1998 to 2000. She then went on to appear on Titans from 2000 to 2001 which was also very popular among the audience.
However, after these huge hits, Bleeth retreated to a low-profile life away from the limelight. She was arrested in 2001 and was known to be struggling with cocaine addiction after that. She married Paul Cerrito, a strip club owner who she met during her stay at the Promises rehab facility in 1997. The two remain married and live a quiet and low-profile life together in Los Angeles.
Donna D'Errico
Donna played Donna Marco on Baywatch from 1996 to 1998 after which she went ahead and hosted the show Battlebots. The former Playboy Playmate appeared in a few independent films before shifting her career completely. She opened Zen Spa, a day spa in Calabasas, California. Donna split from her partner Nikki Six in 2007 after over a decade of their marriage.
The couple has a daughter Frankie together who was born in 2000. Donna also has a son named Rhyan, born in 1993 from a previous relationship. In 2017, Donna sprinted back into the limelight after revealing her before and after photos after getting four plastic surgeries to get back into her Baywatch hot bod. Donna was last seen co-starring with Bruce Willis and Chad Michael Murray in a thriller movie 'Survive The Crime' that was released in 2021.
Parker Stevenson
Parler Stevenson played a lifeguard in the show for only about a year spanning from 1989 to 1990 but would keep appearing as a recurring character in later seasons. Parker had already established himself in the industry before he appeared on Baywatch. After the show ended, he did not seem to have a problem finding new work. He appeared on Melrose Place and Judging Army and was seen in small roles in many other series and TV shows. Parker tied the knot with Kristie Alley in 1983 who is also the mother to his two children who are now adults. The couple split in 1997 and Parker married Lisa Schoen in 2018. He was last seen on the Netflix coming-of-age drama series Greenhouse Academy that lasted from 2017 to 2020.
Billy Warlock
Warlock played Eddie Kramer on the show from 1989 to 1992. His character was an orphan on the show, retiring from which, he went on ahead to have a pretty eventful television career. His stints on soap operas include "Days of Our Lives," "The Young and the Restless," "One Life to Live" and "General Hospital." In 2006, Billy married his former "Days" and "As the World Turns" co-star Julie Pinson. Billy was seen in the acting industry till 2010 after which he purportedly took a break from Hollywood.
Billy moved to Telluride, Colorado with partner Julie in 2013 where he worked as a ski instructor.
Share this article:
'Baywatch': Here's what cast of hit show are doing NOW as Nicole Eggert turns 50