'Bad Hair' Review: Horror satire falls short in its message on Black hair as it gets entangled in unfunny comedy Spoilers for 'Bad Hair'
Hulu's 'Bad Hair' is a horror satire set in the year 1989 and follows a woman named Anna Bludso (Elle Lorraine), who in order to push forward in the discriminatory society of music television gets a weave. While the success does come, it seems as though she has a price to pay for it when she realizes that her hair is now alive. The movie, written and directed by 'Dear White People's' Justin Simien, has an audacity that shines on the discriminatory demands Black women face in many industries, especially those in entertainment. While the premise was a genius one, the execution wasn't on point as we'd expected it to be. We'll try not to give too many spoilers away as we explain a bit of the backstory, but as a fan of the horror genre, the movie did not do its premise justice. There was the pinch of terrifying elements and reveals missing and while the trailer looked promising, we were high key disappointed at the result.
Bludso, who lives in the city of Los Angeles, had spent years working as an assistant and her goal was to make a name for herself in the entertainment industry of music television. Expectedly, she is unable to pay her rent, and is then, to her dismay, given a new boss Zora (Vanessa Williams) after her old boss Edna (Judith Scott) leaves her management position. This is where the audacity shines through and has glimpses of realism and relatability, as Zora implies that while Bludso has potential, her natural hair might be holding her back. Of course, we know that a woman should not be defined by her hair and her skills should never put to the test because she doesn't have a fancy hairstyle, it still makes sense back then, why Bludso eyed the hairstyle called Pinchbraid extensions.
The Pinchbraid extensions of course come at a high price as hairstylist Virgie (Laverne Cox) makes the style a popular must-have. So, using the money her mother (Michelle Hurd) loaned her to help her with her rent, Bludso gets herself a weave. Unfortunately for her, she does pass out on the chair as she experiences PTSD from an incident she couldn't shake off from her childhood but wakes up to a head full of long beautiful hair. Bludso is then treated with expected results, as her hair brings her respect and her aspirations are met with positivity rather than dismay. However, here is where the element of horror seeps in — her hair seems to want more in this arrangement.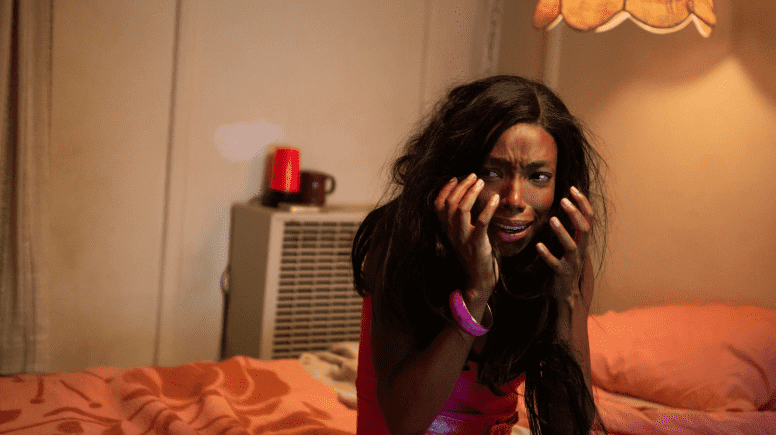 If you've watched 'Dear White People', you would know that Simien's way of exploring the discriminatory aspects Black people face in the real world is exceptional. It's almost as though in 'Bad Hair' he shows the consequences of morals and values becoming skewed over time due to respect given when one pushes away their Black culture to fend the need of a hairstyle considered to be more acceptable. Now, with a position that she had wanted, Bludso encourages those around her to do as she did, to get to where they want to.
As we said, the premise of the movie received a glorifying "yes" from us when the trailer released, but as the narrative pushes on, it makes you wonder when the "clever" aspect was coming in. Of course after movies such as 'Get Out' and 'Us', we're a bit conditioned for an ending that would stand out, and while comparing narratives is never the answer, 'Bad Hair' simply didn't make the cut as it pushed forward in a confusing and horror-yet-not-horror kind of way. We have to say the timing of the comedy was laughable in itself. This was probably the biggest downfall of the movie. It should have stuck to clever horror, which we believe what most were expecting, instead of diverting to cringy comedy. The potential was there since a storyline where a women's weave that's alive and has an influence on her brings a horror element that can be explored quite well. Hence, our disappointment.
What we do have to add, although, is that the cinematography, direction and costumes met up to the element of shock. It was simply a beautiful execution in that manner, where talent and bold creativity met quite spectacularly. Simien has a way of storytelling that one definitely can't deny in its excellence and horror and realism turned that talent up a notch. The personality and the quirks of Bludso's hair are quite enjoyable, and we were not at all mad at the creative liberties taken.
The movie speaks on identity in a manner that makes you realize that the idea of a Black woman's natural hair being an obstacle is still a current issue. The need to impress a White audience is a deal that many aren't up for now, with many Black women standing up for natural hairstyles, including girls as young as those in high school. 'Bad Hair' speaks on how the approval of the White audience in places such as music networks calls for unneeded changes that Black women are set up to endure. The movie has the murderous bloodthirsty weave as a metaphor, where it speaks of the obstacles Black women go to in order for them to be able to move forward in an industry that relies on Eurocentric approval.
Bludso, who moves forward in her career, is now left with her hair that has not only possessed her but also taken over her and is inflicting harm. While it's obvious what Simien was trying to put across with 'Bad Hair', it seems as though he almost lost track during the film. The ridiculousness and radically unfunny aspect kind of overshadows his real point. The narrative is unique and Simien experimented with a new way of bringing realistic cultural criticism across, but unfortunately, the movie simply didn't do its premise justice.
'Bad Hair' is now available to stream on Hulu.