Johnny Depp slapped, shoved and choked Amber Heard in drunk attacks, claims actress in response to lawsuit According to a new harrowing court filing, Amber Heard described how a "violent" Johnny Depp changed into "the monster" on drugs and booze, subsequently beating her, strangling and even torturing her. Heard, who was married to the "Lone Rangers" star for just over a year until she filed for divorce in May 2016, further claimed that Depp repeatedly hit her, ripped out her hair, choked and nearly suffocated her.
Heard's statements come in a Virginia court filing in response to Depp's $50 million defamation lawsuit against her, where the 55-year-old actor alleged that the allegations made by Heard in the 2016 op-ed that she wrote for the Washington Post are an 'elaborate hoax'. But now, Heard has responded to those allegations by detailing numerous alleged incidents with Depp in papers exclusively obtained by Page Six.
Heard began by recounting how she began dating Depp in early 2012, "About a year into our relationship, I began to witness Johnny abusing drugs and alcohol … On some occasions, when Johnny simultaneously used both illegal narcotics and prescription medications I have had to get him medical attention. Whenever he was using, I worried for both of us. He would become a totally different person, often delusional and violent. We called that version of Johnny, 'the Monster'. Johnny often would not remember his delusional and violent conduct after he came out of his drunk or medicated states. … Because I loved Johnny, I had believed his multiple promises that he could and would get better. I was wrong."
Heard and Depp tied the knot in February 2015, and within just a month of their marriage, Heard alleged that in March 2015, the 'Pirates of the Caribbean' actor, who was supposed clean at the time, decided to run off on a three-day bender on MDMA/ecstasy in Australia. An argument ensued between them and it soon became physical where Johnny pushed her, slapped her and shoved her into the ground. Heard says she escaped by barricading herself in another room. The next morning, she found that the actor still hadn't slept, having taken about eight MDMA pills. The couple got into another fight and she locked herself in one of the rooms but she says the actor broke the door of the room she was in.
The 'Aquaman' actress continued, "By nightfall, Johnny had hit me multiple times, shoved and pushed me to the ground, choked me, and spit in my face. Johnny then handed me a liquor bottle that he was drinking from, and asked me, 'What are you going to do?' I threw the bottle on the floor. Johnny responded by starting to throw cans and unopened glass bottles at me. . ."
"That night, Johnny shoved me into a ping pong table that collapsed underneath me. Johnny threw bottles through the window panels of a glass door, breaking two panes, and leaving glass everywhere. Johnny then grabbed me, gripping my body and nightgown. He tore the nightgown off, and at some point, I was naked and barefoot, covered in alcohol and glass. Johnny grabbed me by my hair and choked me against the refrigerator in the kitchen. I tried to stand myself up but I was sliding around the glass-strewn floor and countertop. Johnny threw me away from him, and I tried to run away as Johnny continued to throw objects and alcohol at me."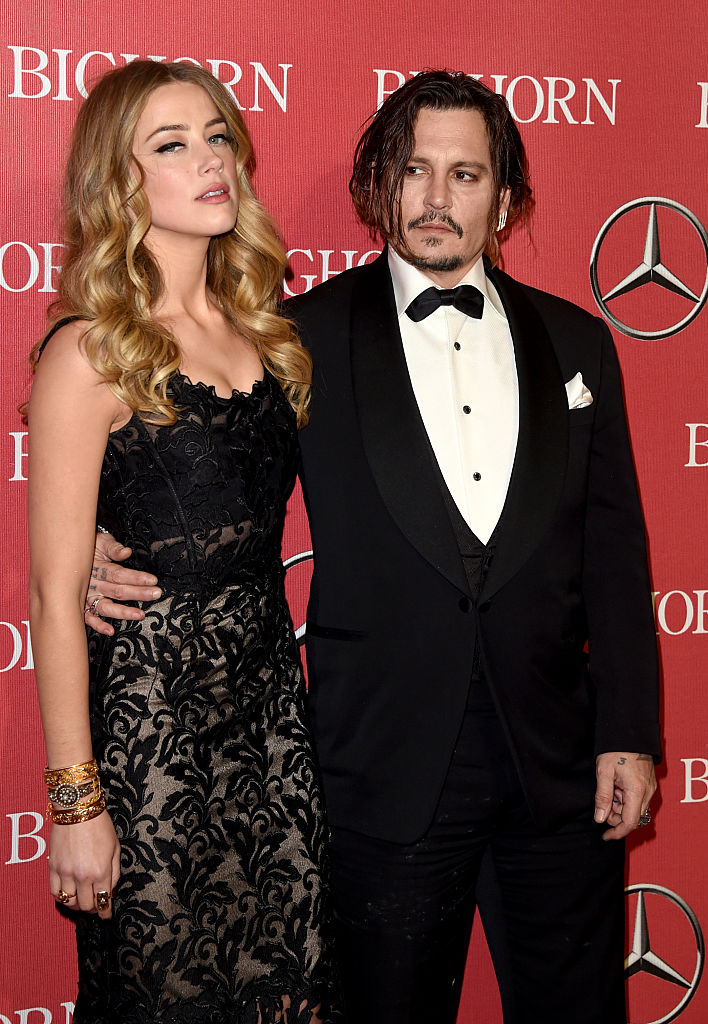 "In one of the most horrific and scariest moments of this three-day ordeal, Johnny grabbed me by the neck and collarbone and slammed me against the countertop. I struggled to stand up as he strangled me, but my arms and feet kept slipping and sliding on to the spilled alcohol and were dragged against the broken glass on the countertop and floor, which repeatedly slashed my feet and arms. The actress recalls being scared for her life, as she tried to tell Depp that he was hurting her. The actor ignored her and continued to hit and also broke a phone while at it. While smashing the phone, Depp sustained an injury to his finger, cutting off the tip of it.
Heard recounted: "On the third day of Johnny staying awake without sleeping, I came downstairs to find numerous messages Johnny had written to me around the house, on the walls and on my clothes, written in a combination of oil paint and the blood from his broken and severed finger. Johnny also urinated all over the house." Heard states that the actor was finally hospitalized, and she was left with "a busted lip, a swollen nose, and cuts all over my body . . . to this day, I still have scars on my arms and feet from this incident."
After recounting several other incidents of abuse against the 'Fantastic Beasts' star, Heard said to the court that after reporting Depp's abuse and following their divorce in January 2017, a lot of people claimed she faked her injuries. The actress filed for divorce from Depp for good along with a request for a domestic violence restraining order after he allegedly attacked her again in May 2016, first grabbing her phone, "he wound up like a baseball pitcher and threw the phone in my face, as hard as he could."
"People accused me of having abused Johnny. That simply is not true. I never attacked Johnny other than in self-defense (and in defense of my little sister). I have never physically abused anyone. I know what that does to people." She added, "Instead, I have attempted to promote good in the world and to advocate an end to domestic violence. I have sought to use my public persona to speak out on an issue that was extremely meaningful to me and millions of other women and men every year. I have spoken out about violence in public, but I have always avoided specifically referencing Johnny, or recounting his violence against me, not only because I wanted to move past that phase of my life but also because I was constrained by the terms of a strict confidentiality agreement that Johnny had insisted upon as part of our divorce settlement."
The actress' attorney, Eric M. George had earlier commented on Depp's defamation suit, saying: "This frivolous action is just the latest of Johnny Depp's repeated efforts to silence Amber Heard. She will not be silenced. Mr. Depp's actions prove he is unable to accept the truth of his ongoing abusive behavior. But while he appears hell-bent on achieving self-destruction, we will prevail in defeating this groundless lawsuit and ending the continued vile harassment of my client by Mr. Depp and his legal team."