All the men and women Angelina Jolie has dated: From Billy Bob Thornton and Jenny Shimizu to Brad Pitt Angelina Jolie and Brad Pitt are moving the court with full force and new information keeps pouring out. In the latest, Jolie has filed a countersuit accusing Pitt of physical violence with her and their children. The actress has claimed that Pitt "choked" one of their children, and "hit another in the face" back in 2016 on a private plane while coming back from France to California.
The 47-year-old actress has been a staple in Hollywood ever since she rose to fame in the 90s. Since then, the industry has been actively interested in her private life, particularly her relationship status. From three failed marriages to a number of relationships, the 'Eternals' actor has kept her love life pretty eventful. She might be single now, but her club of exes has some A-listers such as Jared Leto, Val Kilmer, Karolina Kurkova, Lady Gaga, Johnny Depp, and of course, Brad Pitt. Let's take a look at the list of her exes.
READ MORE
Brad Pitt vs Angelina Jolie: How Hollywood supercouple went from LOVE to LOATHE
Mr and Mrs SPLIT: The UGLY TRUTH behind Brad Pitt and Angelina Jolie's glamorous relationship
1. Jenny Shimizu (1994-2000)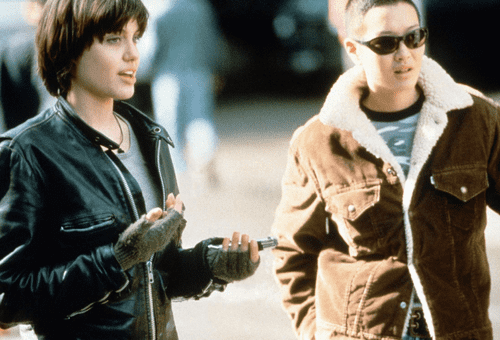 First on the list is the model and actress Jenny Shimizu who was connected to the Hollywood A-lister at the beginning of her career. Jolie and Shimizu first met on the sets of 'Foxfire' and Jolie even reportedly wanted to marry the model back then. Moreover, the actress was head over heels for Shimizu at the time. In a conversation with Girlfriends magazine back in 1997, Jolie said, "I fell in love with her the first second I saw her." According to Rhona Mercer's biography, 'Angelina Jolie: Portrait of a Superstar', Shimizu and Jolie would often visit strip clubs and there was an obvious tension between them. One of the main reasons why the blossoming relationship fell through was that Jolie was already married to Jonny Lee Miller in 1996.
2. Johnny Lee Miller (1994-1999)
Jolie and Lee Miller first met on the sets of 'Hacker'. At the time, it was reported that they became a couple in October 1994. Six months after they dated, the couple got married in a rather odd ceremony, as reported by the New York Times. The only guests invited were her mother and one of Lee Miller's pals. Jolie wore a pair of black rubber pants and a T-shirt with Miller's name written on it in her own blood. They stayed married for three years until their divorce was finalized in February 1999.
3. Timothy Hutton (1997-1999)
While Jolie and Lee Miller were going through a troubled marriage, the actress was rumored to be dating Timothy Hutton, the youngest recipient of the Academy Award for Best Supporting Actor. Timothy and Jolie starred in the movie 'Playing God' together, which is when they met. The stars were linked to each other for two years. Hutton was previously married to Debra Winger from 1984 to 1990.
4. Antonio Banderas (2000)
Angelina Jolie was a free bird after her divorce from Lee Miller. Right after that, she was rumored to be dating her 'Original Sin' co-star Antonio Banderas. They first met on the sets of the movie and the rumors spread after a very steamy scene in it. Neither Jolie nor Banderas ever confirmed the rumored relationship. Moreover, the 'Desperado' actor was married to Melanie Griffith at the time.
5. Billy Bob Thornton (2000-2003)
After striking down the rumors of a relationship with a married Banderas, Jolie moved on to date Billy Bob Thornton, whom she met while working in the 1999 movie 'Pushing Tin'. It was reported that the stars immediately started dating and wasted no time in tying the knot. The couple got married on May 5, 2000, and instantly became the talk of the town. However, the most eccentric couple at the time could not pull through as they divorced in May 2003.
6. Jared Leto (2002-2003)
Next on the list is Jared Leto. The 'Dallas Buyers Club' actor and Jolie were rising stars in the entertainment industry around the same time and the rumors of them dating started making rounds in the year 2002. However, they never addressed the rumors and the talk soon fizzled out.
7. Colin Farrell (2003-2004)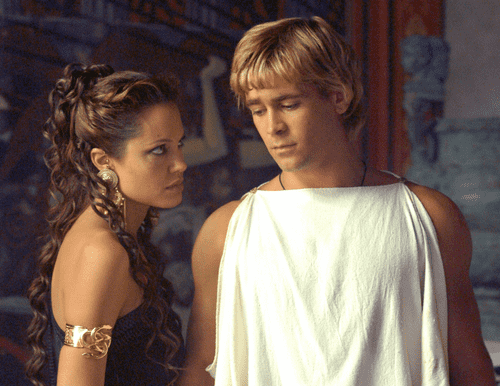 Colin Farrell met Angelina Jolie on the set of the movie 'Alexander', in which she played the role of his mother while being a year younger than him. 'The Gentlemen' actor and Jolie instantly became a rumored power couple, much to their fans' amusement. Even recently, many tabloids reported that there was a romance blossoming between the stars but the rumors were debunked by Extra TV.
8. Val Kilmer (2004)
Jolie is said to have dated another 'Alexander' co-star, Val Kilmer. The 'Batman Forever' actor and Jolie were linked to each other back in 2004. Kilmer and Jolie dated briefly but most of the details were successfully kept under wraps. The actor recalled working with the actress on the 2004 film Alexander in his newly-published memoir 'I'm Your Huckleberry' in 2020. He wrote, "I couldn't wait to kiss Angie, buy her a Gulfstream jet and have a V+J painted in rainbow glory on the tail. She had recently adopted her first child, Maddox, and the paparazzi were obsessed with this postmodern Madonna, the perfect picture of unapproachable stardom and impossibly chic maternal instinct."
9. Brad Pitt (2005-2019)
Jolie's most famous relationship was with her 'Mr and Mrs Smith' co-star Brad Pitt. After meeting on the sets of the movie, the couple was officially dating in January 2005. The duo was famously nicknamed 'Brangelina'. They got engaged on August 23, 2014 and set the bar way too high for other Hollywood couples. However, the two have been embroiled in a bitter legal brawl in recent years. After sharing six children - three of them biological and three of them adopted, the couple finalized their divorce in April 2019. Now, Jolie has accused Brad Pitt of physically assaulting her and the children in an incident dating back to 2016.
10. Karolina Kurkova (2007)
The fact that Jolie is open to dating women just as much as men has always been kept as clear as day. In the initial stages of her relationship with Brad Pitt, Jolie was rumored to be dating supermodel Karolina Kurkov. The rumors even stated that Pitt had no issue with this relationship and that the trio even had fun occasionally. Of course, these rumors were never addressed.
11. Johnny Depp (2010-2011)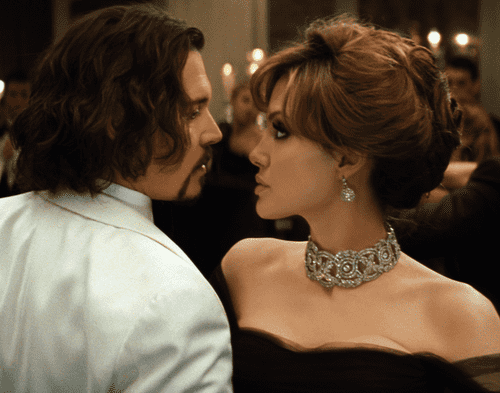 Johnny Depp has had his fair share of the spotlight in 2022 alone due to the exhausting defamation trial with his ex-wife Amber Heard. However, when Depp and Jolie worked together in 'The Tourist', they were instantly rumored to be more than just co-stars and friends, even though Jolie was still married to Pitt. However, none of the parties ever addressed it.
12. The Weeknd (2021)
This was a huge shocker for Hollywood. Angelina Jolie and The Weeknd were rumored to be dating as they were spotted having dinner. One source told Us magazine that the pair "have more things in common than people would think." The source continued, "Angelina and The Weeknd have had a few meetups, but there is nothing romantic going on between them — at least that's what friends are told."
Share this article:
All the men and women Angelina Jolie has dated: From Billy Bob Thornton and Jenny Shimizu to Brad Pitt