'Wrong place in my f***ing mouth': Woman devastated after botched tattoo SWEDEN, EUROPE: Some people spend years contemplating the perfect tattoo design and its location before finally being inked, while many others get tattooed just for fun. One such woman from Sweden had intended to get a comical tattoo on the inside of her lower lip, which is a frequent spot for individuals seeking a fun piece that is always hidden until purposely revealed. However, the artist managed to ink her outside lip, leaving her with a horrible final result.
Wilma Hägglund released footage of her receiving her new tattoo, but she was left screaming and in tears when she saw that the word "meow" had been written rather plainly on her bottom lip. She aired her frustrations about the tattoo on TikTok under the username @wilmah10.
READ MORE
Victoria Beckham removes David Beckham tattoo from wrist sparking rumours of marital trouble
What does S.Coups' tattoos mean? Did Seventeen's leader get 'Carat' inked?
Wilma posted a picture of herself while sobbing with her hand over her mouth with a caption that roughly translates to, "He tattooed on the wrong place in my f****** mouth." The horrifying video then cuts to a picture of Wilma's inspiration for her tattoo, a photo of another lady with the phrase "meow" tattooed on the inside of her lower lip. Wilma got the idea from the picture. At last, her finished tattoo is seen, which makes it clear that her first concept for it was much more covert than the final result.
Since then, the video has gained widespread attention, and many people are questioning how on earth she could have been oblivious to what was going on. Users left comments wondering whether she had been drinking when she acquired it, while some accused her of not being clear about where she wanted it. One person wrote, "How could you not notice while he was doing it" with crying emojis, while another said, "Were you passed out during? How do you not feel the placement difference? Didn't you have to hold your lip open? HOW girl how?" Meanwhile, a third added, "There's just no way unless you were drunk or your tattoo artist." "Why…Did you not notice they were tattooing it outside?" a fifth asked.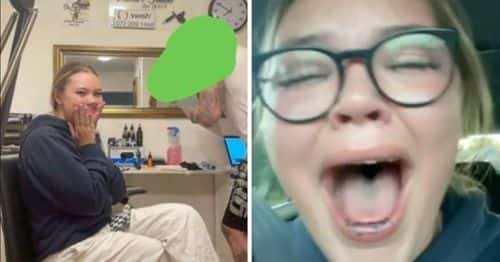 Unfortunately, botched tattoos are not rare. After a tattoo artist bungled a Medusa tattoo that the customer requested in April of this year, the customer was left in utter disbelief and cried for the entirety of the next day. Aleyna Renae submitted a detailed photo of the legendary woman and her hair of snakes, however, the drawing that she received resembled Medusa very poorly and had wonky eyes and terrible shading. In the caption, she added, "And the tattoo artist has been blowing up my phone and gaslighting me."