Who is Scott Feinberg? Letitia Wright SLAMS The Hollywood Reporter journalist for comparing her with 'abusers'
Letitia Wright called out The Hollywood Reporter and its journalist Scott Feinberg for a reportedly 'disgusting' article on her LOS ANGELES, CALIFORNIA: 'Black Panther' star Letitia Wright found herself in a controversy when she shared a video that questioned the Covid vaccines. Since then, the actor has received a lot of backlash for her anti-vax views on social media and faced trolls. On the other hand, a report suggested that she continued to make her anti-vax stance known on the set of 'Black Panther: Wakanda Forever'. The movie has now hit the theatres and continues to dominate the box office. However, the controversy regarding the vaccines continues to haunt her and it seems she has had enough of media outlets calling her out for the same.

A recent article by The Hollywood Reporter noted how 'Personal Baggage' of certain actors' are affecting their chances to get an Oscar nomination. The story reignited her anti-vax controversy and compared her to the likes of Will Smith, Brad Pitt, Woody Allen, and others. As soon as the story came out, Letitia Wright didn't hold back and called out the media outlet for having a bias against her. The story, which has reportedly been written by senior writer Scott Fienberg, received a lot of backlash on social media and Wright said that she had to "unblock" The Hollywood Reporter on Instagram to call the outlet and the writer "disrespectful."
RELATED ARTICLES
'Wakanda Forever' writer CONFIRMS M'Baku and Nakia were considered to become the NEW 'Black Panther'
'It was phenomenal': Fans hail 'Black Panther: Wakanda Forever' as it breaks box office record with $180M debut

In her post, the actor also stated that the media outlet has a personal 'vendetta' against her because she has reportedly refused to do interviews with the aforementioned outlet. She wrote, "I had to unblock @hollywoodreporter just to post this. Scott Feinberg and all at this publication. You're all incredibly disrespectful. How dare you. You mentioned my name alongside men who have been accused of abuse & sexual misconduct. This is vile behavior. At this point a personal vendetta towards me. I've done nothing wrong but respectfully refused to do interviews with this publication. Stop your nonsense. I apologized TWO years ago."
The actor also accused the outlet of "lying" about the matter in which THR claimed that she kept on talking about "anti-vax" thoughts on the set. She added, "I won't remain silent. Stop your disgusting behavior. @scott_feinberg This personal agenda with your friends at @hollywoodreporter is disgusting. I've remained silent as the world told me to kill myself two years ago for a post I apologized for. I kept my head down and focused on my craft. And now I'm on the other side of it. Here you are, as a so-called journalist, we are meant to trust, putting my name into this nasty article for what? You lack substance, you clearly have nothing to report."

The actor didn't shy away from reportedly telling Feinberg to "get a life". So, who is Scott Feinberg? Let's take a look.
Who is Scott Feinberg?
Feinberg is considered to be one of the most-trusted and widely-read entertainment journalists in the US and other parts of the world. He began his journalistic career in 2008 with the Los Angeles Times and worked there for three before moving to The Hollywood Reporter in 2011. The journalist has been responsible for covering the outlet's awards coverage and providing coverage of everything related to the awards season.

Over the years, he has received a lot of recognition for his work and also earned a lot of awards for his reporting. However, this is probably the first time where Feinberg has found himself in this kind of controversy. But why did Wright get so angry with the article? Reigniting the matter was one reason, but the biggest reason why she got triggered so much is reported that the article kept her in the same league of people who have been allegedly accused of sexual or physical assault in their professional careers.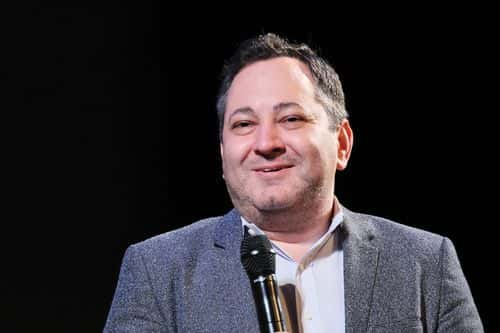 The actor also made it clear that her movie 'Black Panther: Wakanda Forever' will continue to create an "impact" on people and it won't stop. She added, "How dare you. Did my performance rattle you that much? It was that excellent, huh? I'm still here, still making an impact, still creating projects that touch people's hearts, and it's not going to stop. Get a life, like for real."

As of now, The Hollywood Reporter or Feinberg hasn't come out with any explanation or apology yet, but it seems Wright won't let the matter go until her name is omitted from the article.

Meanwhile, 'Black Panther: Wakanda Forever' continues to rake in money at the box office and earned more than $561 million globally.
Share this article:
Who is Scott Feinberg? Letitia Wright SLAMS The Hollywood Reporter journalist for comparing her with 'abusers'