Tina Turner's sisters: The inspirational forces behind music legend's remarkable success NEW YORK CITY, NEW YORK: The music world mourns the loss of Tina Turner, the iconic singer, who died at the age of 83 after a prolonged illness on May 24, 2023. Throughout her illustrious career, the singer whose real name was Anna Mae Bullock expressed that her sisters Evelyn Juanita Currie and Alline Bullock were a significant source of inspiration behind her success.
Evelyn is Tina's half-sister, born from her mother's relationship with Percy Lovelace, while Alline is her biological sister. Unfortunately, tragedy struck when one of the sisters died at an early age, while the other had a constant presence in the singer's life, witnessing the ups and downs she faced.
READ MORE
Here's why Tina Turner pursued Swiss citizenship: Late singer had no plans to 'reside in US'
Who is Eddy Armani? Tina Turner's ex-best friend and PA regrets writing explosive tell-all book that drove them apart
Who are Tina Turner's siblings?
Evelyn Juanita Currie, Tina's eldest sister, shared a special bond with the legendary singer even though they had different fathers. Evelyn, born on April 13, 1934, was the result of her mother's relationship with Percy Lovelace. Growing up in Haywood County, Tennessee, US, Evelyn faced a challenging upbringing when their mother abandoned her and her siblings. She was sent to live with their grandmother Georgeanna Currie in Brownsville, Tennessee.
Tina's biological sister Ruby Alline Bullock was born on December 1, 1936, to parents Zelma Priscilla (nee Currie) and Floyd Richard Bullock. The family resided in Nutbush, Tennessee, where their father worked as an overseer at Poindexter Farm. Their childhood was spent in Nutbush until World War II when their parents moved north for employment opportunities. During this time, Alline stayed with their maternal grandparents, while her younger sister lived with their paternal grandparents. After the war, the family reunited in Knoxville, Tennessee, before eventually returning to Haywood County.
'Turbulent teenage years to famed stars'
In 1950, their mother abruptly left the family without notice, seeking solace in St Louis, Missouri, to escape her troubled marriage. Their father remarried and relocated to Detroit, Michigan, leaving Alline and her sisters in the care of their grandmother Georgeanna Currie, in Brownsville, Tennessee. Tragedy struck during Alline's teenage years when her half-sister Evelyn and cousins Margaret and Vela Evans died in a car accident on January 31, 1954, just days before Evelyn's 20th birthday, as per Juke Bugs.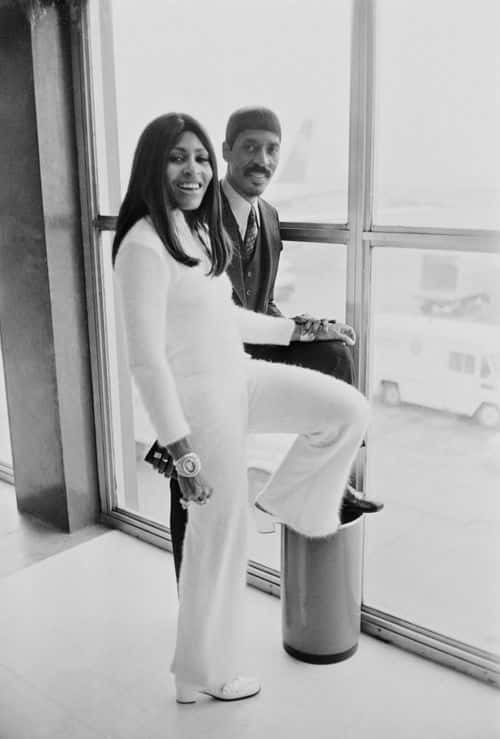 After completing her education at Carver High School in Brownsville, Alline briefly resided in Detroit with relatives before reuniting with their mother in St Louis. In 1956, Alline's grandmother Georgeanna passed away, and her younger sister Tina joined them in St Louis.
Alline, familiar with the local club scene, introduced Tina to the vibrant music culture of St Louis and neighboring East St Louis, Illinois. It was at the Manhattan Club, where Alline worked as a barmaid, that Turner caught the attention of her future husband Ike Turner, and his Kings of Rhythm. During an intermission in 1957, Tina took the microphone, impressing Ike Turner, who subsequently invited her to join the band as Little Ann, one of Turner's vocalists.
Alline Bullock's impact on Tina Turner's music career
In 1960, Little Ann was renamed to the famed stage name Tina Turner, and she and Ike formed the Ike & Tina Turner Revue. Together, they released a series of chart-topping hits, including 'A Fool in Love' (1960). Alline relocated to Los Angeles and resided with Ike and Tina's four sons while the duo toured extensively. She actively participated in the business side of the Ike & Tina Turner organization. In 1965, after the departure of the Ikettes from the Revue, Alline briefly managed the group, which was then renamed the Mirettes due to legal disputes initiated by Ike.
As a talented songwriter, Alline contributed to Ike and Tina Turner's music, including the notable track 'Funkier Than a Mosquita's Tweeter' on their album 'Workin' Together' (1970), later covered by artists like Nina Simone. She also wrote three songs for the 1972 album 'Strange Fruit' by Family Vibes, formerly known as the Kings of Rhythm. In Tina's 2021 documentary, she shed light on her relationship with Alline, revealing that their mother favored Alline over Tina.
The singer disclosed the unkind treatment she received from their mother, which she attributed to the turbulent marriage between their parents, with Tina being born at the peak of their breakup. Despite their challenging upbringing, Alline became a profound inspiration for Tina, and they both shared a passion for pursuing careers in the music industry.
Following Tina's acrimonious divorce from Ike in 1978, Alline maintained a connection with Ike, considering him her brother-in-law. She attended his funeral in 2007 and fondly remembered him in an interview with Ebony magazine in 2008. Alline described Ike as "generous and jovial. He seemed like he was forgiving and wanted to be forgiven for the things he did in his early years." By that time, Alline had formed a relationship with a man named Selico. She died at the age of 73 on September 4, 2010, in Valley Village, California, leaving behind her daughter Jacquline Bullock and her grandchildren.
Share this article:
Tina Turner's sisters: The inspirational forces behind music legend's remarkable success