Tiger Woods was running late to meet NFL stars Drew Brees and Justin Herbert for golf lessons when SUV crashed
The 45-year-old links legend was running late to meet Justin Herbert and Drew Brees for a golfing lesson and was also slated to have a photoshoot with the two quarterbacks Tiger Woods was on his way for a photoshoot with two NFL stars when he crashed and flipped his luxury SUV. The 45-year-old links legend was running late to meet Justin Herbert and Drew Brees for a golfing lesson and was also slated to have a photoshoot with the two quarterbacks, Fox News reported.
Speaking to the outlet, sources said Woods' crew and handler had left ahead of him in order to prepare for the shoot and waited two hours at the destination before hearing about the crash. Meanwhile, it's unclear when the New Orleans Saints and Los Angeles Chargers players were informed of the same.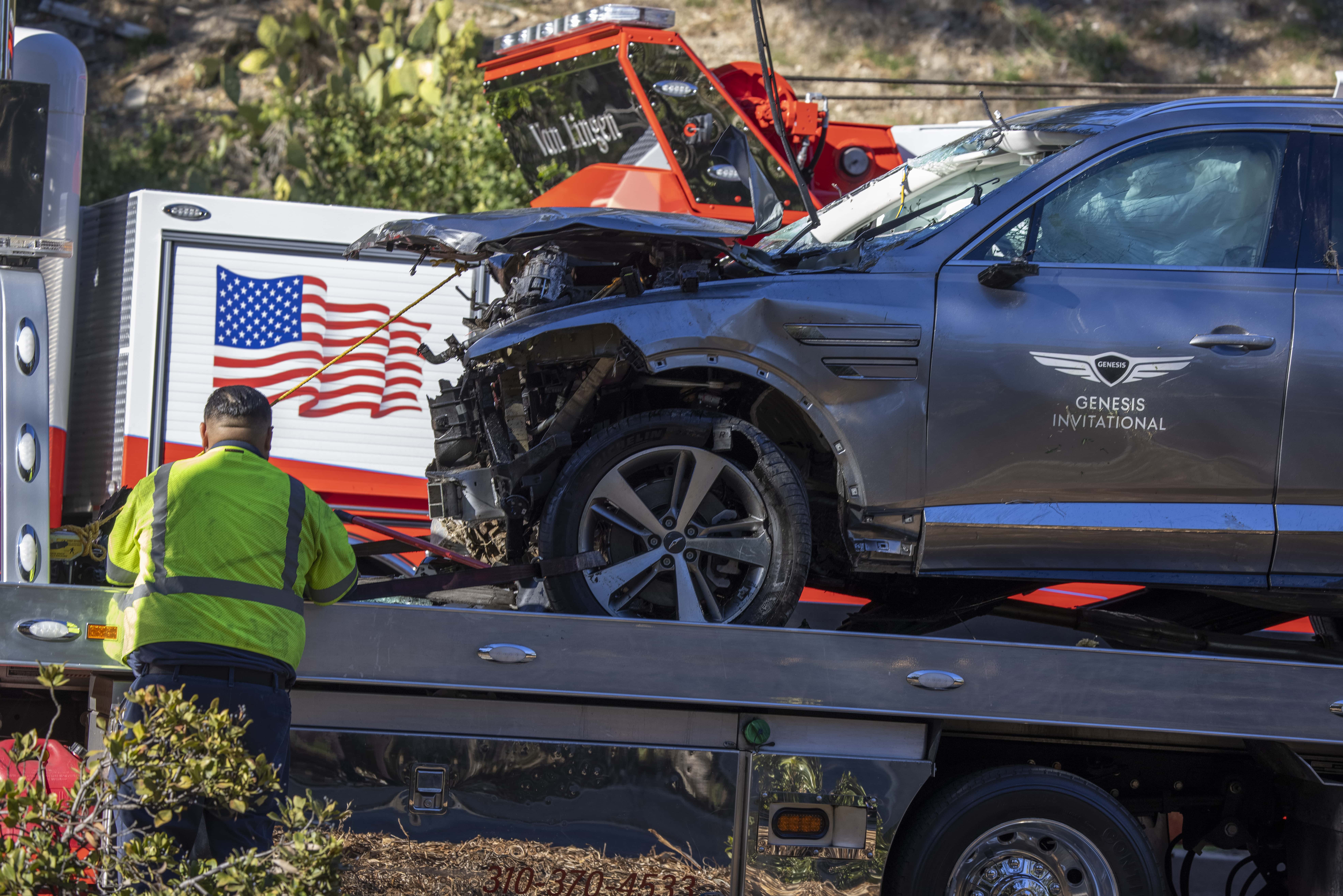 RELATED ARTICLES
Trump says Tiger Woods 'will be back' after car crash: A look at ex-POTUS' friendship with his golf buddy
Tiger Woods near-fatal car accident: A timeline of the events that led to the horrific roll-over crash
Fire crews cut into the wreckage to rescue Woods -- who was conscious and alert at the time -- and immediately rushed him to hospital. According to the New York Post, a Fire Department spokesperson told reporters how they used an ax and a Halligan tool to pry the windshield open and free the ace golfer. Los Angeles County Fire Department Chief Daryl Osby said Woods was transported to Harbor UCLA Medical Center in stable condition with serious injuries.
"Mr. Woods suffered significant orthopedic injuries to his right leg extremity that were treated during emergency surgery by Orthopedic trauma specialists at Harbor-UCLA Medical Centre, a level 1 trauma center," said Anish Mahajan, the center's Chief Medical Officer, adding that the world-famous athlete had also sustained fractures to his upper and lower tibia and fibula, which were stabilized with a rod. The statement also noted other injuries on his foot and ankle bones that were fixed with screws and pins.
Woods was the driver of a vehicle involved in the "roll-over traffic collision shortly before 7:15 am on Tuesday," the Los Angeles County Sheriff's department confirmed in a statement. They said Woods was driving at a "relatively greater speed than normal" but there was no evidence of impairment.
According to the report, Woods was in cruising in the Rancho Palos Verdes area of Los Angeles for the Genesis Invitational golf tournament at the Riviera Country Club in the Pacific Palisades prior to the accident. Earlier this week, he posed for photos with ex-NBA star Dwayne Wade and Hollywood actor David Spade. "Tiger Woods was in a single-car accident this morning in California where he suffered multiple leg injuries," Woods' agent, Mark Steinberg, said in a statement. "He is currently in surgery and we thank you for your privacy and support."
Woods had made his first public appearance earlier this week after undergoing back surgery. Speaking to CBS, he shared an update about his health during the final round of the Genesis tournament. "I'm feeling fine, a little bit stiff," Woods said at the time.
"Have one more MRI scheduled to see if the annulus has scarred over finally, and then I can start doing more activities. Still in the gym, still doing the mundane stuff that you have to do for rehab, the little things before you can start gravitating towards something a little more."
And when asked if he had spent time on the links since undergoing the major procedure, Woods quipped, "I've lengthened my putter." He added: "I don't have to bend over as far. I've gone to the same length as my sand wedge."
Share this article:
Tiger Woods was running late to meet NFL stars Drew Brees and Justin Herbert for golf lessons when SUV crashed