'The Voice' season 15: Coaches get selective with who they choose as teams fill up fast
Here is a recap of Tuesday's episode to see who are the singers that filled in the last few spots remaining on the coaches teams.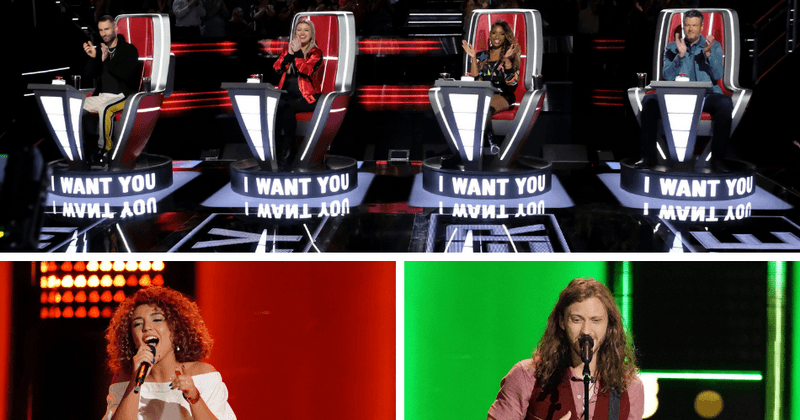 The sixth episode of the blind auditions brought out major talent. As the coaches battled it out to get the best singers on their team and with Kelsea Ballerini's Comeback Team giving five singers a second chance, here is a recap of Tuesday's episode to see who are the singers that managed to take the last few spots remaining.
CAELAND GARNER 
The first singer for the day was  31-year-old Caeland Garner. A country singer hailing from North Carolina, he also happens to be an acquaintance of Red Marlow from season 13. After performing his rendition of 'Dancing in the Moonlight by King Harvest he managed to get a chair turn from Blake and Hudson and considering his love for country music, he chose Blake as his coach.
MADISON CAIN
The second performance was by 24-year-old Madison Cain from California. Performing her version of 'You Oughta Know' by Alanis Morissette, Madison also happens to be the daughter of Jonathan Cain, a member from the band Journey. Though she didn't manage to get any chair turns she was selected for Kelsea Ballerini's Comeback Team. 
LELA
Following Madison was 15-year-old  Colombian singer Lela from Miami, Florida. After growing up listening to a lot of Latin music, she hopes on mixing her Latin influence with R&B and make a genre of her own. After she performed her rendition of Camila Cabello's 'Havanna' she gets a chair turn from both Clarkson and Hudson. After which Blake and Adam compliment her voice but reveal that the only reason they didn't turn was because their teams were filling up quickly. Finally, she chose Hudson as her coach. 
CODY RAY RAYMOND 
Cody Ray Raymond who is a former Military member in Security Forces was stationed in the North Pole when he realized that music is what he wanted to do. He performed 'Born Under a Bad Sign,' by Albert King though he got chair turns from Clarkson and Hudson, after his performance, Adam revealed how he regrets not turning his chair for him. Finally, he chose Team Kelly. 
JAKE WELLS
The 23-year-old who hails from Kansas has been singing his entire life. He performed his rendition of  Ryan Adams' 'When the Stars Go Blue'. Though he had a flawless voice, the judges were contemplating whether they should turn the chair or not. But, in the end, Adam turns his chair and Jake joined Team Adam by default. 
ABBY GATES
Abby who hails from Cincinnati sings at children's birthday parties. After a horseback riding incident that injured her, she resorted to music, which helped her get through. Performing her version of 'Scars to Your Beautiful' by Alessia Cara the only judge that turned for her was Clarkson. Abby was the first singer to join Clarkson's team. 
FUNSHO 
A Nigerian singer who had moved to America when he was a kid, Funsho has performed in various talent shows and competitions. With hopes to pursue a career in music, Funsho sang his version of Finesse by Bruno Mars. He got a chair turn from Adam followed by Hudson and Kelly. Though the girls tried their best to get him to join their team, he ended up choosing Team Adam. 
Here are the team standings till date: 
Team Kelly: Sarah Grace; Mikele Buck; Claire DeJean; Chevel Shepherd; Delaney Silvernell; Kymberli Joye; Sandyredd; Erika Zade;
Team Blake: Kameron Marlowe; Michael Lee; Keith Paluso; Mercedes Ferreira-Dias; Dave Fenley; Rachel Messer; Chris Kroeze; Kayley Hill;
Team Adam: Tyke James; Radha; DeAndre Nico; Steve Memmolo; Anthony Arya; Foushee; Reagan Strange; Natalie Brady; Jarred Matthew;
Team Hudson: Tyshawn Colquitt; Franc West; Patrique Fortson; Kennedy Holmes; Audri Bartholomew; Natasia Greycloud; Makenzie Thomas; Mike Parker; Joey Green; Zaxai;