'The Lincoln Lawyer' Episode 1: Mickey's life turns upside down after brutal murder Spoilers for 'The Lincoln Lawyer' Episode 1
The premiere of the Netflix series 'The Lincoln Laywer' sets up the perfect stage for Mickey Haller to succeed once again after he was sidelined for months due to addiction problems. So, the first episode of the new show starts on an ominous note and we see someone getting killed in a parking lot.

It turns out that the person killed is a lawyer named Jerry and he's the one who was handling the infamous Trevor Elliot case. A few moments later, we meet our protagonist, Mr. Mickey Haller (Manuel Garcia-Rulfo), sitting on the beach and having flashbacks about the incident that happened to him while surfing. He gets a call from his second wife, Lorna (Becki Newton), who tells him that a judge wants to see him in chambers. Haller is amazed after hearing that because he hasn't been practicing for the last year and it's really surprising that the judge wants to see him.
RELATED ARTICLES
Netflix 'The Lincoln Lawyer': 5 things to know about the legal drama
Netflix 'The Last Bus': 5 things to know about the sci-fi mystery series
Lorna convinces him of going and tells him to take out his Lincoln for the special occasion. While going, he gets a phone call from his first wife, Maggie (Neve Campbell), and he asks about the judge that he is about to meet. Maggie doesn't have much info but believes that he might have done something that's why she has called him inside her chambers. As soon as he reaches there, he gets to know that Jerry, one of his friends, has been murdered and he wrote in the will that all his practice will be given to Mickey. So now, all the cases and clients of Jerry have now been transferred to him.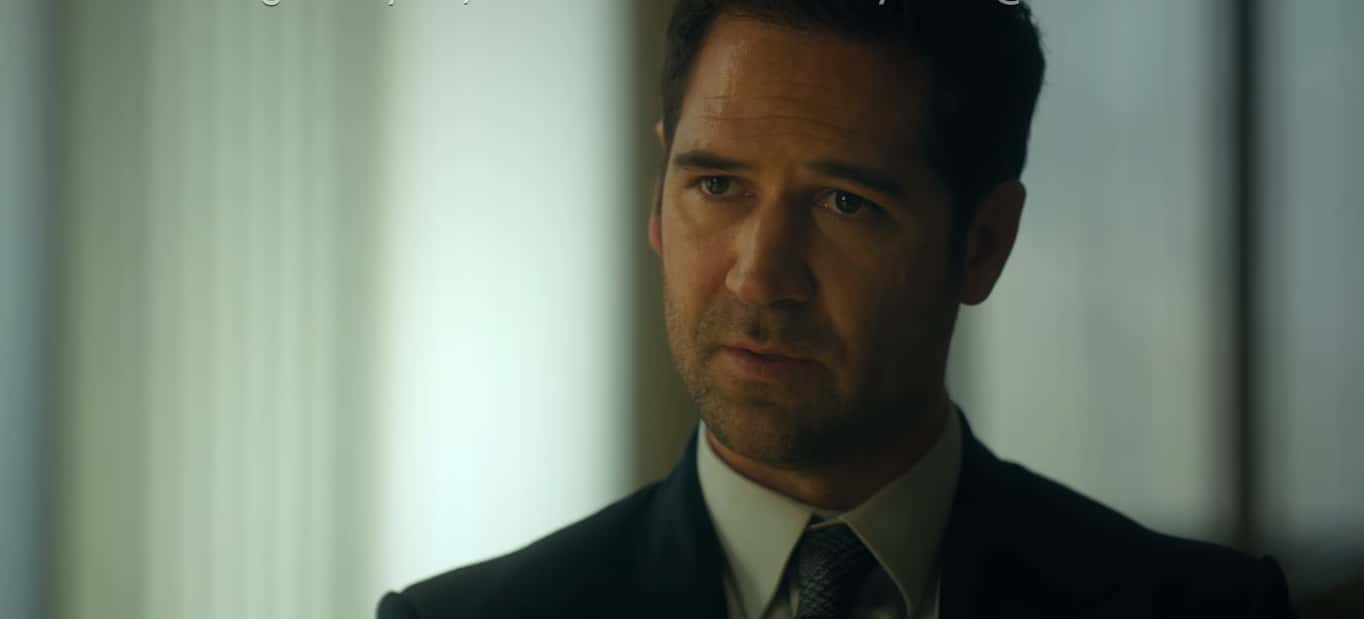 He meets Trevor for the first time and the tech billionaire is not interested in having him as his attorney. Trevor is accused of killing his wife and his lover after he caught his wife cheating. Mickey assures him that he is in safe hands and tells him that he is the best criminal lawyer in Los Angeles. After the meeting, he meets Lorna and asks her to have Cisco, Lorna's new boyfriend, get information about Trevor.

On the other hand, his first wife and daughter Hayley are waiting up for Mickey to arrive so he can spend his time with his daughter and that's when we get to know that he had an accident while surfing. He got injured badly and took painkillers to deal with the pain. However, he got addicted to them and ended up going into rehab. While they were having dinner, a police officer arrives at Haller's house and tells him that they really need to see Jerry's files because they might find some info about his killer in those files.

He also tells Haller to be careful because someone might come for him as well.
Elsewhere, Maggie meets Lorna and tells her that she is worried about Mickey because of what happened with him in the past. She believes that this is too much for Mickey and he should get up on his feet first to deal with all the stress. Lorna politely says that they both know how Mickey is and getting back to the courtroom is the first step for him to get normal.

In the meantime, Mickey suddenly gets a phone call to represent a young girl named Izzy in the court because Jerry was supposed to do so. At the first hearing, Mickey told the judge that he needs time to prepare because of what happened. The judge gave him 24 hours to know about the case and come back. He talks to Izzy and gets to know more about her. The next day, he tells the judge that the necklace that Izzy tried stealing is not real and is fake. He tells him that if he tells his wife that the necklace was fake, it will get really problematic.

The judge asks the defendant's lawyer if she had the necklace appraised. To which, she replies that they have the appraisal from the client's insurance company and Mickey feels that it would open a new can of fraud. The judge completely dismissed the case because the defendant took the case back and Izzy was free to go. But Mickey had some work for her. He needed a driver and Izzy took the job.

Mickey meets Trevor, who tells him about what happened that day and how his wife means everything to him. He asks if he can take the case with all this. Mickey replies that he can "win" the case with that information. Trevor is impressed and he appoints Mickey as his attorney for the case.

The episode ends with Izzy driving the car and telling Mickey that they are being followed.