Netflix 'Sweet Girl' Review: Jason Momoa, Isabela Merced shine in action-packed revenge drama Spoilers for 'Sweet Girl'
We haven't seen Jason Momoa as the leading man of a feature film for a while. Apart from 'Zack Snyder's Justice League', his last feature film as the solo lead actor came in 2018 with DC's 'Aquaman'. So, we can understand the kind of excitement his fan base has for the upcoming Netflix movie 'Sweet Girl'.

The movie sees Momoa playing the character of a devastated husband Ray Cooper, who vows to bring justice to the people responsible for his wife's death while protecting the only family he has left, his daughter Rachel (Isabela Merced). At first, the premise of the movie doesn't look riveting because we have already seen such kinds of movies in the past where the father does unbelievable stuff to avenge his loved one's death and protect the person who is closest to them. But that necessarily doesn't mean that 'Sweet Girl' is ineffective.
RELATED ARTICLES
Netflix 'Sweet Girl': Release date, spoilers and all about Jason Momoa's action thriller
Netflix 'Sweet Girl' Full Cast List: Meet Jason Momoa, Isabela Merced and others from action flick
The film starts with Cooper standing at the top of the baseball stadium while the FBI surrounds him and urges him to surrender. When one of the officers says, 'I'm here to help', he looks at her and replies, "It wasn't supposed to be like this" and jumps off the roof. The opening sequence perfectly sets the tone and makes you want to know what made him do that. We go into flashbacks and see that Ray, his wife Amanda (Adria Arjona), and their daughter Rachel leading a happy life.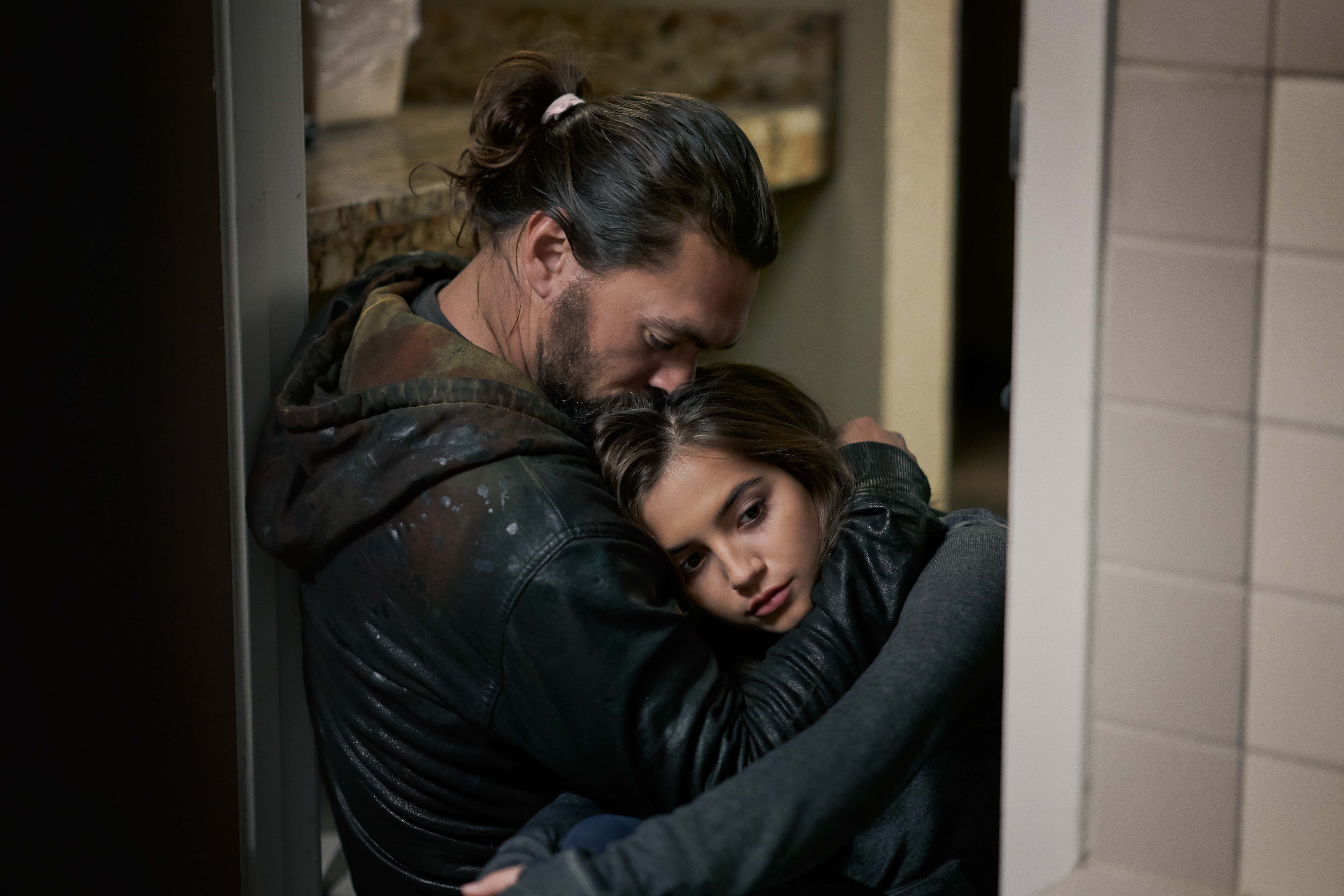 However, everything turns upside down when it is found that Amanda has cancer and her condition is deteriorating. One of the doctors tells Ray that a pharmaceutical company called BioPrime is coming up with a drug called "Sepro" which will help Amanda in healing and increase life expectancy. But due to the monopoly of the government and the pharmaceutical company, Simon Keeley (Justin Bartha), CEO of BioPrime, stops the rolling out of the medicine, putting everyone at risk. A few days later, Amanda dies while being in her daughter's arms and Ray is devastated. The entire sequence of Momoa running in the hospital and finding a quiet place to let his emotions out and cry literally shows you what the 'Game of Thrones' star is capable of. His emotions are raw and show how a normal man would react just after losing his beloved wife.

Before her death, Ray threatened Simon on live television that if his wife died because of the aforementioned scenario, then he would hunt him down and kill him. Six months later, Ray is still having a hard time dealing with Amanda's death. As soon as he reaches home, he gets a phone call from a reporter who's doing a story on Keeley and the govt. that will expose their malpractices. He meets a guy named Martin Bennett (Nelson Franklin) on a train and as he was about to tell him something important, an unknown guy in a black dress comes out of nowhere and kills Martin in front of Ray.
An epic fight sequence inside the train reveals that the guy's name is Amos Santos (Manuel Garcia-Rulfo) and he has been hired to kill anyone who knows about what happened between Keeley and the government. Additionally, just like a curious young woman, Rachel follows her dad and sees him fight the bad guy. Eventually, Santos gets away by throwing Ray out of the train and injuring him with a knife.

The best thing about the movie is the father-daughter relationship between Ray and Rachel. Despite the death of his wife, Ray tries everything to keep his daughter happy. But he never forgot what happened with his wife and always wanted to bring her to justice by punishing people who killed her.

One of the most important characters in the movie is Diana Morgan, a Congresswoman from Pittsburgh who is trying to become a Senator. She is shown to be a messiah of common people and helps them in getting medical facilities at lower costs. However, in the latter part of the movie, she joins BioPrime and makes a deal with them. Her role will keep you in suspense and you'll constantly question yourself if she is with the good guys or the bad ones.
There comes a point when politics get involved in Ray's hunt for the culprits and a moment, it seems if 'Sweet Girl' will go down that lane and turn into a political drama. Thankfully, it doesn't. Brian Andrew Mendoza, director of the movie, does a splendid job in keeping the focus on our protagonist and dodges the social commentary about how greedy these pharmaceutical companies have become to attain profits and how they are being helped by our politicians to earn a shit load of money while common people wait for universal healthcare.

As far as acting is concerned, Momoa is literally the best thing about the movie and has given an amazing performance. His performance manages to keep you glued to your screens. When Momoa started his career, a lot of people said that he might become an action star but it will take a lot to prove him as an actor who could paint his emotions on the screen. This movie shows how he has grown as an actor and can captivate your heart with his raw emotions.

Merced has also done a fantastic job in the movie. The actress is naturally sympathetic and sells Ellie's emotional devastation throughout the movie with authenticity. She is undoubtedly the actress to watch out for and might become a huge superstar shortly. Also, there is a big twist in the movie regarding her character, so watch out for that as well.
Meanwhile, Manuel Garcia-Rulfo is also impressive as Santos.

The movie is not flawless and has its own shortcomings. The story is not something that we haven't seen before, so some people might think that they have seen something similar to this in the past as well. However, Momoa's riveting performance and quality action sequences make it possible for the viewers to sit through the movie. Despite all the little flaws it has, the movie will always keep you interested in what is going to happen next or how Ray is going to be successful with his plan even after being beaten up by the bad guy.

'Sweet Girl' is a fine attempt in making an action flick that is filled with emotions and keeps everyone interested in what's happening on the screen. Momoa and Merced's chemistry as the father-daughter duo is a treat to watch and they have carried the movie on their shoulders. The movie is a worthy addition to the genre, but certainly not a masterpiece.

'Sweet Girl' is currently streaming on Netflix.