'The Chilling Adventures of Sabrina' official trailer is OUT and it is spookier than you think!
There's a blink and you'll miss it shot, of a table full of dead people celebrating with Sabrina's coming of age in 'The Chilling Adventures of Sabrina.'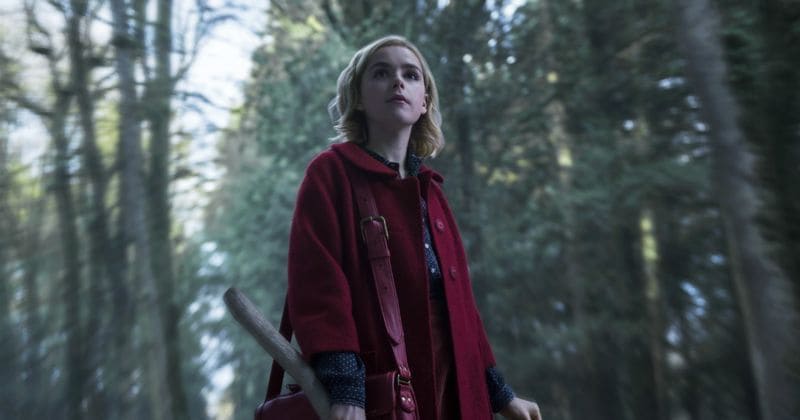 After months of anticipation over Netflix's 'The Chilling Adventures of Sabrina,' the streaming gods have finally blessed us with a hot new trailer for the show. Kiernan Shipka as Sabrina is a refreshing dark take on the tale and we're in love!
The trailer starts off with a voice singing "happy birthday to you" in the most creepy way possible.  We see a birthday cake with candles ready to be blown out and then a sign that says "Spellman mortuary" perhaps pointing to the birthplace of the plotline.
The trailer takes you through a montage of videos that show a bookstore in town with Halloween decorations on the windows. Here's when it gets intense - dead girls, a high school corridor and a ram-headed creature show up on the screen back to back all zeroing in back to the first shot of the cake and get this - the cake comes to a smiling Sabrina. There's a blink, and you'll miss it shot, of a table full of dead people celebrating with her coming of age.
The trailer may make you wonder if this series is about a sweet gone rogue but the synopsis claims otherwise. It reads, "Tonally in the vein of 'Rosemary's Baby' and 'The Exorcist,' this adaptation finds Sabrina wrestling to reconcile her dual nature — half-witch, half-mortal — while standing against the evil forces that threaten her, her family and the daylight world humans inhabit."
Oh, you don't say, Netflix. It is definitely along the lines of a horror flick. The trailer also shows some occult ceremonies, some witchcraft (obviously) and a lot of dark magic. 
What we love about this trailer is the way Sabrina is portrayed - there's a duality in every shot. She's a witch, but she clearly loves humans (the makeout sesh was hot), she's sweet on the outside but has endless scary powers, she dines with the dead, one of whom I'm pretty sure of Satan but fights evil powers. 
'Chilling Adventures' is a CW project just like 'Riverdale' and the series' showrunner, Roberto Aguirre-Sacasa, wrote the script for 'Chilling Adventures' and executive-produces alongside CW kingpin Greg Berlanti. The upcoming show is said to be nothing like its '90s predecessor and has distanced itself from the possibility of a crossover with its Archie Comics counterpart 'Riverdale.'
The rest of the cast includes Miranda Otto, Lucy Davis, Ross Lynch, Michelle Gomez, Chance Perdomo, Jaz Sinclair, Richard Coyle, Tati Gabrielle, Adeline Rudolph, Abigail Cowen, Lachlan Watson, Bronson Pinchot, and Gavin Leatherwood.
'The Chilling Adventures of Sabrina,' debuts on Netflix on October 26. Watch the trailer here: