The Big Bang Theory's season 11 finale deleted a tribute scene to Stephen Hawking from Sheldon and Amy's wedding
Sheldon and Amy's wedding was a heartfelt affair in the Season 11 finale of 'The Big Bang Theory' but a tribute to late Professor Stephen Hawking was cut short (IMDb)
Last Thursday witnessed TV's most anticipated wedding, that of Sheldon Cooper and Amy Farrah Fowler. After 11 seasons of speculating if Sheldon would ever get married, fans are glad to know he married the most patient woman we've come across in The Big Bang Theory.
On May 10th's episode, titled 'The Bow Tie Asymmetry,' the nuptial was attended by Mark Hamill serving as the wedding officiant, Sheldon's siblings Missy and Georgie were also present. Towards the end of the episode, the King of Bazinga indeed tied the knot with Amy but in the most 'Big Bang Theory' way possible. Prior to the wedding ceremony, the bride helped her groom discover the scientific concept of "super asymmetry" by pointing out that his bowtie is perfectly proportioned.
As a sign of his maturity, Sheldon even insisted on sharing the credit for the couple's discovery, unlike the Sheldon we have known on previous seasons. The episode was well received by the fans but there is a backstory.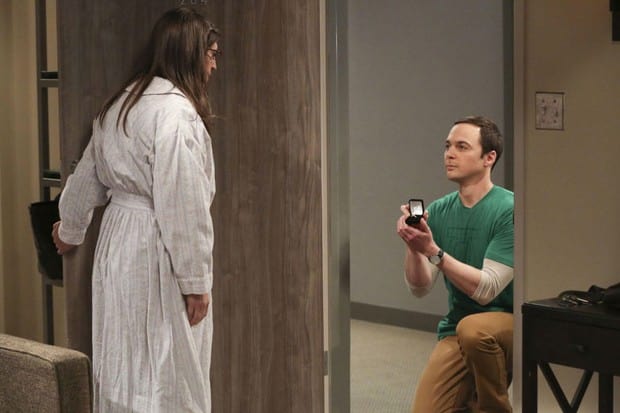 It has been revealed that the jam-packed episode had to delete a tribute to the late Professor Stephen Hawking because of time constraint.
The writer and producer, Steve Holland, revealed to The Hollywood Reporter, that the deleted scene featured Sheldon receiving a gift, an inscribed pocket watch, from his late mentor.
"When we heard of Hawking's passing, we wanted to do something to honor him but we had already shot the next three episodes," the writer said.
Adding that it is extremely difficult to be timely because shooting takes place ahead of the airdates, the show thought that the wedding would be a perfect moment to honor Stephen Hawking. "...this seemed like a really nice opportunity. The wedding was a big episode and it seemed like a good chance to pay some tribute to him."
"Steve Molaro had this idea that Hawking could have sent a gift before he passed. He had the idea for the gift and for the inscription and we contacted Professor Hawking's family to get their blessing. They were very nice and excited for us to do it. I'm glad it will be somewhere," he concluded.
The deleted scene is expected to premiere online on May 11.