31-year-old Drake apparently gives dating advice to 14-year-old Millie Bobby Brown and texts her saying he 'misses her'
The friendship between the rapper and the teenage actress became news in November last year when a picture of the pair together went viral on social media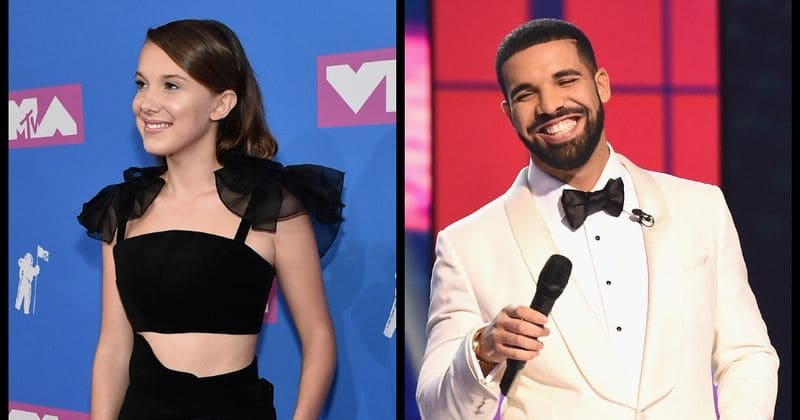 Millie Bobby Brown, who rose to fame with her character in the popular Netflix show 'Stranger Things', says that she shares a very close relationship with 31-year-old rapper Drake and that he constantly gives her advice on boys, along with sending her texts saying he "misses her," reports The Sun.
The 14-year-old actress revealed at the Emmy Awards in Los Angeles this week, that she and the Canadian rapper are in constant contact, adding that Drake is definitely a good pal of hers. In her interview, she told Access Hollywood, "We just texted each other the other day and he was like, 'I miss you so much,' and I was like 'I miss you more'... He's great."
When Brown was asked what she and Drake chat about, she replied: "About boys, he helps me." The actress then went on to call Drake a "great friend and a great role model," adding, "I love him; I met him in Australia and he's honestly so fantastic."
As per reports, the friendship between the rapper and the teenage actress blew up in November last year when a picture of the pair together went viral on social media. The duo reportedly met each other in Australia and posed for a picture together, which Drake later posted on his social media account. 
Their picture together sent fans into an absolute frenzy, and the standalone photo got more than 2.6 million likes. Brown later revealed that meeting Drake led to him inviting her over for a concert he was performing at, and they have been extremely close friends ever since. She said in a magazine interview: "He invited me to his concert. And now we talk all the time. I ask his advice."
Fans on social media couldn't really digest this exchange and were quick to point out the large age gap between Brown and Drake – 18 years – and also debated on whether it was appropriate for the rapper to be giving advice about boys to a young fan like her. This could also be the repercussions of the current #MeToo movement in Hollywood which discusses what is appropriate behavior in such scenarios. The rapper, however, is yet to say his side of the story.