Lifetime's 'Sleeping With My Student' is a raunchy fantasy gone wrong but gets bogged down in cliché
The opening scene is so obvious that you don't even have to watch the rest of the film anymore because you can perceive the reason for vengeance in the first 10 seconds of the film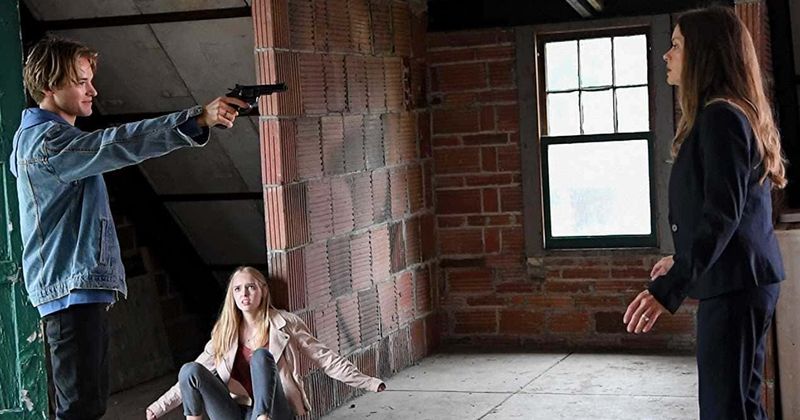 Spoiler alert
'Sleeping With My Student' gracefully portrays the harsh realities of how kids with junkie parents cope with life. That, however, barely hits the mark because the film goes wrong on several levels in depicting fantasy and reality.
The opening scene is so obvious that you don't even have to watch the rest of the film anymore because you can perceive the reason for vengeance in the first 10 seconds of the film.
The film works in a series of flashbacks and flash-forwards which makes it easy for viewers to understand what happened in the past and its consequences in the present.
We see baby Ian crying bitterly in the back seat of his car while his parents fight in the front seat. We also see his mother use the word "that lady" during the argument and that's our hint to finding out what exactly happened.
The mother confronts Felix (the father) with an adultery accusation. In the middle of the fight, they meet with an accident and Felix dies. Over the years, Ian develops major psychological issues since he was raised by a dopehead mother and a stepfather who hated him.
The film takes us forward in time to the present day. A youthful beautiful lady, Kathy is at a resort with her gal-pals having a gala time on her night out. It is revealed that she is working on her marriage by taking time out from her husband.
A charming boy with blonde gorgeous locks of hair and an infectious smile enters the room pretending to be one of the management workers which, in itself, is utterly ridiculous.
It is then revealed that he is an impostor who bribed an employee with heroin in exchange for the hotel's all-access card. Kathy's friends encourage her to get laid with Ian, who also, by the way, was throwing green signals at Kathy.
Although she gets excited by the idea of having sex with a young man, she is skeptical. However, Ian knows his way around women, so he easily manages to seduce Kathy in the pool and the next thing we know, they are in her hotel room drinking which leads them to do the dirty.
Kathy had no idea that she was secretly being filmed by Ian while they were going at it. Little did she know that her innocent summer fling was going to lead to a catastrophe in her life.
Kathy's daughter Bree, meanwhile, is introduced as a teenager with low self-esteem and Ian uses that to his advantage. She hates her previous school because she was always alienated. So, a new school was her ticket to start a new life.
She goes to the same high school where Kathy is appointed the new principal. Havoc ensues as Kathy spots her summertime lover boy in the same place!
When she sees Ian around Bree, she decides to take matters into her own hands and separates the two. Ian, however, tricks her by being overly sweet to Bree. Ian sketches a plan to make Bree fall in love with him and convinces her that they had a "connection".
Knowing Ian's background where he is mentally tormented by his mother who could never really raise him because of her addiction, Ian grew up to be an unloved child with temper issues.
In fact, a police officer shares that he was out on probation for "good behavior" in prison. But all that is a mask to hide his true intentions.
Kathy desperately tries to get Ian away from her daughter and is also scared that he will spill the beans about their summer fling. Ian turns out to be a total creep who hits on the mother and daughter at the same time! Can the story get any worse?
Although Kathy gets Ian kicked out of school, he continues to meet Bree and finally kidnaps her. He goes on a killing spree later and murders his stepfather in the kitchen.
He sends Kathy an image of her underwear from their night and threatens to leak the video online. When Kathy stands her ground, he demands a ransom of $50,000 for Bree.
By this time, Kathy realizes that Ian's resemblance to Felix is uncanny. He has the same eyes and voila! she discovers the reason why Ian is harassing them.
In the end, Bree, Ian and Kathy confront the truth about what happened 18 years ago. That's not all though, a plot twist changes the direction of the story.
Bree is Ian's stepsister! In the last 20 minutes of the film, we find out that Ian's father Felix had impregnated Kathy years ago and the result of that affair was Bree.
Ian, who knew all this, had been stalking her for years to finally get to the day where he would kill her, take the ransom and elope with his perpetually high mom and his newfound stepsister.
The film reaches its peak as Ian's character experiences catharsis and all his feelings of being invincible take a back seat as his hubris kicks in. He tries to shoot Kathy and Bree, but Kathy pushes him through a window and they fall from a height.
It somehow manages to kill Ian, but Kathy survives with a few injuries in an ending that was sloppy, considering the film is said to be a thriller. What it required was a more realistic touch rather than melodrama.
The film suddenly flashforwards to the end where all is well. Kathy and Bree move back with her husband and begin a new life together. Meanwhile, Ian's mother holds his toy and waits for her son to return, but has no clue that he's dead.
Overall, the film is a good entertainer but lacks logic and realism. The actors have done justice to their roles, but what can they do if the plot of the film itself is ridiculous.
The movie stars Michelle Hoog as Ian, Jessica Belkin as Bree and Gina Holden as Kathy. The director is Tom Shell and it aired on Lifetime Network.
If you have an entertainment scoop or a story for us, please reach out to us on (323) 421-7515