'Scream VI' trailer teases more blood and gore as Ghostface goes on a brutal rampage in New York City LOS ANGELES, CALIFORNIA: Nobody does good horror like 'Scream' franchise. The infamous killer is back in town, but this time with more gore and mystery. Just as the audience was getting over the frenzy of 'Scream (2022 film)', Paramount Pictures has announced the arrival of 'Scream VI'. The poster of the film has done something different this time with more wordplay and showcases the classic New York City Subway. Does that hint at something more?
This time around, the killer is hiding in the hustle and bustle of New York City with the infamous Edvard Munch-inspired horror mask. This edition is all about mystery and Courtney Cox coming back in full action to play Gale Weathers.
RELATED ARTICLES
New photos from 'Scream VI' show Ghostface chasing Jenna Ortega and Hayden Panettiere through NYC
'Scream VI': Ghostface returns to terrorize New York City in anxiety-inducing first trailer
Along with Ghostface, who's back to terrify the audience, the new trailer also shows the last known survivors Sam (Melissa Barrera), Tara Carpenter (Jenna Ortega), and siblings Chad (Mason Gooding) and Mindy Meeks-Martin (Jasmin Savoy Brown) move to New York City to start fresh and erase the memory of the deadly attack. They appear to have moved on, but as in every classic horror movie, the calm isn't a good sign!
Part of the charm in 'Scream' movies lay in the fact that the characters know everything about horror cliches, and any of them could be the killer. This keeps the audience on their toes and second-guessing everything.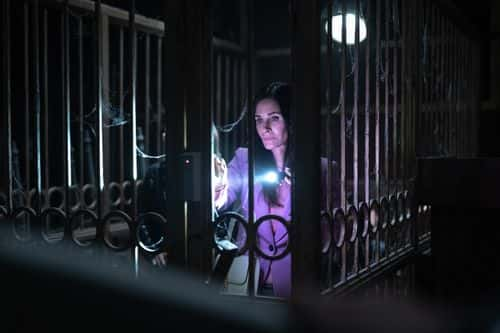 It is yet to be seen if the sixth instalment continues this as there are several new characters in the new 'Scream'. 'Scream VI' brings back Hayden Panettiere as Kirby Reed, a survivor from 'Scream 4', and Courtney Cox as Gale Weathers, an investigative reporter who shows up in every franchise installment. Unfortunately, Sidney Prescott isn't a part of 'Scream VI'. New cast members for 'Scream VI' include Samara Weaving, Liana Liberato, Dermot Mulroney, Jack Champion, Henry Czerny, Tony Revolori, Josh Segarra, and Devyn Nekoda.
'Scream VI' brings back the same creative team, with Matt Bettinelli-Olpin and Tyler Gillett returning as directors. James Vanderbilt and Guy Busick are co-writing the screenplay again, which could mean 'Scream VI' will be another thrilling ride to murder town.
'Scream VI' is set to release on March 10, 2023.
Check out the new trailer below.
Share this article:
'Scream VI' trailer teases more blood and gore as Ghostface goes on a brutal rampage in New York City