Who were Prince Philip's siblings? Duke of Edinburgh's 4 older sisters died before him, one in tragic plane crash
Princess Cecilie, the third of five siblings, was the first of Prince Andrew and Prince Alice's children to die at the young age of 26 in a plane crash minutes after giving birth The Duke of Edinburgh, Prince Philip, who was the Queen of England's consort for 73 years, passed away at the age of 99, in his bed in the presence of his beloved 'Lilibet'. It was the Duke's dying wish, allegedly, after having meticulously planned his own funeral, and spent a long 28 nights at the hospital just weeks before his death.
Known for his 'cheeky' humor as his grandson Prince Harry put it, Prince Philip himself came from a royal lineage too. He was a third cousin to his wife Queen Elizabeth II - both of them being related via their great-great-grandmother, Queen Victoria. Prince Philip was also the youngest child of Prince Andrew of Greece and Denmark and Princess Alice of Battenberg, who had four daughters before their only son was born in 1922.
RELATED ARTICLES:
Did Prince Philip have troubled childhood? He grew up parentless as mom was sent to asylum after fleeing Greece
John Oliver mocks Prince Philip and Queen Elizabeth's third cousin relationship, calls it 'Giuliani meet-cute'
Who were Prince Philip's siblings?
Prince Philip's older sisters were called Princess Margarita, Princess Theodora, Princess Cecilie, and Princess Sophie. The young prince's childhood was marred with trauma, and he also lived long enough to see each of his sisters die. After Princess Sophie's death in 2001, the Duke of Edinburgh became the only surviving sibling out of the five. Let's take a look at his sisters, who all died before the late Duke.
Princess Margarita
Born on April 18, 1905, Princess Margarita was the eldest sibling out of five. She married the German Prince of Hohenlohe-Langenburg, Gottfried in 1931.
She married just a few short months after the weddings of two of her younger sisters. Princess Margarita died on April 24, 1981 at the age of 76.
Princess Theodora
Born on March 30, 1906, Princess Theodora was the second of five siblings. She and her four sisters were left to look after their young brother after their mother was sent to a sanitorium and their father left for Monte Carlo. Princess Theodora too married around the same time as her sister Margarita and Cecilie and as they left for their in-laws, they left their little then seven-year-old brother Prince Philip behind. Princess Theodora, who had married Berthold, the Margrave of Baden, in 1931, died at the age of 63 on October 16, 1969, just weeks before their mother passed.
Princess Cecilie
Born on June 22, 1911, Princess Cecilie's life came to a tragic end in a plane crash. She was the third of five siblings, and had married Georg Donatus, the Hereditary Grand Duke of Hesse in 1931 - the same year her two older sisters tied the knot. Princess Cecilie was the first of Prince Andrew and Prince Alice's children to die.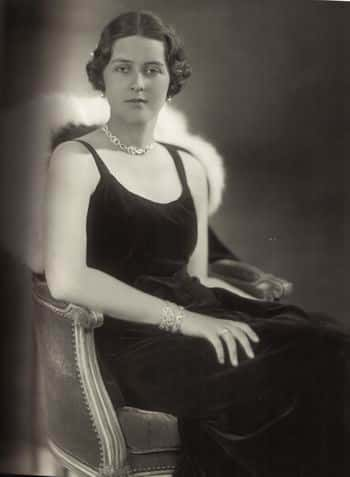 She was on a plane from Darmstadt to London and had just given birth on the aircraft, shortly before they crashed during an emergency landing on November 16, 1937. Princess Cecilie was just 26 years old at the time, traveling with her husband and two other children at the time of the crash. The only survivor was their daughter Joanna, who was subsequently adopted by another royal family.
Princess Sophie Of Greece And Denmark
The youngest of four sisters, Princess Sophie was born on June 26, 1914 and lived a long life till November 24, 2001, when she died at the age of 87. She had married twice, first Prince Christoph of Hesse in 1930 before all of her siblings, and then, Prince George William of Hanover in 1946. King George VI, Queen Elizabeth II's father had already given consent to her second marriage with Prince George, but the consent was later withheld because the UK was at war with George's country Germany at the time. The two married without his consent. This has been the only case in which a British monarch withheld consent but Sophie and George got married anyway. Often seen at the Windsor family events, Princess Sophie was close enough to her brother to eventually become his youngest son, Prince Edward's godmother. At the time of his death, Prince Philip was the only surviving member of his family. His legacy however lives on in his wife, the Queen, their four children, and many grandkids and great-grandkids.
Share this article:
Who were Prince Philip's siblings? Duke of Edinburgh's 4 older sisters died before him, one in tragic plane crash