Prince Harry consoles airport staff as he makes solo departure from Balmoral after Queen's death ABERDEEN, SCOTLAND: Prince Harry has been seen comforting an airport staff after she gave him a shoulder of condolence as he hopped on a BA flight to make his trip back to London following the death of his grandmother Queen Elizabeth II.
The Duke of Sussex, who shared a heartwarming connection with Her Majesty, was the last person to arrive at the Abeerdenshire castle last night and also is the first person to leave Balmoral on Friday morning as he heads back to Windsor to be with his wife Meghan Markle, who didn't arrive to visit the Queen. However, his father, King Charles III, and brother Prince William are claimed to be staying in Britain for the next 10 days until the state funeral.
READ MORE
President Biden, Justin Trudeau, NATO allies and Commonwealth of Nations' leaders pay tribute to late Queen Elizabeth II
Queen Elizabeth II dubbed 1992 'annus horribilis' following two public splits in family, massive fire at Windsor Castle
Prince Harry was seen leaving the royal family's Scottish home at 8.28 am this morning. His black Range Rover, in which he was sitting alone arrived at Aberdeen International Airport, led by five police motorbikes, just over an hour later at about 9.20 am. Then he boarded a flight to London leaving at 10 am. Harry rushed to Balmoral amid concerns for the Queen's health and arrived at around 7.52 pm last night, without his wife Meghan.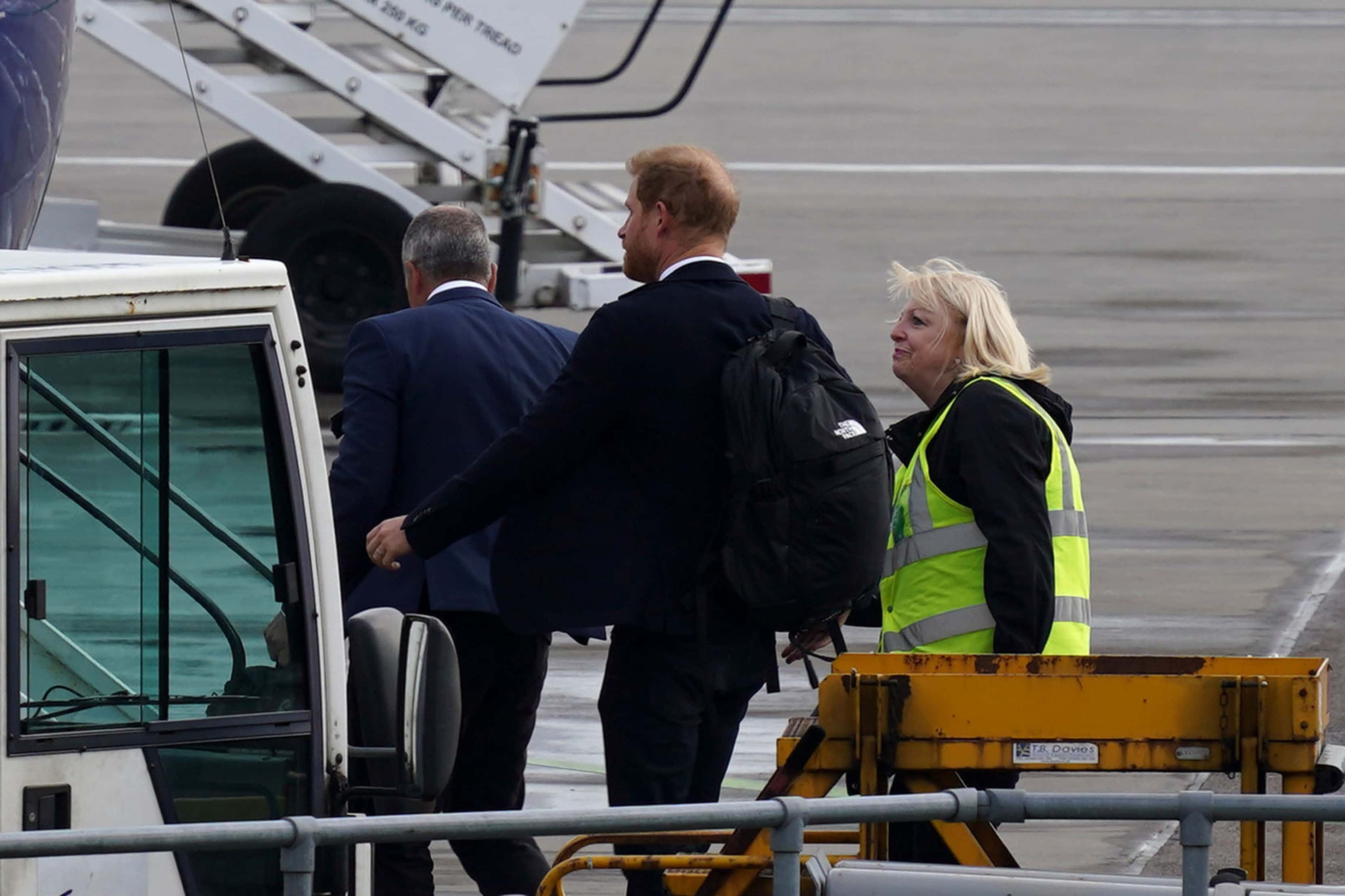 Harry wore a black suit and carried a shoulder bag as he walked towards the stairs of the commercial British Airways aircraft. The images showed, Harry being accompanied by a woman wearing a hi-vis vest, whom he spoke with and at one stage placed his hand on her shoulder.
Meghan may skip her Balmoral visit but she paid tribute to Her Majesty with a joint statement on their Archewell website which read: "IN LOVING MEMORY OF Her Majesty Queen Elizabeth II 1926-2022." Although, it is not confirmed if Meghan and Harry are going to stay in the UK until the state funeral, which is expected to fall on Monday, September 12. Not just Meghan but even Catherine, Duchess of Cambridge skipped the Balmoral visit as she stayed back home to take care of her children Prince George, Princess Charlotte, and Prince Louis, who are settling into their new school after moving to their new home in Windsor.
Today the world mourns the death of Britain's longest-reigning monarch as her son accedes to the throne. The Queen's coffin – draped in the Royal Standard flag with a wreath of her favorite flowers on top – is believed to be at rest in the ballroom of Balmoral, where she spent every summer with her beloved Prince Philip.
King Charles III and Camilla, Queen Consort are expected to leave for Aberdeen airport later on Friday where he will make the journey to London. The King is claimed to be meeting Prime Minister Liz Truss after he arrives in the Capital. Then he will record a television address which will be played at around 6 pm. Following the Queen's death, Buckingham Palace announced a period of royal mourning will be observed from now until seven days after the Queen's funeral.
The official announcement of Queen Elizabeth II's death came out at 6.40 pm on Thursday, shortly after senior royals rushed to Balmoral to be at her side.