'I need protection'! Prince Harry set to sue UK govt in Battle of the Bodyguards
Lawyers acting for Harry have sent a 'pre-action protocol' to the Home Office, suggesting they will seek a judicial review Prince Harry speaks on stage at an event in New York City (Theo Wargo/Getty Images for Intrepid Sea, Air, & Space Museum)
The Mail on Sunday revealed that Prince Harry is going to sue the British government over the removal of bodyguards for his and his family's protection. The Duke of Sussex and his wife stepped down from the senior royal duties in 2020 and sometime after that, the government removed their security.
But it has been now said that the lawyers acting for Harry have sent a "pre-action protocol" to the Home Office, suggesting that if the pair won't get security while they are in the UK, they will seek a judicial review. That means ministers and Prince Harry will probably soon be seen fighting against each other in the High Court.
RELATED ARTICLES
Will Prince Harry and William reunite? 'Rage and anger' between duo 'incredibly deep': Expert
Meghan Markle and Harry's topsy-turvy year: From chat with Oprah to Lilibet's birth
The report also claimed that the Queen has been informed about the latest development, which is understood to give further tension to her, especially because it's happening only days after her son Prince Andrew was stripped of his military honors and charity patronages because of his alleged association with convicted sex offender Jeffrey Epstein and his madam Ghislaine Maxwell.
A source commented on Harry's action and said, "Harry's argument in a nutshell is: 'You got the law wrong.' He feels the decision to remove his security was wrong. Pre-action protocol was sent by Harry's lawyers to the Home Office a couple of months ago. This is essentially a precursor to a judicial review."
Meanwhile, there is no direct comment from Harry and Meghan Markle, but their lawyers have defended the decision to take legal action against the government and also added that the 37-year-old prince would not rely on taxpayers' money for his family's security. A legal representative for Harry said, "The UK will always be Prince Harry's home and a country he wants his wife and children to be safe in. With the lack of police protection, comes too great a personal risk."
The representative continued, "The Duke and Duchess of Sussex personally fund a private security team for their family, yet that security cannot replicate the necessary police protection needed whilst in the UK. In the absence of such protection, Prince Harry and his family are unable to return to his home," before adding, "Prince Harry inherited a security risk at birth, for life. He remains sixth in line to the throne, served two tours of combat duty in Afghanistan, and in recent years his family has been subjected to well-documented neo-Nazi and extremist threats. While his role within the Institution has changed, his profile as a member of the royal family has not. Nor has the threat to him and his family."
However, a spokesman for the government stated: "The UK Government's protective security system is rigorous and proportionate. It is our long-standing policy not to provide detailed information on those arrangements. To do so could compromise their integrity and affect individuals' security. It would also not be appropriate to comment on the detail of any legal proceedings."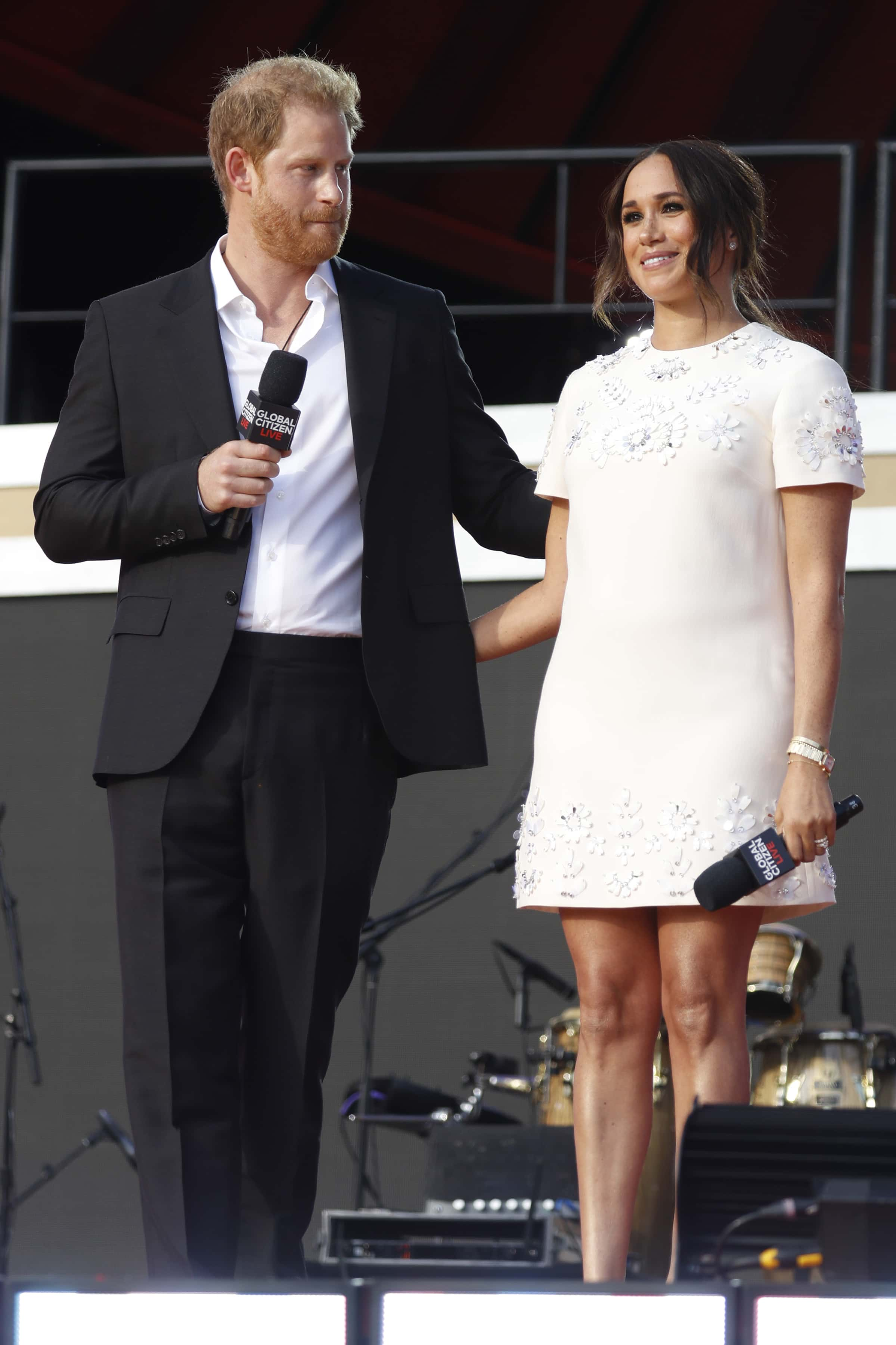 Reportedly, the decision to take the court's help was made after Harry visited his home country in July 2021, when he was not given police protection. An insider said, "When Harry came back last April for Prince Philip's funeral, he was given security. But when he came back in the summer, he wasn't."
The former working royal couple had previously also expressed their frustration over the treatment provided by the government. In an explosive interview with Oprah Winfrey in early 2021, Harry had said: "The biggest concern was that while we were in Canada, in someone else's house, I then got told at short notice security was going to be removed... Their justification is a change in status, of which I pushed back and said, 'Well, is there a change of threat or risk?'"
He had added: "And after many weeks of waiting, eventually I got the confirmation that no, the risk and threat hasn't changed but [it was] due to our change in status, [by] which we would no longer be official working members of the Royal Family. My family literally cut me off financially and I had to afford security for us."
After the news broke, a lot of people took to Twitter to express their views. A user tweeted, "They can't complain if he pays for it himself. They NEED a scapegoat...again. Things are a bit dicey in the Castle." Another one commented, "Prince Harry wants to pay for his security to protect his family when he visits the UK. He was told No. He and his family has had death threats against their family. His Uncle is protected even though he's being sued for sex with a minor." "So you're telling me Prince Harry is willing to pay for his own security (unlike his alleged sexual assaulting uncle) and they have an issue with it? Are we really surprised? All of this because of his wife's race," the third user wrote.
---
They can't complain if he pays for it himself. They NEED a scapegoat...again. Things are a bit dicey in the Castle.

— A.M. Roark (@alexismroark) January 15, 2022
---
---
Prince Harry wants to pay for his security to protect his family when he visits the UK. He was told No. He and his family has had death threats against their family. His Uncle is protected even though he's being sued for sex with a minor.

— Audrey (@Sasssyspanky) January 16, 2022
---
---
So you're telling me Prince Harry is willing to pay for his own security (unlike his alleged sexual assaulting uncle) and they have an issue with it? Are we really surprised? All of this because of his wife's race. pic.twitter.com/r41xHyXX8s

— Jess (@Honey223344) January 16, 2022
---