'A t**d that won't flush': Royal cop says King Charles needs to can Prince Andrew for sake of family LONDON, ENGLAND: New Monarch King Charles should boot out disgraced Prince Andrew for the sake of the royal family's reputation as he was just a "turd that won't flush," a former royal cop claimed recently.
Paul Page, who served the Royal Family as armed protection at Buckingham Palace for six years, took a dig at Prince Andrew in the wake of Charles' plan of slimming down and reshaping the firm.
READ MORE
With his mother and main supporter gone, is this the end of the royal road for disgraced Prince Andrew?
King Charles III's reign: Who are the 6 major players of the new King's 'slimmed down monarchy'?
"He's the royal turd that won't flush - he just keeps coming back," Page told The Sun. "But there is no way back this time - he must known is popularity is zero and his Royal life is over, he going to have to get used to it now," he added.
Page, who has time and again publically criticized Andrew, said Charles should kick him out. Andrew has already lost his patronage and military titles, and now has stepped back from his duties as a working royal. However, The Duke of York was keen on making a comeback in the royal family. The question is if he will be able to secure his place in the royal family when Charles' plans to slim down the monarchy and build the firm around him and his son Prince William.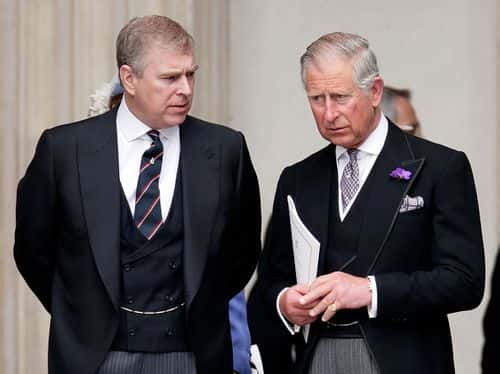 "The last thing [Charles] needs is an anchor like Andrew round his neck - he needs to cut the dead wood," Page said, adding that the king should make him move out from his £30 million (~$33M), seven-bedroom Royal Lodge at Windsor.
"And he also needs to cut down the expense on the public purse. The public have paid through the nose for Prince Andrew for the last 30 years when all he's really done is play golf and go to nightclubs - by now he should be able dance like John Travolta," said Page.
Page further said, "Andrew never heard the word 'no' - when The Queen was around he had a Teflon coat on. He's got to hear the word 'no' a lot from now on as he no longer has that protection. He will have to toe the line and he won't like it - Charles holds the purse string and the state keys."
Page went on, "We all know Andrew's gone - someone just has to rubber stamp it. And if Charles doesn't, he is only going to cause problems for himself. We can't have someone representing us with that much baggage - it damages our image around the world."

"I am no angel, but Andrew makes me look like a f***ing saint," he previously told The Sun Online. Interestingly, Page was detained back in 2009 after officials found his connection to a £3m (~$3.3M) property scam by setting up a sham company.
Andrew, who was seen making multiple public appearances as a royal member during the mourning period for the Queen, is said to be keen on repairing his image after a humiliating court settlement. Andrew earlier sparked controversies after he got slammed with the allegations claiming that he slept with Virginia Giuffre when she was just 17. He managed to settle the matter with her outside the court for a large sum.
It has been suggested that Charles is surely going to give him more duties, more crucial than just handling the Queen's corgis. Andrew is currently still a counselor of state and his only known annual income is his £20,000 (~$22,300) annual pension from the Royal Navy.
Share this article:
'A t**d that won't flush': Royal cop says King Charles needs to can Prince Andrew for sake of family