The $12m relationship: Inside Prince Albert of Monaco and Princess Charlene's troubled marriage Prince Albert of Monaco has reportedly agreed to pay $12 million (£10 million) annually to his wife Princess Charlene so that she can stand at "his side at public events". It has been reported that the agreement was sealed after Albert II OLY signed an "ultra-confidential contract" after the 44-year-old consort spent over a year out of limelight due to apparent illness.

Paris' top-selling magazine Voici reported about the said contract as it said, "The princess did not return at any price: she would have had her husband sign an ultra-confidential contract. Among the conditions, he will grant her 12 million euros per year." And Paris Match Belgium added, "Prince Albert would himself pay a tidy sum to the princess so that she appears at his side at public events."
RELATED STORIES
Prince Albert was 'bothered' with Meghan Markle, Harry's interview: 'These discussions are for intimate quarters'
Princess Caroline confesses she and Prince Albert were closer to their nanny than their mom Grace Kelly
Besides, a royal source based in Monte Carlo told Mail Online, "Of course the Princess enjoys huge perks, but ready cash is not guaranteed. She's been through a very difficult time, so it would make sense for Charlene to try and secure her own guaranteed income."

This comes as Charlene was seen in public with her family for the first time in months in the beginning of May as she appeared to give a trophy at the Monaco E-Prix race. Last week, she was also seen attending the Saint Devote Rugby Tournament. "Great day at St Devote Rugby, God bless you all❤️," she wrote on her Instagram page while posing with her twins — Princess Gabriella and Prince Jacques.
However, despite all this, the rumors regarding Prince Albert and the former Olympic swimmer's disturbed marriage are not appearing to be dying anytime soon. The speculations began soon after their $100 million wedding in 2011 when Charlene was seen crying. At the time, it was said that she tried to flee her own wedding but couldn't.
French historian and journalist Philippe Delorme told French Magazine Madame Figaro as reported by The Sun, "Lots of people got the impression it was an arranged marriage, it's true. Albert chose a wife who resembled his mother, and Charlene clearly felt very ill at ease in this Grace Kelly role they wanted her to play." Also, an insider had explained to the Paris-based news magazine VSD, "Charlene will have to produce a legitimate heir. It's the main reason for this peculiar marriage. Once the ­succession of the dynasty is assured, each of them can be free again. Divorce is a tradition in the Grimaldi family."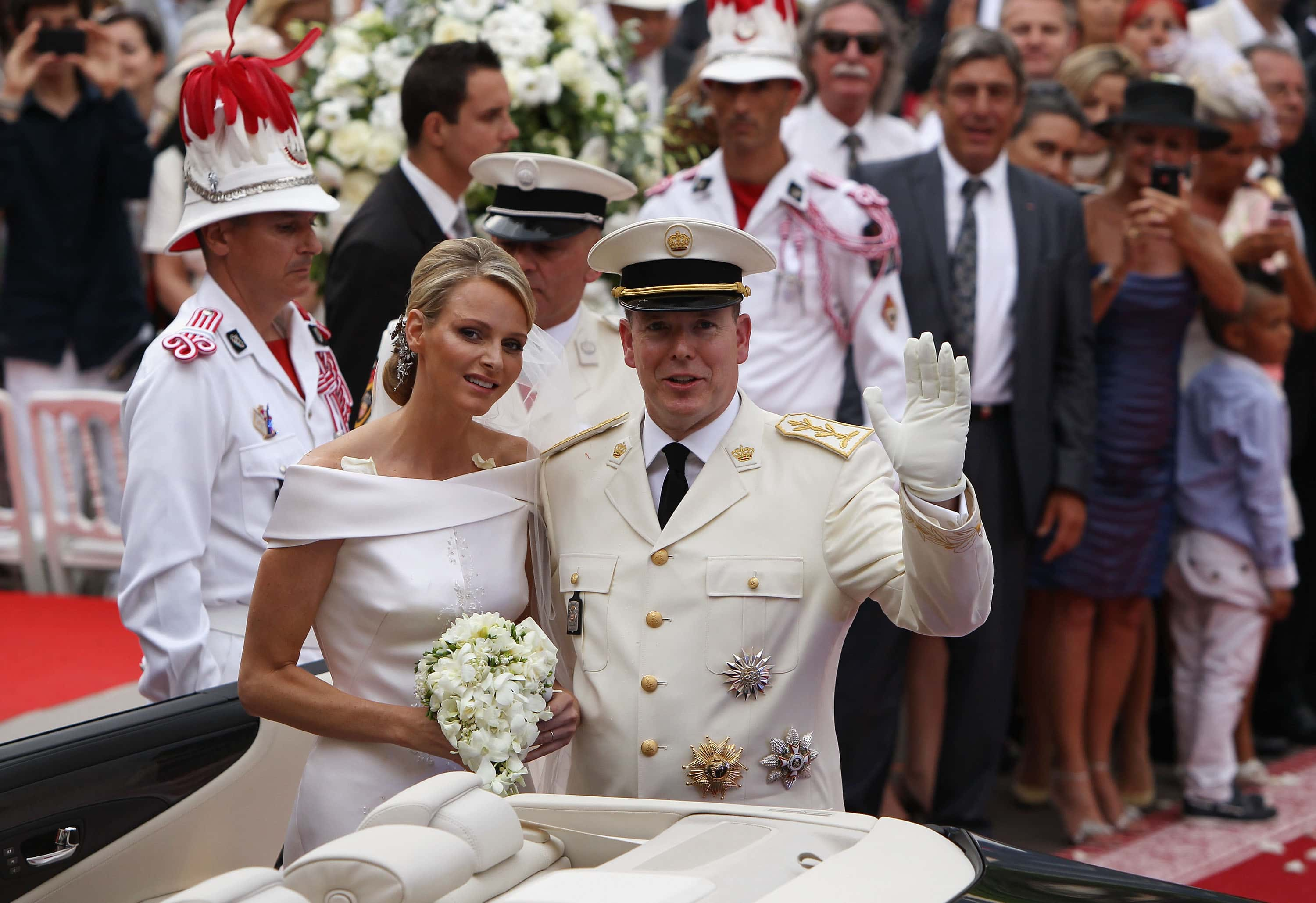 Though the couple now has two kids together, they are not legally separated. But trouble in their marriage intensified last year when Charlene went to South Africa, the nation where she was raised. She reportedly spent eight months there while suffering from a severe sinus infection, which forced her to undergo multiple surgeries.
The murmurs around the monarch's problematic married life escalated after Albert went to a charity ball with the mother of his illegitimate teenage son. Then the 64-year-old head of the House of Grimaldi desperately tried to put water to all the gossip by saying Charlene would return to Monaco for National Day celebrations on November 19. Though the mother-of-two came back, however, she did not attend the event.
Commenting on their marriage, Royal expert Stephane Bern had said in 2021, "The Palace has had to invoke a suffering princess so often that the Monegasques today find it hard to believe. By crying wolf, the mother of Jacques and Gabriella has discredited and isolated herself."

Also, in December 2020, Albert was accused by a Brazilian woman that she was the mother of his illegitimate 15-year-old daughter, which he refuted. However, he does accept that he is the father of not one but two children outside the marriage. Eighteen-year-old Alexandre Grimaldi-Coste is his son, whom he fathered with an Air France stewardess Nicole Coste, and a 29-year-old girl named Jazmin Grace Grimaldi is his daughter, whom he fathered with an American estate agent Tamara Rotolo.