Pride Month 2019: Here's how Taylor Swift, Lady Gaga, Billy Porter and more celebrated June in style Every year, the LGBTQ+ community celebrates Pride Month in June, commemorating the Stonewall riots of 1969 and reiterating the need for equal rights and an end to discrimination. It's a huge cultural event across the world and a time when world leaders, corporations and celebrities, even the ones who normally don't associate themselves with the community, express their support for the cause.
2019 saw many celebrities celebrating the event with some taking the opportunity to come out of the closet, open up about relationships and reaffirm the need for a more inclusive world. Let's take a look at some of the celebrities who celebrated Pride Month this year.
Cara Delevingne
The 26-year-old model has always been quite open about her sexuality and she celebrated Pride Month by revealing her new relationship with Ashley Benson. Delevingne posted a clip from 'Her Smell' on Instagram showing her drawing Benson in for a passionate kiss.
Taylor Swift
Swift reaffirmed her support for the LGBTQ+ community at her 2019 iHeartRadio Wango Tango performance while wearing a beautiful jumpsuit in rainbow colors. She also shared a letter on her Instagram addressed to Senator Lamar Alexander requesting his support for the Equality Act.
Brendon Urie
The 'Panic at the Disco!' star surprised crowds at the 2019 iHeartRadio Wango Tango by showing up during Taylor Swift's performance for a touching duet of her new single 'ME!'. He wore a t-shirt that declared his support for "100% Love" and "100% Equality."
Meghan Trainor
The singer performed at LA Pride wearing a rainbow-colored outfit custom made by Christian Cowan. She posted a picture from the event on her Instagram thanking her fans for "joining me in celebrating love and remembering all those who came before us in the fight for equality."
Neil Patrick Harris
The 'How I Met Your Mother' star celebrated Pride Month in style, appearing at multiple parades, marches, and celebrations. He ended the month's festivities by appearing at World Pride in New York with his family.
Lady Gaga
The iconic singer made a very special trip to celebrate Pride Month by visiting the birthplace of the event: the Stonewall Inn in New York City. For those who don't know, the Stonewall riots were a series of violent demonstrations by the LGBTQ+ community against a police raid of a gay bar called the Stonewall Inn. Gaga made a passionate speech about the long way left to go in order to achieve true equality for all people.
Bobby Berk, Tan France, Jonathan Van Ness, Antoni Porowski, and Karamo Brown
The 'Queer Eye' cast arrived for the World Pride parade riding their own float. Bobby Berk, Tan France, Jonathan Van Ness, Antoni Porowski, and Karamo Brown celebrated in themed clothing and clicked plenty of pictures for social media.
Billy Porter
The 'Pose' star was on stage at World Pride 2019 performing his single 'Love Yourself'. He posted a video on Instagram with a caption telling his followers to "love each other and most certainly love ourselves."
Indya Moore
Porter's 'Pose' castmates Dominique Jackson, Mj Rodriguez and Indya Moore were also seen at World Pride - as Grand Marshals.
Tommy Dorfman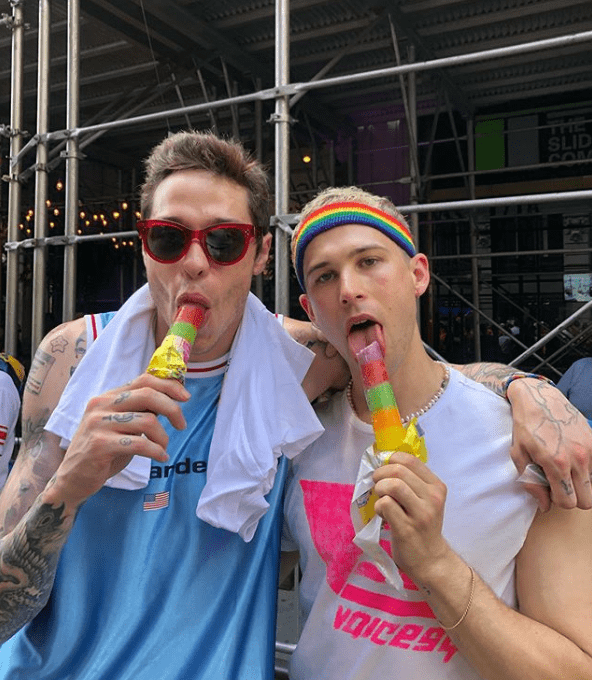 The 13 Reasons Why star made an appearance at World Pride 2019 with SNL star Pete Davidson, posting a picture of the duo on Instagram.

Even President Donald Trump chose to tweet about how he supports the rights of the LGBTQ+ community. If that isn't definitive proof that this has been the best Pride Month yet, what is?
Share this article:
pride month 2019 celebrities billy porter LGBTQ community celebrations Lady Gaga Taylor Swift