ONE IN FIVE pregnancies was aborted in 2020, with Southern red states seeing biggest spike
In Texas 55,440 abortions took place in 2018, and 58,030 in 2020. Pro-abortion rights demonstrators protest in front of the US Supreme Court Building on June 13, 2022, in Washington, DC (Anna Moneymaker/Getty Images)
As a Supreme Court decision regarding the cancellation of Roe v Wade is expected soon, new data has reportedly shown that the demand for abortion has been high in the past few years. The report was released by the Guttmacher Institute based on its latest Abortion Provider Census, which claimed there was an eight percent rise in abortions in 2020 compared to 2017. 862,320 pregnancies were terminated in 2017 but in 2020, the number increased to 930,160.

Besides, the newly-released data showed that while the abortion rate was 13.5 per 1,000 women between the age of 15 to 44 in 2017, it jumped to 14.4 per 1,000 women in 2020 – a seven percent rise. The stats added that "in 2020, about one in five pregnancies ended in abortion. More specifically, the abortion ratio (the number of abortions per 100 pregnancies) increased from 18.4% in 2017 to 20.6% in 2020, a 12% increase."
READ MORE
Phoebe Bridgers shares 'easy' abortion story after Roe v. Wade leak
Here are the 26 states likely to ban abortion if SCOTUS overturns Roe v Wade
A Daily Mail report citing the Guttmacher Institute's data said that the Southern states of the US, especially several Republican states, witnessed the highest number of abortions. In 2017, these regions saw 295,310 abortions, which increased to 308,290 in 2019 and 320,410 a year later. In Texas, known for its Heartbeat Law that prohibits termination of a pregnancy after six weeks of conception, 55,440 abortions took place in 2018, 59,290 in 2019, and 58,030 in 2020. According to the Guttmacher Institute, the reason behind the two percent decline between 2019 and 2020 might be the "COVID-19 restrictions imposed by the Texas governor, when he deemed abortion 'nonessential' health care at the beginning of the pandemic."
America's northeastern states reportedly witnessed 228,100 abortions in 2020, while 235,140 terminations happened in the west. Meanwhile, the Midwest recorded only 146,550 abortions that year. According to The Daily Mail, the Guttmacher report states that "abortion trends varied across states between 2017 and 2020 and there were no clear patterns to explain why some had increases or decreases. In some states—including Illinois, Mississippi and Oklahoma—there were substantial increases in the number of abortions. In others—such as Missouri, Oregon and South Dakota—there were substantially fewer abortions in 2020 compared with 2017."

The new data comes weeks after a leaked Supreme Court draft judgment revealed that the judges are planning to revoke the 1973 Roe v Wade law that "provides a fundamental 'right to privacy' that protects a person's right to choose whether to have an abortion." In the year when it was passed, 750,000 pregnancies were aborted. In the late 70s, the abortion numbers increased to over one million "and stayed there throughout the 1980s, reaching an all-time high of more than 1.5 million abortions in 1990. The figure dropped below one million for the first time in 2011, and now faces plummeting further as tough new laws come into place across conservative states," the Daily Mail added.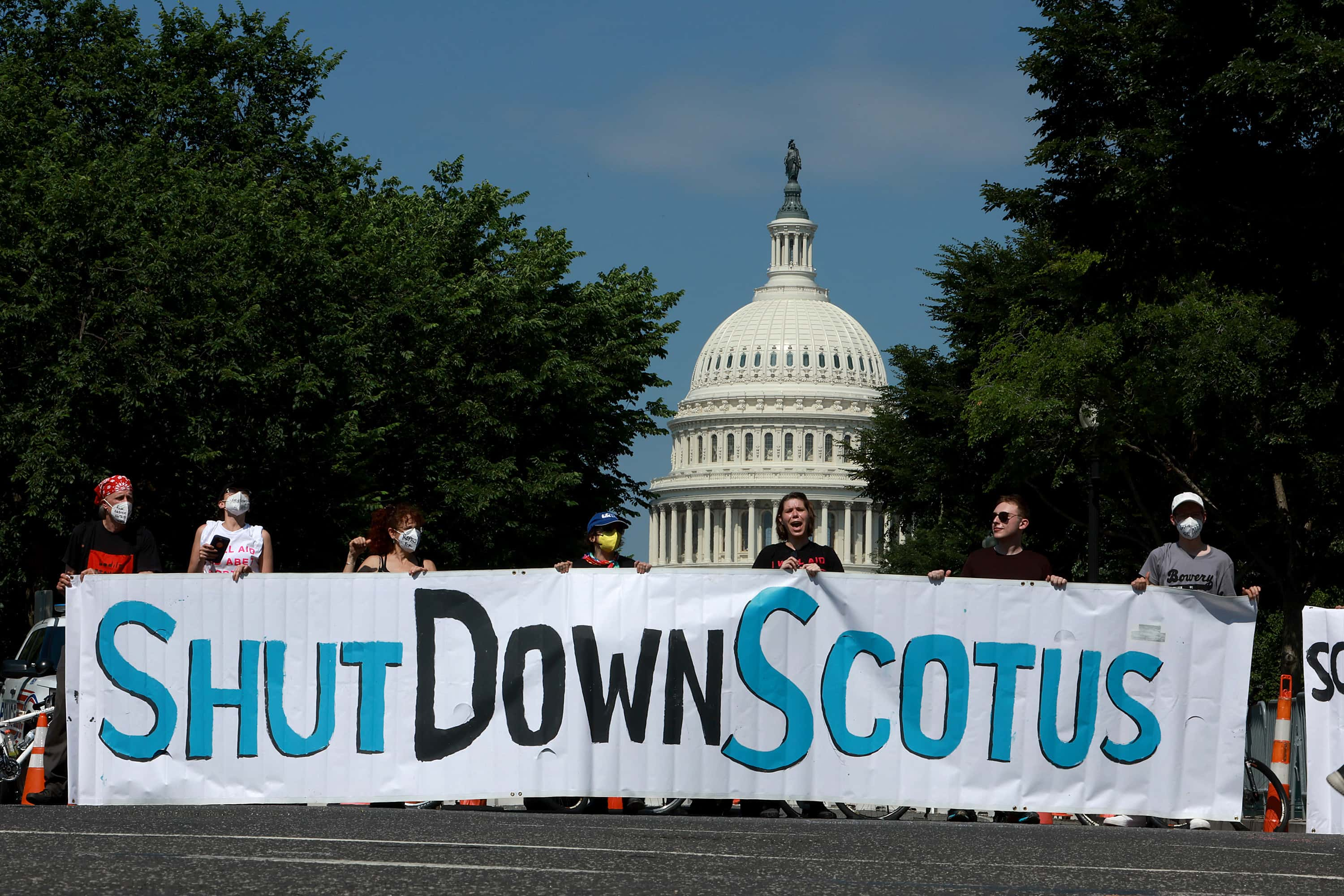 The leaked documents have created quite an uproar. Hillary Clinton tweeted in May, "Not surprising. But still outrageous. This decision is a direct assault on the dignity, rights, & lives of women, not to mention decades of settled law. It will kill and subjugate women even as a vast majority of Americans think abortion should be legal. What an utter disgrace." Representative Ilhan Omar shared, "Overturning Roe would put the lives of women across the country at risk. It would fly in the face of decades of precedent and the overwhelming majority of public opinion. And they will not stop here. Expand the court."
---
Not surprising. But still outrageous.

This decision is a direct assault on the dignity, rights, & lives of women, not to mention decades of settled law. It will kill and subjugate women even as a vast majority of Americans think abortion should be legal. What an utter disgrace. https://t.co/TNo1IX3Tl4

— Hillary Clinton (@HillaryClinton) May 3, 2022
---
---
Overturning Roe would put the lives of women across the country at risk. It would fly in the face of decades of precedent and the overwhelming majority of public opinion. And they will not stop here.

Expand the court. https://t.co/EDktEETxvb

— Ilhan Omar (@IlhanMN) May 3, 2022
---
---
I had an abortion when i was 19 and I've never felt comfortable talking about it online. People have terrifying opinions on the topic and even now I'm scared to speak about it. We talk about destigmatizing a lot of things but we desperately need to destigmatize abortion.

— michaela okland (@MichaelaOkla) May 3, 2022
---
---
With Roe V Wade being overturned we are putting so many young and poor people at risk. The foster-care system will flood even more, children will die of abuse & lack of resources, others will take their own lives. I can't imagine the fear of an unwanted pregnancy with no way out.

— michaela okland (@MichaelaOkla) May 3, 2022
---
Social media personality Michaela Okland added: "I had an abortion when i was 19 and I've never felt comfortable talking about it online. People have terrifying opinions on the topic and even now I'm scared to speak about it. We talk about destigmatizing a lot of things but we desperately need to destigmatize abortion. With Roe V Wade being overturned we are putting so many young and poor people at risk. The foster-care system will flood even more, children will die of abuse & lack of resources, others will take their own lives. I can't imagine the fear of an unwanted pregnancy with no way out."