Nicki Minaj confirms that she and Eminem are actually dating
Minaj and Nas split up in December last year because they couldn't handle the strain of being in a long-distance relationship Nicki Minaj and Eminem (Getty Images)
Nicki Minaj has finally confirmed that she is indeed dating rapper Eminem in response to a fan's question on an Instagram post on Friday.
The 35-year-old Chun-Li rapper took to the social media site to promote the new single that she did along with YG, 2 Chainz, and Big Sean, titled 'Big Bank'. During the promotion, one of her followers on Instagram asked her: "You dating Eminem???" to which Minaj, who is from Trinidad and was previously linked to 44-year-old rapper Nas, said: "Yes."
It is still not clear if Minaj was being serious when she responded to the question.
---
She and Eminem, whose real name is Marshall Mathers III, have been friends for quite some time now and have even collaborated on her 2010 hit single 'Roman's Revenge'.
After the song's initial release, Minaj tweeted that she had sent Eminem another song before they finally settled on 'Roman's Revenge'. She told MTV News in an interview: "He didn't say, 'I don't love it'; he just said, 'Can you send me something that's a little more me??'"
After they finally settled on a beat for the track, they had to go through the lengthy lyric writing process which the Anaconda star said was "competitive".
She told XXL in an interview: "I remember, every time I wrote a verse to 'Roman's Revenge' and sent it to Eminem, he would send a new verse back. It was competitive, it was fun."
"I think all the big male artists (air quotes) also treated me with a sense of respect as an emcee. They took me seriously. If they were on a track with me, they knew they had to come hard."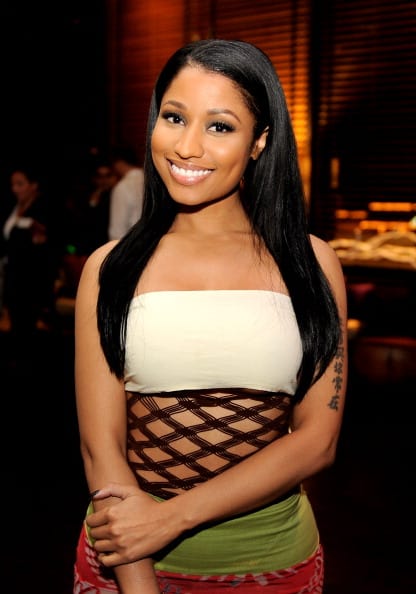 It was confirmed in the beginning of January that Minaj and Nas had split up in December after the two of them couldn't handle the strain of being in a long-distance relationship which proved to be "too much". Minaj lives in Beverly Hills on the West Coast and Nas currently works out of New York City.
The couple allegedly started dating in June 2017 but sources close to both parties told TMZ that "the relationship ran out of steam".
Another insider said: "They respect each other, and there won't be any trash talking - but, on the other hand, they won't be hanging out as friends either."
The gossip site also pointed out that there was no truth to the rumors that were swirling around saying that Minaj was pregnant with Nas' child.
Minaj and Nas have been friends for a long time but they never confirmed their relationship formally.
One source said in September 2017: "Nicki and Nas are just very dear friends. Nothing romantic. They've been friends forever and have seen each other's careers take off. Nas is a best friend to her so as of now nothing is stirring up. People always joke around though that they make a great couple!"
Minaj announced in May 2017 that she was "celibate" and that she "hated men". Even though she made these claims, she also said that she would make an exception for her friend Nas.
She said on The Ellen DeGeneres Show: "I'm just chillin' right now. I'm celibate. I wanted to go a year without dating any man. I hate men. I might make an exception to the rule for [Nas], because he's so dope."
Eminem said in December 2017 that he was looking for love again after 10 years of being divorced from is high school sweetheart Kimberly Anne Scott. He was married to her twice before and they finally got divorced in 2006. He later revealed that he had used Tinder and even joked about using Grindr. He also said he went to strip clubs to meet women.
The 45-year-old 'Not Afraid' rapper told Vulture in an interview: "It's tough. Since my divorce, I've had a few dates and nothing's panned out in a way that I wanted to make it public. Dating's just not where I'm at lately. Going to strip clubs is how I was meeting some chicks. It was an interesting time for me."