N.O.R.E. offers grovelling apology for Kanye West's George Floyd death remarks, antisemitic rant on show MIAMI FLORIDA: In the 'Drink Champs' episode from Sunday, October 16, Kanye West seized the opportunity to discuss a number of hot-button topics, which is unsurprisingly Ye. However, this time it created a lot of uproar, and the host N.O.R.E. aka Victor Santiago had to go into complete disaster management mode because of the cringe-worthy remarks West made on the broadcast.
The level of criticism hurled towards West, who spoke for more than three-and-a-half hours about antisemitic rants, fabrications about George Floyd and insults aimed at everyone from Trevor Noah to Diddy, was wild. N.O.R.E., who was not aware of how upsetting Ye's words would be to listeners, took responsibility for the remarks and offered an apology. On Monday, October 17, he made calls to 'The Breakfast Club' to express his regret for West's remarks regarding Floyd.
READ MORE
George Floyd's family may sue Kanye West for saying he died from fentanyl overdose
Donald Trump claims Kanye West is behaving 'crazy' and needs 'help' after his latest antisemitic outbursts
N.O.R.E. defended the stance of his show by pointing out that it isn't called 'Think Champs' to present political drama. He claimed that his friendship with Ye was strong and that he wanted to give him the stage for speaking freely. "I want to be honest. I support freedom of speech," he told Charlamagne Tha God, host of 'The Breakfast Club'.
N.O.R.E. continued, "I support anybody not being censored. But I do not support anybody being hurt. I did not realize that the George Floyd statements made by Kanye on my show were so hurtful. You have to realize that it was the first five minutes of the show – like when he walked in, he told my producer that if we stop filming, he'll walk out. So I didn't want a Birdman moment, like when he walked out, so I wanted the man to speak."
---
Kanye West is spreading reprehensible lies about George Floyd's death. Kanye West is disgraceful.

"When you look, the guy's knee wasn't even on his neck like that." pic.twitter.com/QhD0KTF8V4

— Christopher Bouzy (@cbouzy) October 16, 2022
---
N.O.R.E. claimed that he subsequently checked with West for the comments about 'White Lives Matter' and Floyd's death in the interview, but added that he was too drunk and unable to make a memorable moment. He further asserted that he failed to thoroughly review it and posted the incorrect modification. He promises that his team would take care of this of mistake moving forward.
"I actually checked him about the 'White Lives Matter' thing too, but they were later in the episode, and I was already inebriated at that time, that maybe people looked over it. But I apologize to the George Floyd family," N.O.R.E. said.
Although N.O.R.E. didn't directly address West's more offensive comments surroounding Jews and other celebrities, the host did offer a general apology to anyone who may have been offended by Ye's remark. He said, "I don't watch my own interviews because I know I'm great. But when I watched this one, I cringed."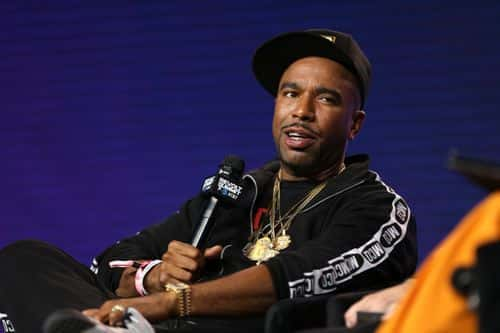 N.O.R.E. continued, "And I felt terrible. So I have to say that I am sorry to anybody who was hurt by his rhetoric, anybody who was hurt by his speech. I want to apologize to the George Floyd family... I want to apologize to anyone who was hurt by someone saying something in my platform."
"I'm not going to have the excuse that I am not a journalist. I have responsibility... I do not want my people to think that I did not step up at the time, but if you watch the whole 3 hour and 38-minute interview, I represent for George Floyd and Black people five, six, seven times," N.O.R.E. concluded.
Share this article:
N.O.R.E. offers grovelling apology for Kanye West's George Floyd death remarks, antisemitic rant on show