Motley Crue film 'The Dirt' sees band's music top streaming charts on Spotify, Apple Music and Deezer Motley Crue's Netflix biopic 'The Dirt' appears to be doing good not just to the streaming site's viewership figures but also to the notorious band itself. Ever since The Dirt released, the band's music has seen a sharp rise in its streaming figures across all platforms.
Streaming partners have also contributed to the surge by supporting the film's soundtrack, and Mötley Crüe's catalog, with the Global Marquee feature on Spotify and Apple Music building a dedicated Mötley Super Room.
Shortly after this, an instant surge was noted by the partners with a 570% stream increase on Spotify, a 900% stream increase on Apple Music and Apple iTunes downloads growing by 2,027%.
Mötley Essentials playlist now is charting higher than Drake Essentials on Apple Music, according to the band. Streams of Mötley's Crue's music on Deezer have increased by 669 percent, according to Deadline.
Reports state that Amazon, with triple-digit streaming growth, is also benefiting from the sales of the biography, which has jumped back to No. 1 music book spot. The book was written by band member Nikki Sixx, along with his bandmates and Neil Strauss.
The effect of the Netflix biopic on the band's newfound popularity can be witnessed worldwide in at least 150 markets with top 10 iTunes chars across the world.
'The Dirt' reportedly received an 85% audience score at Rotten Tomatoes, which is at par with 'Bohemian Rhapsody's 87%. The film's soundtrack on Mötley Records and Eleven Seven Music immediately reached No. 1 on the iTunes All Genres Chart and currently stands at No. 4 US and No. 5 worldwide, reports state.
The rock band's Greatest Hits album currently stands at No. 2 in the United States on iTunes, and at No. 11 worldwide. The film's soundtrack features four new songs including the first single 'The Dirt (Est. 1981) (feat. Machine Gun Kelly)' and their cover of Madonna's 'Like a Virgin'. Spotify also registered an eightfold increase in their daily streams of the songs, which increased from nearly 400,000 to 3.6 million. Reports state that the figures have continued to increase.
Sixx, while talking about his book, said that he hopes the message of their film will direct the viewers' attention towards the country's opioid crisis. Sixx, the bass player who is a recovering addict, has also established a music program for children at Covenant House in Los Angeles.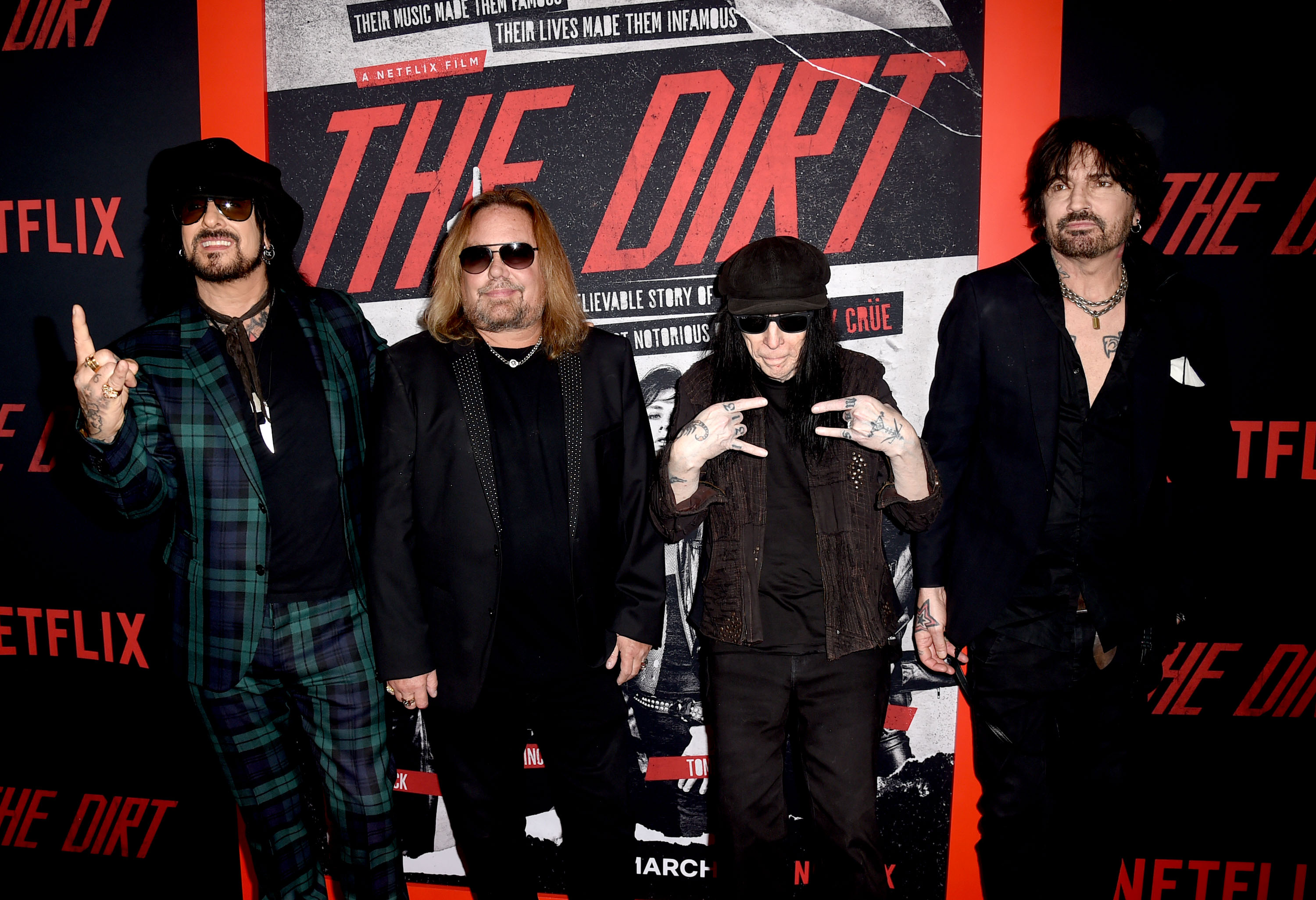 Sixx is reportedly also collaborating with the US Surgeon General in an effort to fight opioid addiction and is set to bring his book 'Heroin Diaries' to life with a musical with the same name. The musical is slated to debut in 2019 with partners like Live Nation Ticketmaster, Eleven Seven, Scott Borchetta and Downtown Music.
"In the film, we show painful examples of domestic violence, DUI, manslaughter, drug overdose and the loss of a child. We couldn't possibly have crammed everything from a 430-page book into an hour-and-50-minute movie, but we felt we achieved our objective of showing the downside of sex, drugs and rock and roll," the bass player said.