Celebrities who died this decade: From David Bowie to Prince, Robin Williams and Hugh Hefner
Before entering 2020, MEA WorldWide (MEAWW) is taking a look back at the most notable stars we lost over the past decade, and how their influences will forever resonate in the annals of human history The world has lost a series of gems this past decade. Contributing to the proliferation of art, music, and film, these distinguished personalities left an indelible mark on recent human history -- giving us a deeper but rather intimate insight into the human condition.
Here we list our top picks for the legends who changed the world forever before passing on.
Prince
Prince Rogers Nelson was a guitar virtuoso known for his work across several genres. The superstar and seven-time Grammy winner rose to fame in the late '70s and early '80s before stealing a million hearts with his falsettos and flamboyant stage appearance, making him one of the greatest musicians of all time. Prince died of an opioid overdose in April 2016. He was just 57 at the time.
Robin Williams
Robin Williams rose to fame playing the alien Mork in the sitcom 'Mork and Mindy'. The extremely talented entertainer went on to establish an illustrious career in both stand-up comedy and feature film acting.
Williams was critically acclaimed for his improvisation skills and left behind a treasure trove of memorable character voices of his own creation. In August 2014, the actor and comedian shocked the world by taking his own life at 63.
It would later come to light that Williams was suffering from Lewy body dementia, a brutal progressive brain disorder. A sea of critics have regarded Robin Williams as one of the funniest comedians of all time.
Amy Winehouse
Amy Jade Winehouse was known for her deep, expressive contralto vocals and her genre-crossing styles including blue-eyed soul and neo-soul, R&B, and jazz. The powerful British vocalist amassed critical acclaim in the U.K. with her debut album 'Frank' (2003) and was nominated for the Mercury Prize for the same.
That said, her follow-up album 'Back to Black' (2006) stunned audiences once again and helped her grab five Grammy Awards in 2008, thereby tying the then-record for the most wins by a female artist in a single night. Amy struggled with a drug and alcohol addiction for years and ultimately succumbed to alcohol poisoning in July 2011. She was just 27 at the time.
David Bowie
David Robert Jones, popularly known as David Bowie, is considered one of the most influential musicians of the 20th century. He became a leading figure in the music industry after garnering critical acclaim for his pathbreaking work during the 1970s.
In a nutshell, Bowie's music and stagecraft changed the pop genre forever and encouraged innovation and visual presentation. Bowie became one of the world's bestselling music artists and sold at least 140 million albums worldwide during his lifetime.
The legendary British rock star was inducted into the Rock and Roll Hall of Fame in 1996. The icon passed away two days after his 69th birthday in January 2016. He died in his New York City apartment following an 18-month battle with liver cancer.
Paul Walker
Paul William Walker IV started his career as a child actor during the 1970s and 1980s. However, he first gained recognition in the early 1990s after being cast in the television soap opera 'The Young and the Restless'.
Soon, he would transition into film and garner critical acclaim in 1999 for his performances in the teen films 'She's All That' and 'Varsity Blues'. Walker then proceeded to rock the international stage after starring in 'The Fast and the Furious'. The rest is history.
Walker, a father of one, died in a high-speed car accident in November 2013. The tragic crash saw the Porsche in which he was a passenger crash into a light post and tree before bursting into flames. He was only 40 at the time.
Whitney Houston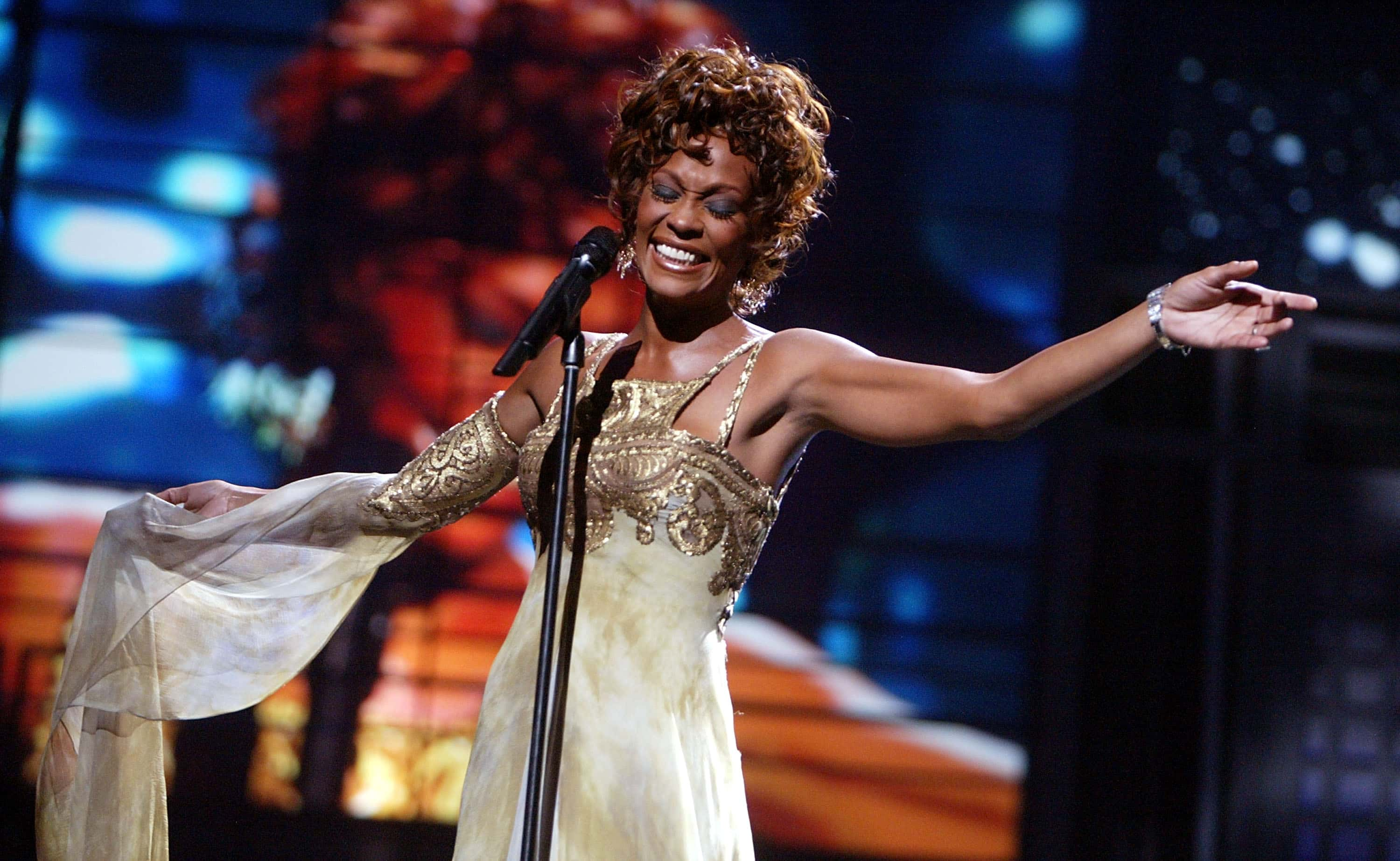 Whitney Elizabeth Houston is listed as the most awarded female artist of all time by Guinness World Records. The American singer and actress remains one of the best-selling music artists of all time with 200 million records sold worldwide.
During her illustrious career, Houston released seven studio albums and two soundtrack albums, all of which have been certified diamond, multi-platinum, platinum, or gold by the Recording Industry Association of America (RIAA). The renowned songstress passed away in February 2012.
Less than 24 hours before the Grammys, the superstar was found unresponsive in the bathtub of her room at the Beverly Hilton hotel in Beverly Hills. Her official cause of death was established as drowning after suffering from atherosclerotic heart disease. She was just 48 at the time.
Anthony Bourdain
Anthony Michael Bourdain graduated from The Culinary Institute of America in 1978 and went on to become a veteran of a series of professional kitchens in his long and notable career. Bourdain spent many years as executive chef at Brasserie Les Halles in Manhattan, before starring in programs that explored international culture, cuisine and touched upon the human condition.
The celebrity chef and author first shot to fame for his bestselling book 'Kitchen Confidential: Adventures in the Culinary Underbelly' (2000). In June 2018, Bourdain was filming his show 'Parts Unknown' at his hotel in France when he shocked the world by taking his own life. He was 61 at the time.
Burt Reynolds
Burton Leon Reynolds Jr., popularly known as Burt Reynolds, first shot to fame during the 1960s when he starred in a number of different television series such as 'Gunsmoke' (1962–1965), 'Hawk' (1966), and 'Dan August' (1970–1971). While he had played leading roles in films like 'Navajo Joe' (1966), his breakthrough role was playing the character Lewis Medlock in 'Deliverance' (1972).
Following that performance, Reynolds would be cast as the protagonist in several blockbusters such as 'The Longest Yard' (1974), 'Smokey and the Bandit' (1977), 'Semi-Tough' (1977), 'The End' (1978), 'Hooper' (1978), and 'Starting Over' (1979).
For five consecutive years from 1978 to 1982, Reynolds was voted the world's number one box office star in the annual Top Ten Money-Making Stars Poll, a record he shares with Bing Crosby. He was eventually nominated for the Academy Award for Best Supporting Actor for his stellar performance in 'Boogie Nights' (1997). The Hollywood veteran died of a heart attack in September 2018, thereby bringing an end to a distinguished chapter in modern cinema. He was 82 at the time
Gene Wilder
Jerome Silberman, popularly known as Gene Wilder, started his career as a theater actor before making his screen debut in an episode of the TV series 'The Play of the Week' in 1961. Wilder's first major role saw him play Leopold Bloom in the 1967 film 'The Producers', and his performance won him an Academy Award nomination for Best Supporting Actor.
Wilder would go on to work in several collaborations with director Mel Brooks, and the duo won an Academy Award nomination for Best Adapted Screenplay for 'Young Frankenstein', which they co-wrote. Wilder was best known for his noteworthy portrayal of Willy Wonka in' Willy Wonka and the Chocolate Factory' (1971) and for his four films with Richard Pryor: 'Silver Streak' (1976), 'Stir Crazy' (1980), 'See No Evil', 'Hear No Evil' (1989), and 'Another You' (1991).
The critically acclaimed actor and comedy legend died at his home in Stamford, Connecticut, from complications of Alzheimer's disease in August 2016. He was 83 at the time.
Hugh Hefner
Hugh Marston Hefner was the founder and editor-in-chief of Playboy magazine, a publication that provoked charges of obscenity owing to its revealing photographs and sexually charged articles. Timeless sex symbol Marilyn Monroe did a nude calendar shoot for the first issue of Playboy that was published in 1953. The issue sold over 50,000 copies.
Expanding the Playboy brand, Hefner went on to successfully build a world network of Playboy Clubs. Due to his lavish mansions and wild partying with Playboy "playmates", Hefner was often criticized by conservatives.
However, he became a champion of the "freedom of expression" and a known advocate of "sexual liberation." He was politically affiliated with the Democratic Party and fought for causes of First Amendment rights, animal rescue, and most notably -- the restoration of the Hollywood Sign.
The American publishing magnate passed away at his Los Angeles home in September 2017. As per his wishes, Hefner was buried in a crypt next to Marilyn Monroe. He was 91 at the time of his death.
Share this article:
Celebrities who died this decade: From David Bowie to Prince, Robin Williams and Hugh Hefner