Mnet 'Girls Planet 999' Episode 1 Recap: TOP9 spots and CLC's Yujin vs Fu Yaning drama 'Girls Planet 999' is Mnet's new survival show where 99 trainees from South Korea, Japan and China compete to debut in a new girl group. The show aired its first episode on August 6 with half of the girls performing individually or in units to songs that they had picked. The panel then decided which contestant would be a 'TOP9' candidate.

The host, Yeo Jingoo, revealed that cells of three would be created with one girl from K-group, J-group and C-group. These cells would be judged together and either all 3 girls would survive or get eliminated. The panel also reiterated that the number of members to debut was not fixed and could change according to the results. Here's a recap of episode 1 of 'Girls Planet 999'.

READ MORE
Mnet 'Street Woman Fighter' Full List of Idols: IZ*ONE Chaeyeon, BoA, NCT Taeyong to join show
Mnet's 'Show Me The Money 10': Winner's Mino and GRAY announced as first two producers
Breaking the ice
The cells of three were decided by common factors like K-pop biases, professions or age. Even though Mnet had decided the cells, the girls could later change their cellmates. The girls tried to break the ice by asking the polyglot girls to help communicate with participants of other countries. The girls loved Lin Chenhan's reenactment of the viral 'Penthouse' scene in which Cheon Seo-jin screams at Oh Yoon-hee when Gu Yizhou revealed that she loved the K-drama.
Cells of 3
Then we had the cell consisting of Kim Chaehyun, Kanno Miyu and Huang Xingqiao enacting Shin Chan and were excited how similar the cartoon character sounded in all three languages. Kang Yeseo, Kamikura Rei and FANATICS' Chiayi wowed everyone with their flexibility and athleticism.
Lee Yeongyung found out that she was teamed up with someone she almost debuted with at JYPE - Sakamoto Mashiro who had trained with ITZY. Even the third member, Cui Wenmeixiu was a former JYPE trainee and had trained with AB6IX's Daehwi. The next cell girls already had an album of their own - Xu Ziyin, CLC's Yujin and Okazaki Momoka.
Celebrity look-alikes
The trainees also noticed that a lot of girls looked like idols like Zhang Luofei and TWICE's Momo, Choi Hyerin and TWICE's Tzuyu, Su Ruiqi and Blackpink's Lisa, and Lee Hyewon and Oh My Girl's Arin. The C-group intimidated everyone with their height and beauty, J-group seemed sweet and precious while K-group impressed everyone with their personality.
Okuma Sumomo, Chen Hsinwei and FANATICS' Doah were clubbed together for their visuals. Hsinwei had some funny moments as she is short-sighted. When she was asked who was the prettiest, she replied that she couldn't see and was confused why people were cheering when the #1 cell showed up. She also accidentally called Jingoo ugly while trying to compliment him since she doesn't know Korean well.
The girls' ranks
The girls were ranked from 1 to 33 in each group through peer and expert evaluation. The last cell had girls that were all #1 in the K, J and C-group. The participants are Ezaki Hikaru, Shen Xiaoting and Kim Dayeon of Produce 48 and were centers of the group performance. Xiating won gold at a modern dance competition in Shanghai and ranked #6 globally in an international ballroom dance competition.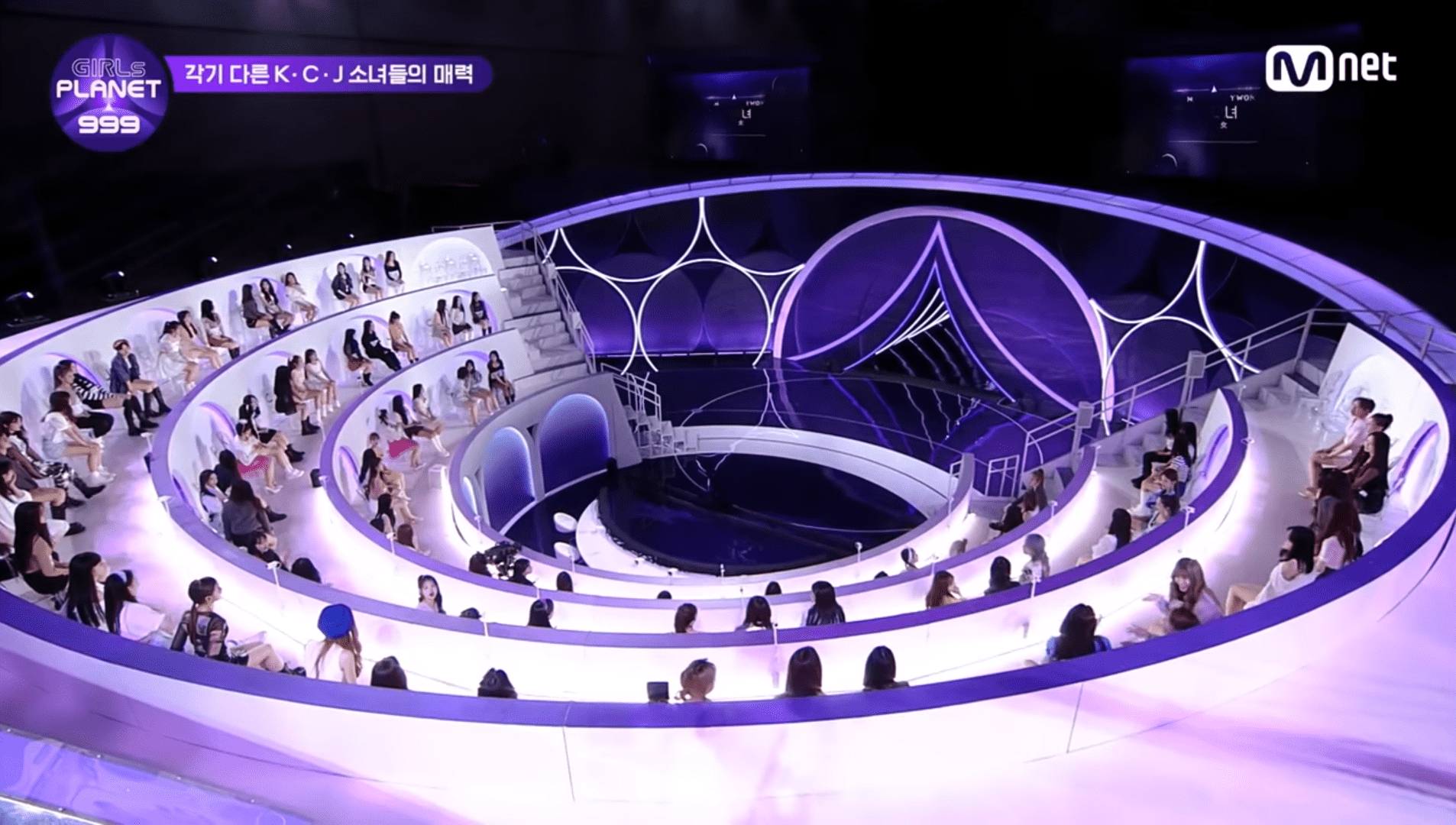 Team performances
The teams to perform were created by the girls from the same country group in advance and different from Mnet's cells as they had spent days practising for the first performance. The first team was of C-group and danced to Producer's Hot Issue's 'Rumor'. Some of the girls were off-key but Xiaoting aced it and was the first girl to be the TOP9 candidate.
The next team was from J-group and had Kawaguchi Yurina, an actress and Kishida Ririka who had already participated in JYP's Nizi Project. They danced to TWICE's 'Fancy'. Some of the girls had trouble with the dance and high notes. Yurina was complimented for being stable while singing live and was selected for TOP9.
The third team was from K-group. They covered aespa's 'Black Mamba' and wowed everyone with their dance and aura. Trainer Jo Ayoung complimented An Jeongmin's vibrato and was chosen as the TOP9. Tiffany called out Kim Chaehyun's loss of concentration due to a voice crack which cost her the TOP9 spot.
The whole team moves to TOP9
The next team had Youngeun who caught everyone off-guard including her teammate, Yoon Jia with her vivaciousness and goofy personality as she was playful with Jingoo. They danced to NCT 127's 'Kick It' which impressed everyone since the dance has a fierce choreography. They aced it and even added their own dance break. They were the first team where all the members became a TOP9 candidate.
The #1 girls
After a couple of performances, we got the team that had the #1 contestant from J-group. Hikaru's duality was visible from her cute smile that was immediately replaced with swagger as she performed. The team covered Blackpink's 'Boombayah' and they changed the lyrics and the choreography with lots of fun highlights. Shana also shined with her vocals and was asked to sing a ballad. These two ended up as TOP9 candidates.
The next team had three K-group girls out of which two of them ranked #1 and #2. They covered K/DA's 'POP/STARS'. Trainer Lim Hanbyul called them popstars however, only one girl was chosen for the TOP9. It wasn't the #1 or #2 girls but Kim Suyeon who ranked #19.
The 'Monster Baby' team
'Monster Baby', the next K-group team was adored by everyone for being the youngest and clumsiest as they struggled to reveal their ranks on their nametag. Kang Yeseo is a child actress who has been active since she was 10 and was part of two groups while Guinn Myah is so young that her teeth are still growing. Thus everyone was shocked when the girls performed the powerful song 'Crazy' by 4minute. Even though Yeseo's mic pack fell off, her professionalism impressed the judging panel. They ended up selecting all of the team members for the TOP9 candidacy which made Lee Chaeyun burst into tears of happiness.
Break time
During the break, Jingoo cheered the girls as he noticed the exhausted ones falling asleep. Even the judging panel was tired as Sunmi cracked her neck loudly causing the others to chuckle while Hanbyul and the other girls fixed their makeup. Next, a C-group team caught Tiffany's eye as they sang her song 'Twinkle'. And while they were alright, the panel was strict and didn't select a TOP9 candidate.
CLC's Yujin vs Fu Yaning
The next team was much anticipated by the audience for a different reason. Made up of C-group trainees, it has Fu Yaning who went viral in the episode one preview for dissing CLC's Yujin. Fu Yaning was covering CLC's 'Helicopter' and was supposed to say a few words to the original singer. She used wordplay using the song lyrics by saying "We go up, but you don't" to Yujin. She also claimed that her team would perform Helicopter much better than CLC. The viewers did not like her attitude as she also had previously dissed her cellmates. Her cell was created on the basis that all three girls were all-rounders. But she commented on one of the girls stating that she didn't find anything exceptional about that girl. She was also asked how Yujin would perform, and all she said was she didn't understand the question and was ready to conquer the show, which the viewers did not appreciate. She is also infamous for using a racial slur in the past for which she apologized on August 6.
However, her diss at Yujin was taken good-naturedly by everyone in the episode including Yujin. Viewers did notice Yujin raising her eyebrows when Yaning made a mistake. But the judging panel was also impressed by Yaning's fierce gaze and joked that they were scared of her. Along with Yaning, Chiayi and Cai Bing made it to the TOP9 spots. Additionally, Cai Bing was singled out by Sunmi for her charisma and allure. The other girls also commented that they were touched by the small details she added to her moves even when she wasn't in focus.
Preview of episode 2
The episode ended with a preview of episode 2 in which we will see Yujin's performance. She will be dancing to Hyuna's 'Bubble Pop!' A majority of the girls were big fans and cheered her. She did feel the added pressure since she was already an idol and the team that covered 'Helicopter' had done a good job. During the end we see her crying as she walks out barefoot with her shoes in her hands. We will also see Huening Bahiyyih's group, a cover of Mamamoo's 'Gogobebe' and a remix of Hwasa's 'Maria'. We will also get Su Ruiqi dancing to Chungha's 'Snapping'.
Watch the teaser for the next episode below:
Episode 2 will air on August 13 at 8:20 pm KST (7:20 am ET) on Mnet's channel and YouTube channel. Voting will also begin on August 13 on the 'UNIVERSE' app.
Share this article:
Mnet 'Girls Planet 999' Ep1 recap shows TOP9 spots, CLC's Yujin vs Fu Yaning drama