Miley Cyrus poses pantless atop dad's car in NSFW t-shirt, sister Brandi jokes 'not the Nissan'
The 28-year-old singer wore a pink muscle tee to promote her new merch line Miley Cyrus promoting her merch (Instagram/ mileycyrus)
Miley Cyrus spent her Tuesday afternoon, July 20, modeling for her new merch line as she was seen posing atop her father's car in a pink muscle tee without any pants. The 28-year-old took to Instagram and Twitter to share her wild pictures, which she got clicked while climbing all over Billy Ray Cyrus' Nissan truck.

Miley turned the $35 t-shirt into a full look, which she rocked with a silver-buckled belt and a set of eye-catching designer heels. The hot pink number featured 'Miley Cyrus Made Me Realize I'm Gay' along with a number of phallic doodles. Also, the pair of shining heels were from Gucci, whose brand ambassador is the 'Plastic Hearts' singer. The gold strappy sandals included a mid-height block heel with metallic uppers, Reportedly, similar designs of the sandals from the brand come for $890 at Nordstrom.
READ MORE
Are Miley Cyrus and Yungblud dating? Rumored couple come out as 'just friends', Internet ask for collab
Is Billie Eilish going through her Miley Cyrus phase? Singer has same 'unapologetic' attitude


The 'Midnight Sky' singer captioned her pictures as, "IDK what @billyraycyrus is gonna be more pissed about! Me making a shirt that says "I ❤️ Dick" or crawling all over his truck in my @gucci heels! Speaking of Daddy's ask yours for 35 bucks and get the new "Miley made me gay" merch on Shop.MileyCyrus.com!" Miley's website also sells a white long-sleeved tee ($45) that read, "I <3 p—y!" along with drawings of female genitals. It has been said that a portion of the money received by selling the items will be donated to Happy Hippie Foundation, a non-profit organization founded by the pop star to help youth homelessness, the LGBTQ community, and other vulnerable populations.
Her racy pictures invited a lot of comments from the people online. One of the commentators on the photographs was Miley's elder sister, Brandi Cyrus, who wrote: "LOL not the Nissan!" A person said, "So much marketing in one post." A fan of hers shared on Twitter, "My BIRTH DADDY BOUGHT ME THIS SHIRT. I TOLD HIM I NEEDED A NEW SHIRT & THIS IS WHAT I BUY..I THINK I ORDERED THE WRONG ONE B/C I NEED THE I LOVE PUSSY @MileyCyrus I WILL ROCK THE FAK OUT OF THIS TEE B/C I LOVE YOU & SUPPORT YOU & I COULD TOTALLY ROCK THE I ❤️ D***."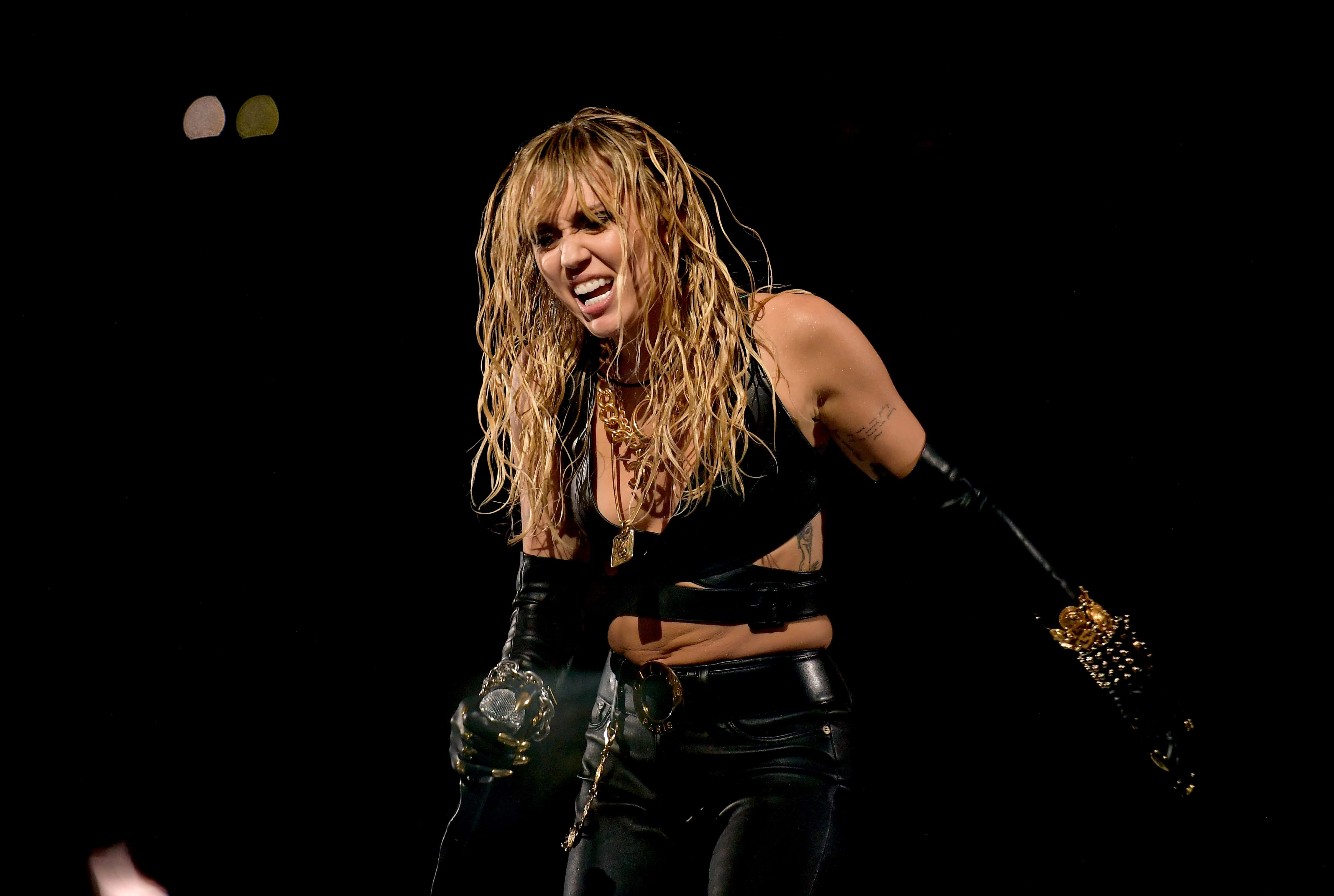 The second one tweeted, "I JUST TOLD MYSELF I WASNT GOING TO SPEND ANYMORE MONEY THIS WEEK FUUUUCK WHY MILEY WHYYYYY." "i'm obsessed this merch send me some," the third one wrote. "Wait that shirt looks really nice. We also want a dress please. But please ship them faster," a user said. Another one added: "Met your dad @billyraycyrus on Turtle Mountains Reservation here, he is nice, think he be more pissed about his truck @MileyCyrus but my son is gonna love a shirt!!!"
A tweet read, "I love it... the shirt. It wouldn't be (entirely) true but its still fun. Probably would make me feel more confident for the job interview, but too late now." The second comment stated, "i was about to say we need a lesbian one but you rly came through my gay ass will be purchasing. the can't be tamed video specifically made me gay."