Mila Kunis embraces sweater weather as she relishes brunch with friend at LA's Beverly Glen Deli LOS ANGELES, CALIFORNIA: Mila Kunis looked cute and cozy while stepping out for brunch with a friend on Thursday, January 12, at the Beverly Glen Deli in Bel Air, Los Angeles. The actress, 39, braved the freezing weather wrapped in a big olive green puffer coat with a fur hood over a grey sweatshirt.
The 'Luckiest Girl Alive' star completed her look with white shoes and dark blue cropped jeans. She had her dark chocolate brown hair parted down the middle and falling in soft waves. She went make-up free for the outing and did not wear any accessories either.
READ MORE
Who are Ashton Kutcher and Mila Kunis' children? Duo slammed for saying they don't bathe their kids
Jodie Foster and wife Alexandra Hedison make rare appearance together as they step out for lunch in LA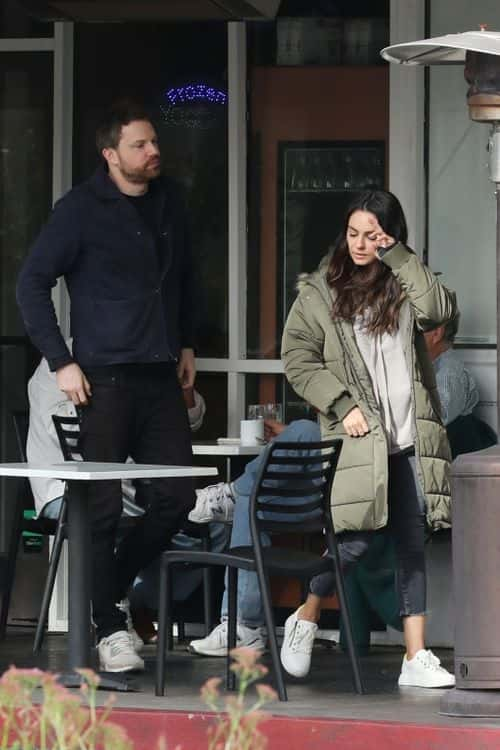 The actress has been married to Ashton Kutcher since 2015. They share two children together, son Dimitri Portwood, 6, and daughter Wyatt Isabelle, 8. The 'Friends With Benefits' actress provided a behind-the-scenes look at her family life in a 2022 interview. She claimed that during the past year, her two kids had given the actress the most "hope." "They have this natural ability to provide empathy without having to be taught," she explained. "They have the desire to help without having to be asked," as per People.
The 'Bad Moms' actress further stated, "Kids today think more globally than I was raised to," and later added, "This generation of big thinkers is going to make a huge difference." She jokingly explained that she was the "queen of annoying" her husband at home. "If he's on a Zoom, I just walk over and write my question down, like, 'Pay attention to me.' And that's the beautiful thing about sharing an office."
The couple first met on the set of 'That '70s Show', where they played couple Jackie Burkhart and Michael Kelso. In 2001, Kunis revealed that not only did she and Kutcher have their first kiss during the show, but it was also her first kiss ever. "I was like, 'Oh, he's so cute, it's the Calvin Klein model!'" she said. "Then I was like, 'I have to kiss him?' I was so nervous and uncomfortable. I had the biggest crush on him." Kunis went on to say that Kutcher put her at ease by making jokes and giving "funny little compliments," reported People.
Kutcher was also reportedly nervous about the kiss. "I'm the first she kissed? Oh my god, I had no idea!" he said in 2001. "I'm so glad I didn't know that or it would've been too much pressure." He added, "I was so nervous. She acted so cool. She seemed as if she'd done it a thousand times. I was the one with the butterflies in my stomach. I mean, here's this little girl and I have to kiss her. It was nerve-wrecking," as per the outlet.
Share this article:
Mila Kunis embraces sweater weather as she relishes brunch with friend at LA's Beverly Glen Deli