Melania Trump slammed for sporting oversized sunglasses at D-Day memorial in France First Lady Melania Trump has come under fire for her choice of accessories at the D-Day commemorations in France. Melania was dressed in an all-black Dior outfit, a pair of black high heels and oversized sunglasses for their trip to Normandy and Twitter is calling her out for being "disrespectful" and "rude".
The Trumps were attending the 75th anniversary of D-Day to pay their respects to the allied forces. The duo was joined by French president Emmanuel Macron and wife Brigitte, as well as dignitaries from Canada, Britain and Germany. Both Trump and Macron spoke at the event, extending their gratitude to the veterans. The event took place at Omaha Beach.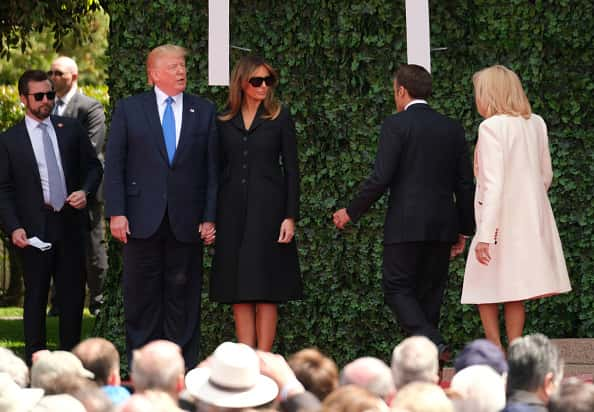 "Melania thinks she's at Cannes with those sunglasses," one Twitter user said while another quipped, "Melania not bothering taking off the sunglasses again for the National Anthem. May as well drag a double around. Nobody could know the difference."
Many slammed her for making the ceremony about her outfit. "You take your sunglasses off and pay respect without making the focus on ur fashion. I don't care how sunny it may have been." Another said, "Take off you Jackie O sunglasses at Normandy. Be respectful as you are not at a fashion show." A third one said, "I guess she is uncomfortable making eye contact. She thinks she is sitting on the French Riviera sipping champagne!!" Many also went on to point out that Brigitte wasn't wearing the "big sunnies".
However, many also came out in support of Melania. "Appropriate or not some people wear sunglasses to protect from sun (and eye wrinkles) but also when tired. Making public appearances after being up late at dinner parties etc. may seem glamorous but it can be quite draining too. Sleeping in hotel bed, etc," one Twitter user defended. "This so petty, I would have done the same thing and never thought I was being disrespectful ...FOR CRYING OUT LOUD!," another user said.