Kate Middleton and Meghan Markle ready for their first outing together without William and Harry
The Duchess of Cambridge and the Duchess of Sussex are all ready for their first solo outing together and will be seen at the Women's Singles final at Wimbledon Kate Middleton and Meghan Markle (Source:Getty Images)
Kate Middleton and Meghan Markle are getting ready for their first outing together without their husbands Prince William and Prince Harry. The royal women chose the perfect event for their first outing together and they will be seen at the Women's Singles final in Wimbledon, Kensington Palace confirmed.
Meghan and Kate will be meeting with former female tennis champions before the match and will also speak to ball boys and ball girls to get an understanding of what it is like to take part in the iconic tournament. The women will then take their place in the Royal Box to cheer on the players Angelique Kerber and Serena Williams — a close friend of Meghan.
The 36-year-old former Wimbledon Champion revealed that she is very happy that her longtime friend will be cheering her on. "I look forward to it," Serena shared. "We've always had a wonderful friendship and every year for a couple years she comes out to Wimbledon, has supported me and now she's supporting me in a different role. But our friendship is still exactly the same," she said. "We always have supported each other, just been there for each other through a lot".
The Kensington Palace recently confirmed that Meghan and Kate will take to the Royal Box to witness the game. Kate will be returning to Wimbledon the following day along with her husband Prince William to watch the Gentlemen's Singles Final on Centre Court.
---
Meghan and Kate have attended many public events together since Meghan married Prince Harry. The first time that Meghan joined the family for a Christmas Day service was in the year 2017. Since the royal wedding, they also attended the 'Trooping the Color' ceremony where they were seen waving together from the Buckingham Palace.
The women were also seen together at Kate's third child Prince Louis' christening. After being out of the spotlight for quite a while during her pregnancy and birth of third child Prince Louis, Kate was seen beaming and glowing at the christening which marked her return to the spotlight.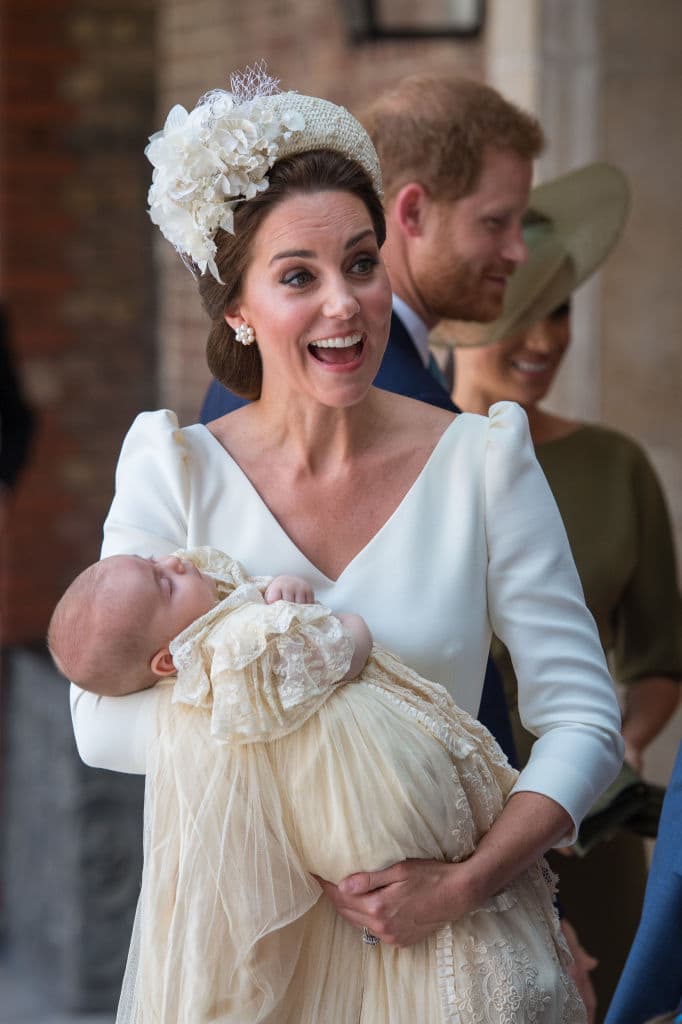 Both Kate and Meghan have a supportive relationship and Kate has been showing Meghan the ropes. The sisters-in-law have been leaning on each other for quite some time now.
Last month, Meghan had a memorable outing with the Queen herself making this the first solo joint appearance by the women. Meghan was able to charm the Queen and the pair looked as though they were really enjoying themselves. Unlike Meghan, Kate had to wait almost a year before she had her own solo outing with the Queen.
Both the women were also spotted at the Royal Airforce Ceremony. Kate opted for a blue coat dress by Alexander McQueen. She accessorized the outfit with an embellished brooch and was also seen in a pair of nude platform heels along with studded drop earrings. She finished off the look with a Sean Barett headpiece as well as a matching clutch. While Meghan sported a boatneck dress which was an A-line navy blue Christian Dior dress along with a pair of nude heels.
Meghan was always known for her impeccable sense of style and fashion but since her wedding to Prince Harry, that fashion sense has developed even further. Of course, Meghan has her sister-in-law Kate to help her out and learn the ways of royal etiquette and protocol.
According to Anna Mewes who spoke to Express, Meghan's look is becoming more and more like Kate Middleton. "Meghan's style certainly bears more resemblance to Kate's since she became Duchess. Her overall look has become more polished and her hair at recent Royal engagements has been styled in glossy curls and understated up-dos which are almost identical to Kate's," she continued.
Anna also went to share that the Meghan and Kate tend to pick similar outfits for the royal events that they have to attend. "Both Kate and Meghan gravitate towards quite fitted, tailored dresses and, when you look back, Meghan has been a fan of this more structured style long before the royal wedding," she revealed.
Anna continued, "(Meghan) would often opt for quite bold jewel tones but since her marriage to Prince Harry her wardrobe has been made up of neutral shades with no colour whatsoever. While both Meghan and Kate are drawn to similar styles, Meghan is much more in-tune with trends".
"This is often reflected quite subtly in the cut of a dress, her choice of neckline or style of footwear but it definitely gives her a more youthful feel than Kate, who will always opt for more classic styles," she continued.