Meghan Markle mistakenly skips 'duchess slant' and crosses her legs at royal event
Meghan Markle has been called out for sitting in a disrespectful way at the Queen's Young Leaders Awards on Tuesday Meghan Markle (Source:Getty Images)
The Duchess of Sussex Meghan Markle was accompanied by her husband Prince Harry at the Queen's Young Leaders Awards on Tuesday. The royal couple attended the event honoring youngsters from across the Commonwealth. The event was also live streamed on the Royal Family's Facebook page so that people all over the world could watch it live.
In the events leading up to her wedding and at other major royal events, Meghan Markle was seen adopting the 'duchess slant' and looked absolutely stunning and lady-like. However, during this event, a few obserevers called out Meghan Markle for sitting in an inappropriate way. Meghan Markle who was seen wearing a pink Prada dress for the occasion decided to sit in a rather different way.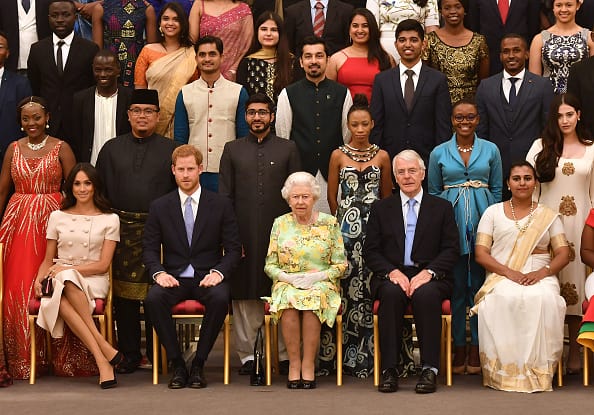 Instead of clasping her knees and ankles together and slanting her legs to one side, she simply crossed them. Of course, people were quick to jump on the new Duchess of Sussex and call her out for sitting in what is considered to be a disrespectful way. The fan wrote, "Meghan, don't cross your legs. Queen doesn't like that."
However, Markle fans were outraged over her being called out and were quick to defend her. One fan took to social media to share, "Let's focus on the wonderful honourees and NOT legs, dresses or etiquette — these young people deserve more focus." While another added, "Pretty sure the Queen is more concerned with Meghan's passion and commitment to the Commonwealth than how she crosses her legs."
One fan wrote, "Actually, she would be taught how to cross her legs which Kate often does too — she has been in the public eye for years — she knows what she is doing. Give her a break." Another was quick to add, "Give Megan a break, 36 years of crossing your legs is a hard habit to break." The 'Duchess Slant' was named after Kate Middleton even though it has been used by royal women for years.
It is not just some weird random official rule but there is a proper reasoning behind it. Etiquette expert Myka Meier, from Beaumont Etiquette, shared with People, "It is the perfect pose for when a camera is shooting directly in front of you because by slightly slanting the knees to create a zig-zag effect when wearing a dress or skirt, your legs are angled so that the camera only shoots the sides of your legs and protects your modesty."
"The Duchess Slant is one of the most elegant and flattering ways to sit because it has a lengthening effect on the legs. The key with the technique is to square your shoulders straight ahead while maintaining perfect posture. Keeping knees and ankles together at all times, position your legs so that you create a slant, angling your knees to the side. Hands should be folded one over the other and placed in your lap," Meier continued.
At this year's event, Prince Harry was given the important task of opening the awards. It is also the final time the Queen will present the awards, and Harry and Meghan will take the reigns from next year. David Beckham, presenter Ore Oduba, Olympic boxer Nicola Adams and comedian Lenny Henry were spotted at the event.
Post Meghan Markle's wedding to Prince Harry, Meghan's color palette has completely changed and the Duchess of Sussex has done a great job in adapting to her new surroundings. Lizzi Zita, a fashion broadcaster, revealed, "There has been a shift in the dress for Meghan, who is classic but a little edgy in her taste. But for this particular occasion, their first official joint engagement in Cheshire, Meghan is the perfect princess in a more demure classic style."
"She wore neutral colors, and this would have been a carefully considered option not to outshine the Queen who likes to wear strong color with matching hats so that people can see her easily. I am sure we will see a return to her signature taste at more casual events but, at the moment, she is trying very hard to fulfill her duties and stay on the right side of her mother-in-law, so fair play to her, she looked great," she added.
The author of 'Queen and Prince Philip, My Husband & I', Ingrid Seward, told People, "The Queen knows the potential pitfalls of not giving [new members] a guiding hand. It's all about the monarchy. She can't expect Meghan to know everything without being shown. She doesn't want 70 years of hard work to be for nothing. I'm sure she feels Meghan needs a steadying hand in these early days".
Queen Elizabeth's former press secretary Charles Anson said, "It is the way of the royal family — all part of the training and getting used to being in public life and under public scrutiny. Showing people the ropes is a high priority for the Queen."