Meghan Markle and Harry will drop more bombs as Oprah interview returns with unseen footage later TODAY Prince Harry and Meghan Markle are set to drop more bombshells in unseen footage from their Oprah footage that will be released later today. It has been claimed that the sensational couple is set to unravel fresh secrets about the royal family from their CBS interview today evening.
Harry and Meghan's tell-all interview with Oprah Winfrey arguably rocked Buckingham Palace. Meghan claimed Archie wasn't made a prince due to concerns about "how dark" his skin would be upon birth. She also claimed she felt suicidal and "didn't want to be alive anymore" after joining The Firm. But Oprah's special has yet to reveal new footage on breakfast news shows across the pond, according to journalist and broadcaster Caroline Feraday.
RELATED ARTICLES
What were Meghan Markle and Harry's demands? Couple had four conditions for broadcasters of bombshell interview
Meghan Markle and Harry dubbed 'selfish' by experts after interview: 'It was a performance till the very end'
CBS tweeted this morning that Oprah would join them live with "never-before-seen clips" from the talk that has made waves across the internet. "It's still late Sunday night here in Los Angeles, tomorrow they'll have the breakfast programmes that go out here, where we are promised more revelations," they said. "There's a lot more footage that wasn't shown as part of that interview that's still to come so this isn't the end of the revelation. It isn't just what was contained in that two hours."
"I've never seen so many commercials in a program," Feraday added, noting how the two-hour CBS show contained around an hour of interview and an hour of advertisements. "So definitely it was a money-spinner but there's still more to come."
While viewers are still trying to digest the claims made in the first broadcast, The Firm is now bracing for more revelations from Harry and Meghan. The couple grabbed headlines after claiming the royal family — referred to as "the firm" or "the institution" — did not want to provide their son, Archie, with a title or protection because he is part African-American. Meghan's mother Doria Ragland is of African-American descent.
According to Meghan, "there were several conversations with Harry" on the matter of Archie's skin color. The couple did not reveal the person who talked about it, saying it "would be very damaging to them." The topic came up all of a sudden when Meghan was talking about Archie. "In the months when I was pregnant, all around the same time, so we have in tandem the conversation of he won't be given security, he's not going to be given a title, and also concerns and conversations about how dark his skin might be when he's born," Meghan said.
When pressed further by Oprah, all Meghan revealed was that the conversations were around "what that would mean and what that would look like." Going against tradition, Meghan was informed that Archie would not be given security or a formal title. "The idea of the first member of color in this family not being titled" brought a lot of pain to her.
During her one-to-one with Oprah, Meghan also recalled how she "couldn't be left alone" and that she told her husband she "didn't want to be alive anymore." She claimed that her pleas for help were ignored by the Buckingham Palace HR department because she wasn't a "paid employee."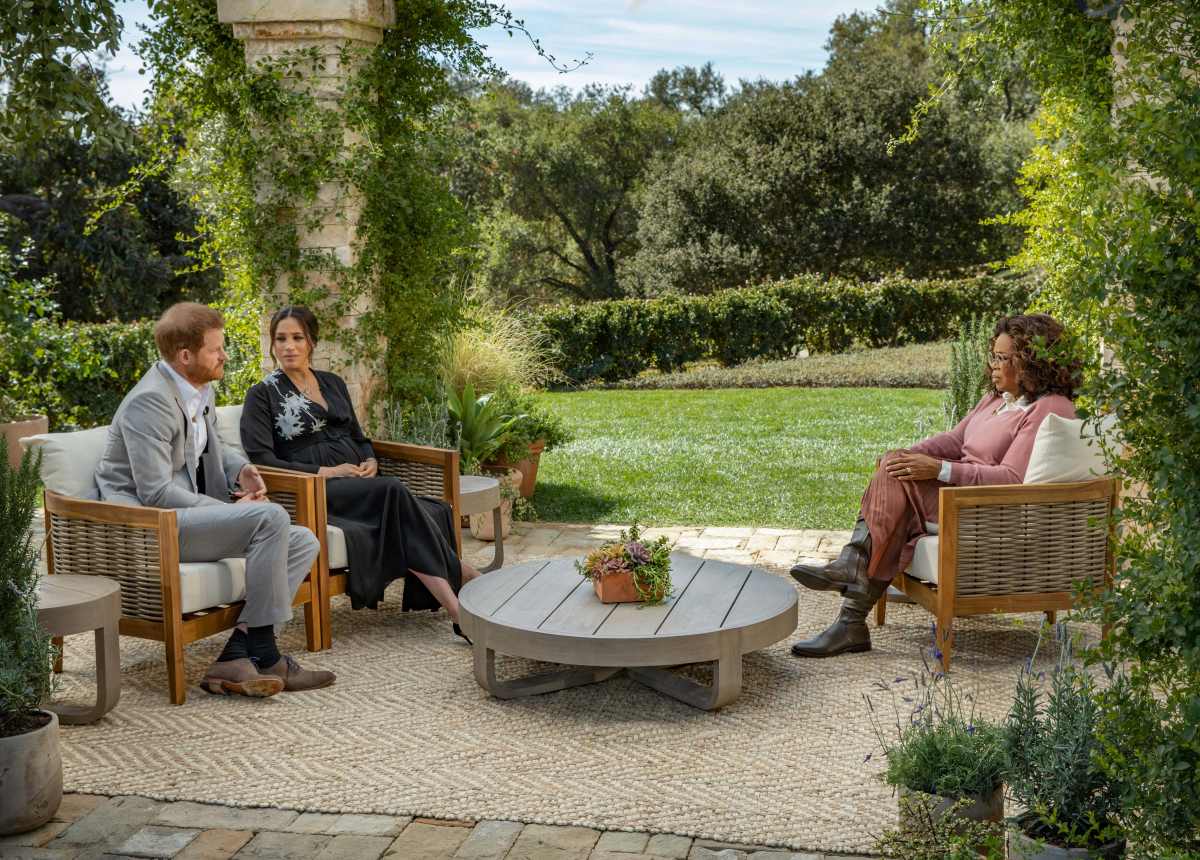 Meghan told Oprah that she considered committing suicide thinking it "was better for everyone."
"I knew that if I didn't say it, that I would do it. I just didn't want to be alive anymore. And that was a very clear and real and frightening constant thought," she continued. "I remember how [Harry] just cradled me. I said that I needed to go somewhere to get help. I said that I've never felt this way before, and I need to go somewhere. And I was told that I couldn't, that it wouldn't be good for the institution."

She later added that Harry had saved her "life" by agreeing to move to Los Angeles.
Share this article:
Meghan Markle and Harry will drop more bombs as Oprah interview returns with unseen footage later TODAY