'Satanic show': Madonna recalls run-in with the POPE over sexually charged Blonde Ambition tour Madonna, 63, has recalled nearly being arrested in 1990 due to the explicit dance steps to her song 'Like A Virgin' during her 1990 Blonde Ambition tour. The singer even had her gigs at the Vatican that year postponed after being 'threatened' with jail. The tour generated controversy due to its use of Catholic imagery and sexual content, especially with the explicit dance moves during the 'Like A Virgin' performance. The singer revealed to her 18.4 million followers that she had received three arrest threats from the police. Madonna wrote on her Instagram story, "The Vatican canceled all my shows in Rome! See how I paved the road for b*****s?" According to her, due to a private organization of Roman Catholics' call for a boycott of the performances in Rome and Turin, her shows in Italy were canceled.

This was due to Madonna using simulated masturbation in her 'Like A Virgin' choreography that included her groping herself as well as humping a bed during the live performance. Pope John Paul II urged the public and the Christian community at the time not to attend the tour, as he called it "One of the most satanic shows in the history of humanity". In response to the uproar, Madonna held a news conference at Leonardo da Vinci-Fiumicino Airport in Rome to defend her renowned tour.
RELATED ARTICLES
Trolls cry 'FAKE PICS' as Madonna flaunts FLAWLESS skin on night out with friends
Madonna was raped at knifepoint at age 20, biopic to recount singer's struggling days in New York before fame
According to Daily Mail, she said at the time, "I am Italian American and proud of it...The tour in no way hurts anybody's sentiments. It's for open minds and gets them to see sexuality in a different way. Their own and others [...] Like theater, [Blonde Ambition] asks questions, provokes thought, and takes you on an emotional journey, portraying good and bad, light and dark, joy and sorrow, redemption and salvation." One of the dancers in the x-rated performance, Kevin Stea, has now acknowledged that he was ready to be detained while on the tour.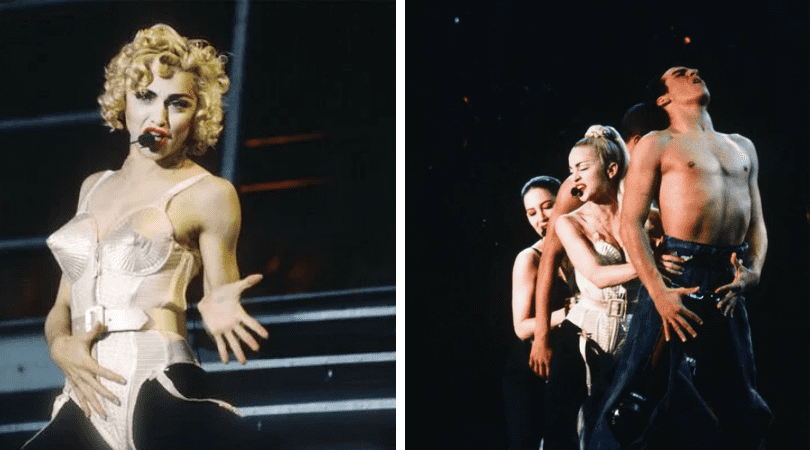 Madonna's latest post comes after she wrote last month that she's in 'deep despair' about the Supreme Court overturning Roe v Wade. The star wrote, "I woke up [Friday] to the terrifying news that Roe v. Wade had been overturned and that legislation has decided that we no longer have rights as women over our bodies. This decision has plunged me and every other woman in this country into deep despair. Now the supreme court has decided that women's rights are no longer constitutional rights. In fact, we have less rights [than] a gun. I am scared for my daughters."
---
I want to say that I had a great time at the party after my Show for Pride 🏳️‍🌈 at terminal 5,
But I woke up to the terrifying news that Roe V Wade had been overturned and that. Legislation has decided that We no longer have rights as women over our bodies. pic.twitter.com/ZKsnBTvrpx

— Madonna (@Madonna) June 26, 2022
---
"I'm scared for all women in America. I am just plain scared. I guess God put this on our shoulders right now because he knew that we were strong enough to bear the weight. Strong enough to fight! Strong enough to overcome. And so we shall overcome! We will find a way to make it a federal law to protect abortion rights! Ladies are you ready to fight?" she remarked.
---
This decision Has plunged me And every other woman in this country into deep despair.

Now the Supreme Court has decided that Women's rights are no longer constitutional rights.
In fact we have less rights then a gun.

— Madonna (@Madonna) June 26, 2022
---
---
And so We Shall 🙏🏼 Overcome!
We will find a way to make It A Federal Law to Protect Abortion Rights!
Ladies are you ready……..,……….💪🏻💪💪🏽💪🏾💪🏿. To Fight?

— Madonna (@Madonna) June 26, 2022
---