Khloe asks Kim Kardashian to be with her during son's delivery and not 'CHEATING' Tristan Thompson LOS ANGELES, CALIFORNIA: Season 2 of 'The Kardashians' opened with an emotional moment as Khloe Kardashian welcomed her newborn son via a secret surrogacy. This was her second child with NBA star Tristan Thompson, who was not invited into the delivery room by Khloe. Rather, she asked her sister Kim to be with her.
This comes after Khloe discovered Tristan had cheated on her yet again, this time with Maralee Nichols, a Houston-based personal trainer, with whom he has just welcomed another child. As a result, the episode was highly-awaited among viewers, with footage of Khloe's son's birth via surrogate on July 28 at Cedars-Sinai Medical Center in Los Angeles.
RELATED ARTICLES
'Doesn't feel right': Fans enraged as Khloe Kardashian and Tristan Thompson seen at Beyonce's birthday party
'What an amazing mother!' Caitlyn Jenner congratulates Khloe Kardashian after birth of second child
The ex-couple welcomed their second child, but Tristan was not invited into the delivery room to witness the baby's birth. Fans watched as Khloe cradled her newborn, while later confessing that the intimate moment carried the burden of sadness as she felt a "dark cloud was looming over" with her ex-partner having been unfaithful yet again. The baby boy was welcomed into the world in the presence of his mother and aunt. His father was invited to the hospital much later.
Finding strength through the birth of her son, Khloe said the emotionally raw moment helped her to finally "close that chapter and be done with this trauma." She also revealed that her decision to have a second child with the NBA star was prompted by his suggestion that she go through with an embryo transfer. This took place sometime "around Thanksgiving" in 2021. However, merely a week after Thanksgiving, reports from the Daily Mail surfaced claiming Tristan was expecting a child with another woman. Their son, named Theo, was born in early December.
During the episode, Khloe spoke about Tristan's infidelity. "Ever since December [when Thompson's infidelity was revealed], there's been this dark cloud looming over me. Every single day, I've been feeling depressed and sad, and now that my son is here, I get to move on, and I get to enjoy," she said, adding, "It's almost like I get to close that chapter and be done with this trauma and put it behind me. Now I finally get to start the healing process. Now I get to start enjoying my life with two kids in it and figuring this out. This is gonna be day one, and this is gonna be the start of something positive, and happy and beautiful."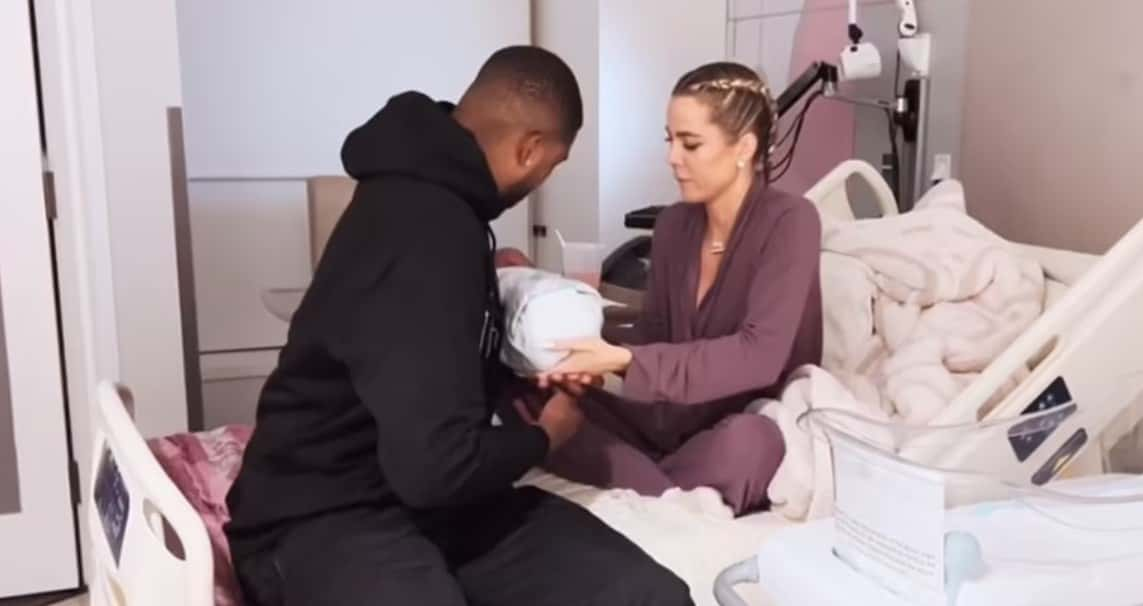 She also revealed that she was not sure about allowing the father of her child into the delivery room. However, it was her older sister, Kim, who advised her to let him meet his son. "I've been on the fence about letting Tristan come to the hospital or not, but Tristan wants to be here so I just figured, why not let him come? I'll never get this moment back," she said.