Kate Middleton stuns in green dress as she hosts picnic for children at her new 'Back to Nature' garden Kate Middleton has decided to take her garden, which doubles as a play-and-learn space, to a new site—a palace.
The Duchess of Cambridge, 37, invited children from four charities on Monday to join her in a treasure hunt, an insect spotting walk, and a picnic as she took brought her Back to Nature garden to the Hampton Court Palace Flower Show after a successful stint at the Chelsea Flower Show.
Kate was seen sporting a printed dress designed by Sandro. She also sported a pair of beige wedge heels and a pair of earrings from the high street store Accessorize.
Kate seemed to be in great spirits as she arrived at the garden and was seen waving to people and also shaking hands with officials before heading inside.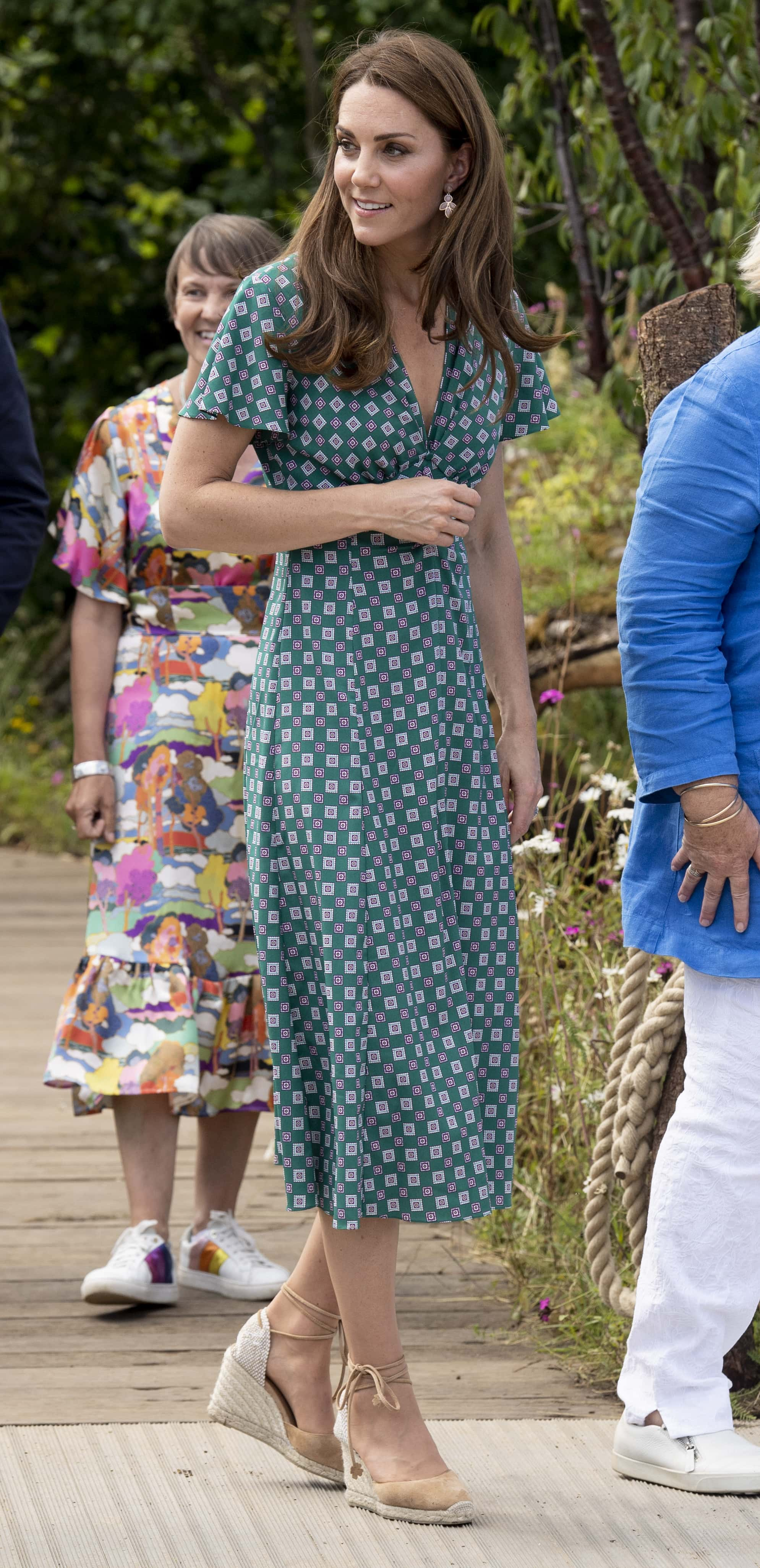 Kate had unveiled the space along with the children from her charities and patronages which include the Anna Freud Centre, Evelina Children's Hospital, Action for Children, and Place2Be.
The children were seen having a ball of a time as the Duchess hosted a picnic for them.
The new garden space is much bigger than the size of the plot that was used at Chelsea and, as a result, thousands of more families would be able to enjoy and benefit from the garden.
The design features the same wild and natural essence but was further developed to create more opportunities for children and families to interact with the outdoors and nature.
The garden was created in collaboration with Kate, landscape architects Davies White and the Royal Horticultural Society (RHS).
Features include hollow logs and rustic dens apart from a new hidden burrow, rolling hill, and a stream.
The Duchess firmly believes that spending time outside plays a key role in children's future health and happiness.
Her office at the Kensington Palace said in a statement that her garden "highlights how time spent in natural environments can help build the foundations for positive physical and mental wellbeing that last through childhood and over a lifetime."
"Features like the hollow log and rustic dens will return from Chelsea, in addition to a new hidden burrow, rolling hill, and stream. These environments enable children develop skills for life through free play, building their confidence, strength, resilience and social skills. In addition to the physical and mental health benefits of being in nature, spending quality time with parents and carers outside has a valuable impact on children's early development. In the garden, families can explore together and enjoy nature as a playground," the statement added.
Share this article:
Kate Middleton stuns green mini dress hosts picnic children back Nature garden Hampton Court palace