Ye fans start multiple GoFundMe pages to 'make Kanye West a billionaire again', parody campaigns also mushroom
Ye is no longer on Forbes list of billionaires and now has an estimated net worth of 'only' $400 million LOS ANGELES, CALIFORNIA: Kanye West may have "lost 2 billion dollars in one day" courting a myriad of controversies, but his followers are doing everything they can to help rebuild his fortune. Many of his fans have started fundraising campaigns to help the embattled star.
West, 45, had dominated headlines in recent weeks after sparking a major backlash over perceived antisemitic and hateful comments. The rapper sparked a media storm after appearing at his Yeezy fashion show in Paris on October 3 wearing a shirt emblazoned with the words 'White Lives Matter.' Meanwhile, Jewish organizations and anti-hate groups slammed the performer for saying he planned to go "death con 3 on Jewish people."
ALSO READ
'I've been beat to a pulp': Kanye West laments lost contracts in the wake of antisemitism controversy
Internet war breaks out over Kanye West's WLM sweatshirt as THAT Confederate flag pic surfaces
The news of the fundraising pages came shortly after West, who has officially changed his name to Ye, was dropped by both Balenciaga and Adidas, with the latter resulting in a $400m loss, costing him his billionaire status. The companies parted ways after Ye's Yeezy showcase at Paris Fashion Week, where the rapper's models were seen wearing "White Lives Matter" t-shirts. The rapper subsequently attacked Vogue editor Gabriella Karefa-Johnson and posted a series of antisemitic tweets. Since then, Ye has also been dropped by JP Morgan Chase and GAP. He was temporarily locked out of Instagram and Twitter, and has seen many prominent figures speak out against his antics, including the likes of Justin and Hailey Bieber, Kendall Jenner, and Jaden Smith.
Last week, Forbes reported that Ye was no longer on its list of billionaires and now had an estimated net worth of $400 million. But despite being mired in controversy, the rapper's loyal fans seem to want to help him at all costs. Several media outlets reported on Monday, October 31, how Ye's fans had launched GoFundMe campaigns to aid him in his time of need. One of the fundraisers, titled 'Make Kanye West a billionaire again' was starting to attract donations when it was removed by the platform, hip-hop news outlet AllhipHop reported.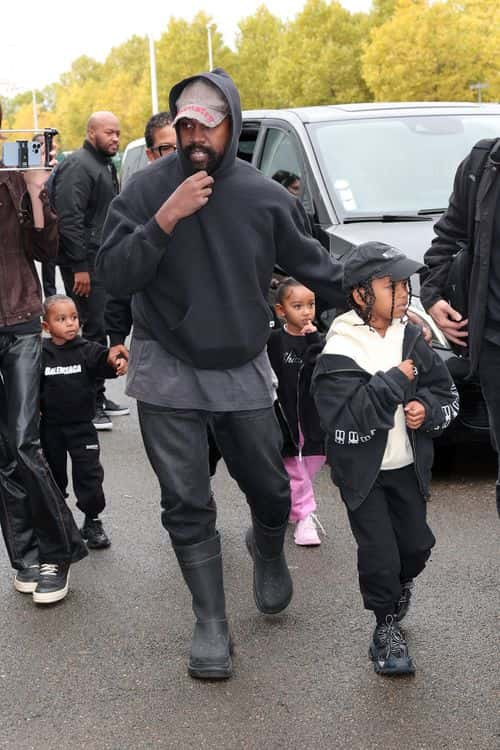 Nonetheless, there were a number of other Ye-related fundraisers on the website. Another was titled "Help Kany [sic] West Be a Billionaire Again." That said, some thought they were more worthy of financial help and didn't believe in the efforts to enrichen Ye. "Don't make Kanye West a billionare [sic], make me one!" another GoFundMe campaign read, while another was titled "Make me (not Kayne West) billionaire again". Someone else started a page called "Make Me Richer Than Kanye West.." with a YouTube link of them asking for money, and another page was titled "Make a random Swede a billionaire, not Kanye West", featuring a photo of a blonde man with tattoos seated on a tiny bicycle.
This is not the first time fans of Ye have attempted to organize crowdsourcing efforts to help the rapper. In 2016, a GoFundMe page was created to raise $53 million to help get the rapper out of debt. Ye, however, declined the thousands of dollars generated by that campaign, and the proceeds went to a music-related nonprofit called 'Notes for Notes' instead, Newsweek had reported.
Share this article:
Ye fans start multiple GoFundMe pages to 'make Kanye West a billionaire again', parody campaigns also mushroom