Ivanka Trump resembles a Disney princess as she dons flowy Elie Saab gown at Tiffany's wedding
Ivanka Trump was present with her husband Jared Kushner and their three children at Tiffany and Michael Boulos' wedding ceremony PALM BEACH, FLORIDA: Ivanka Trump looked gorgeous in a light blue gown as she attended her half-sister Tiffany's wedding at Mar-a-Lago in Florida on Saturday, November 12. Former US president Donald Trump's first daughter was present with her husband Jared Kushner and their three children at the ceremony.
The event saw Ivanka resembling a Disney princess as she donned a flowy gown along with hidden heels. The 41-year-old's dress was structured almost like a corseted bodice with a scarf-like cape that was wrapped around her neck and down to her back. The hem of the dress landed below her high heels while the skirt appeared to be free-flowing and voluminous.
READ MORE
Inside Tiffany Trump and Michael Boulos' lavish wedding in Mar-a-Lago home Florida
'Stony-faced' Donald Trump spotted at daughter Tiffany and her fiance Michael Boulos' wedding rehearsal
Ivanka looked extremely elegant in her outfit of choice for the occasion. Her blonde hair was left loose and parted in the middle. The former presidential advisor accessorized her dreamy gown with diamond earrings and a shimmery rectangular clutch. Another eye-catching element of the ensemble was Ivanka's almost invisible, single-toned heels that completed her entire look.
According to FootWear News, the businesswoman loved single-tone pointed-toe pumps and sandal heels from brands such as Manolo Blahnik. However, she was also seen in flats and wedges by Gianvito Rossi, Tkees and Aquazzura.
Ivanka, who was the maid of honor, wore a goddess style gown designed by Lebanese designer Elie Saab. The mother of the bride, Marla Maples, donned a similar dress while the bride, Tiffany, slipped into a sparkly crystal-encrusted wedding gown.
Ivanka's wedding rehearsal look was criticized for being inappropriate for her sister's wedding. She wore a two-piece dress that consisted of a pink halter neck crop top with an open back and a silver trim on the hems.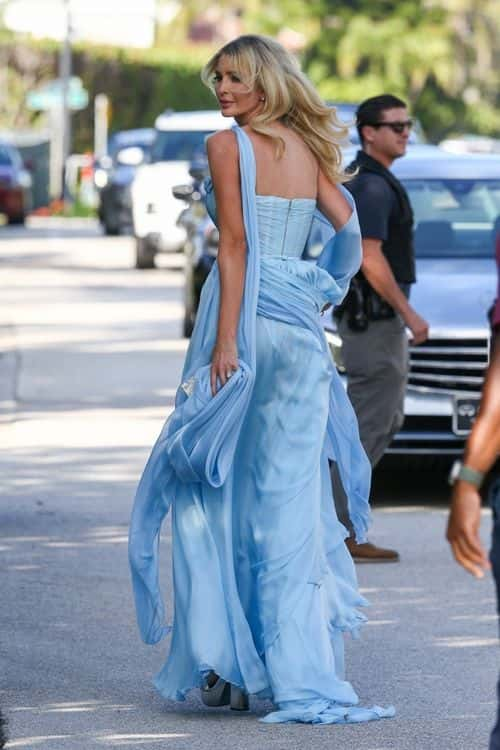 Tiffany tied the knot with her billionaire boyfriend Michael Boulos at her father's Mar-a-Lago resort. As many as 500 guests were expected by the couple including Ivanka, Lara and Karen Shiboleth along with the former US president.
Donald Trump Jr was present with his longtime girlfriend Kimberly Guilfoyle, with whom he sat in the front row beside his brother Eric. Their father had a stoic expression as he walked Tiffany down the aisle while wearing a pink flower in his lapel. The main reception was held in the estate's ballroom area.
Share this article:
Ivanka Trump resembles a Disney princess as she dons flowy Elie Saab gown at Tiffany's wedding